For just $11 per box you can get a seven-pound box of fruit and vegetables delivered to your doorstep every week, or every other week. e company Imperfect Produce offers customizable boxes of in-season fruits and vegetables that are deemed too ugly to sell in a grocery store.
Not only is the service a discounted means for essential nutrients, but it reduces food waste as well. According to the Imperfect Produce website, 20 percent of fruits and vegetables grown in American never leave the farm because they don't stack up to grocery stores' high aesthetic standards.
Ben Simon, the CEO of Imperfect Produce noticed during his time as a college student that a lot of food was going to waste in the cafeteria. He created Imperfect Produce in 2015 as a convenient way to help consumers reduce their environmental impact.
Xander Kipp, a cell and molecular biology student started using the service three weeks ago, after learning how much greenhouse gas food waste produces.
"The food does look different than what you can buy at a grocery store, but it tastes great. They have just fruit, just vegetables, mixed fruit and vegetables and organic as options. I would recommend it to anyone that wants in-season fruits and vegetables and wants to minimize their carbon footprint." Kipp said.
Food waste can have major environmental impacts. Eric Elliott, the recycling coordinator and compost technician at Seattle U says it's a larger problem than most people realize.
"Up to about one third of food produced worldwide is thrown away and/or never eaten," Elliot said. "A significant proportion of lost food is food deemed un t for sale because of gaps in the supply chain, transportation issues or simply because it is unaesthetic."
Elliot said that eating unfavorable produce can be one way to save foods from becoming waste.
"It's exciting to see companies that are working to reduce food waste, change the agricultural model, and get people actively involved in the issue," Elliot said.
---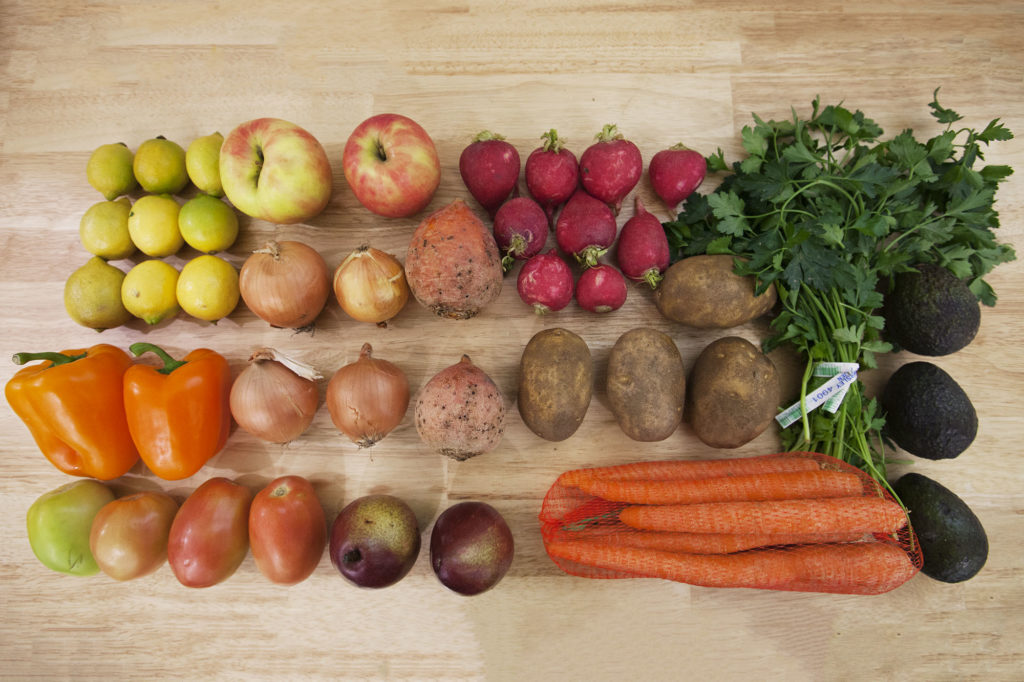 The contents of a medium sized box of fruits and vegetables from Imperfect Produce.
---
According to the Food and Agriculture Organization of the United Nations (UN), 2.9 trillion pounds of food are wasted every year globally. That's enough to feed the 800 million people suffering from hunger worldwide more than twice over.
According to the UN, all the land, water, seeds and fuel needed to grow and transport the squandered food takes a toll on the environment. If food waste were a country, it would be the third largest producer of greenhouse gases in the world, after China and the U.S.
Environmental studies and Spanish major Jessie Dirks says tossing imperfect produce signi cantly contributes to the issues.
"[A] significant amount of produce has to be discarded at the producer level since people won't buy 'misshapen' or 'ugly' fruit and veggies from the grocery store shelves," Dirks said. "Obviously, it seems a little superficial to care what food looks like, if it tastes good, considering the waste of resources that went into growing the food in the first place."
Imperfect produce is a good place to start minimizing individual impact, says environmental studies and photography student Emily LaRoche, but there are larger systemic problems to be tackled.
"I love the idea of reducing food waste and not having such a stigma around imperfect looking fruits and vegetables," LaRoche said. "Food waste is a huge problem, but does not need to be. Starting with holding grocery stores accountable or even making a law to reduce food waste would make a difference. Food that goes into the land ll produces methane with the lack of oxygen."
She said if the food were eaten or composted instead, it could reduce greenhouse gas emissions.
School cafeterias can be large contributors to food waste, but Bon Appetit is taking measures to reduce Seattle U's impact. Currently, Bon Appetit participates in the Food Lifeline program, which rescues surplus food and deliver it to more than 300 food banks, shelters and meal programs in Washington.
The Cherry Street Market pizza that no one touched and the leftover salad bar ingredients are consistently donated to those in need. As part of their Low Carbon Lifestyle commitments aimed at reducing their environmental impact, Bon Appetit is reducing waste in the kitchen and taking imperfect produce straight from the source
Imperfect Produce is a cheap, good start to lessen carbon footprints, but there are other measures that can be taken. Farmers markets offer imperfect produce from local sources instead of Imperfect Produce, which tends to ship from California or Mexico. Cutting down on the distance that food needs to travel effectively reduces fuel consumption and emissions.
Although it's a large commitment, cutting down on, or even cutting out meat from a diet reduces the impact animal feed makes on food waste as well. Finally, buying only what one needs, or freezing surplus food can lessen food waste (and grocery bills).
Quinn may be reached at
[email protected]