Four women addressed a lecture hall of attendees last Thursday to present an original piece of literature that reflected their journeys on reclaiming their female bodies amidst a world of harsh beauty standards and misogyny.
The Seattle University Creative Writing program invited authors Reagan Jackson, Sonora Jha, Natalie Singer and Theo Pauline Nestor to speak at "Woman Writing the Body" to open dialogue about the experience of living in a female body in a male- dominated society.
The topics discussed at the event included feminism for women of color, raising children, puberty and women in the workplace.
"I think the pieces I picked, together, told a sort of the broader topic of some of the things that girls and woman endure in our culture and the impacts of those things on our ability to have agency over our bodies and our lives," Natalie Singer, author of "California Calling: A Self Interrogation" said.
Her readings discussed schoolyard romances and her new formed understanding of the word "slut." She stressed how important it is to validate young girl's emotions and pay attention to the pain they feel.
---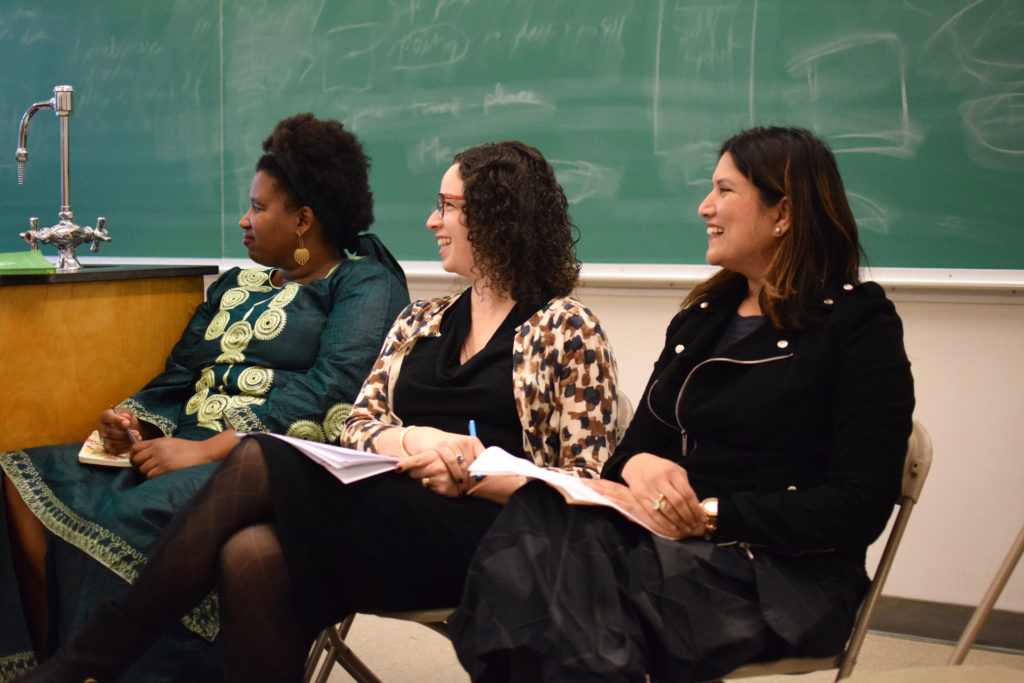 Reagan Jackson, Natalie, Singer, and Sonora Jha (from left), and Theo Nestor (not pictured) read their short stories at the Women Writing the Body panel.
---
"For young girls, in specifically college, the issue of consent is huge. I think the #MeToo [movement] has definitely kind of forced all of us to look at the issue of consent and have really complicated conversations." Singer said.
#MeToo is a hashtag that went viral across social media platforms and was used as an avenue for people to share their personal stories of sexual assault and harassment. The open communication is a form of activism. The movement was started back in 2006 by black activist Tarana Burke. It became famous a er white actress, Alyssa Milano, used the hashtag during the Harvey Weinstein sexual assault investigations.
"Now when we are having this conversation about #MeToo and the people who are being heard and validated are predominantly white women," Reagan Jackson said. " is has been a problem in communities of color, and a problem that woman writers of color, have addressed prolifically [beforehand] and yet somehow, we are less heard."
Jackson said that many women feel that some of their more complex emotions are silenced by cultural expectations.
"I wanted to address what women don't usually talk about which is anger, and where anger lives in the body," Jackson said. "I definitely feel like women are socialized not to address the more intense emotions. Vulnerability is required to discuss the body and body politics so I think step one is a willingness to be vulnerable with one another."
"These conversations are important for moving forward and imagining a different future," Senior humanities for teaching major Brinkley Johnson said. "[A future] where women are not constantly being told how to avoid being abused and assaulted. We need to focus on preventative work so that no one is even afraid of being alone with a strange man."
---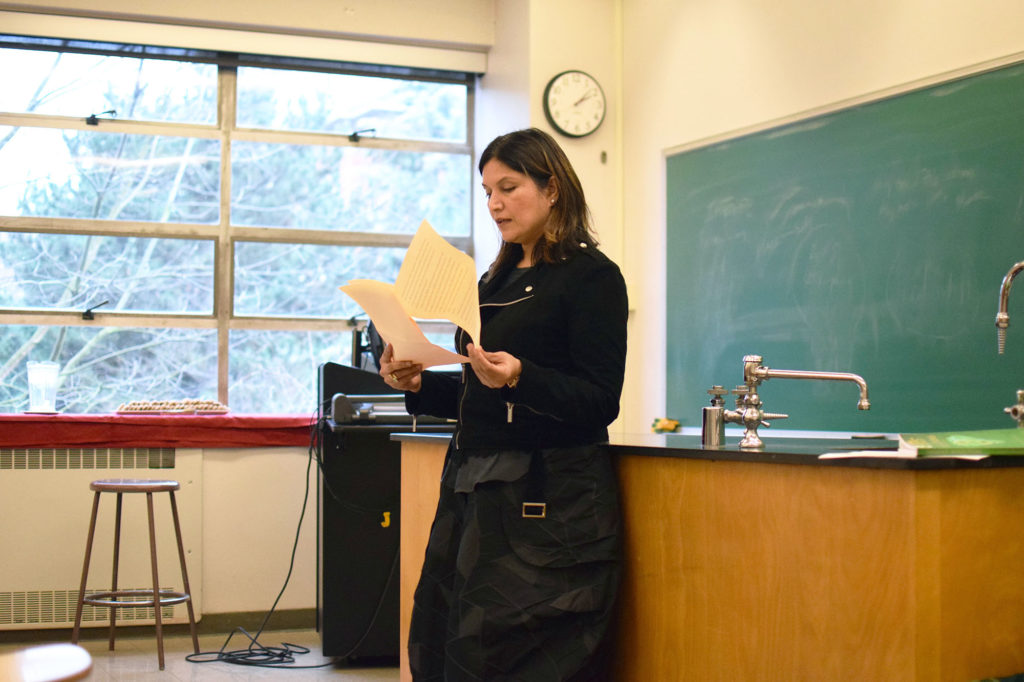 Author, professor, and Writer-in- Residence at Hugo House Sonora Jha shared her reflective writing at the Women Writing the Body panel.
---
Sonora Jha, a professor, panelist and author of the book "Foreign" read a segment of her new memoir, "To raise a Feminist Son: Essays and Masculinity and Motherhood."
The passage described an experience Jha had during her early 20s when the threat of heat stroke from modest clothes and travel forced her to use a railway station shower in India.
"And if I care dare to lift my eyes from the water trickling down at my feet, I will look into the faces of men who have stopped to stare fixedly at my face," Jha read.
She described the feelings she experienced when men stopped to grin at her as she showered, merely attempting wash the dirt of o herself.
"As a woman can you, or can I, go out and have a great time with our friends and make all of the choices that young people make without putting any judgement on those choices," Singer said. "And know that there is a basic level of safety and respect in our society where [she can] know she won't be harmed for having her body out in public whatever that looks like."
The panelists shared their personal accounts in order to highlight the underlying issues of oppression they perceived to be present. After the reading, theoretical questions were asked toward the authors and conversation soon erupted. They all were in agreement that the goal of holding the event was to help facilitate a continued conversation past the hour they shared with their audience.
Erika may be reached at
[email protected]