Daft Punk fans, art observers and science geeks alike gathered at the Pacific Science Center last Friday night, Jan. 19, to witness live laser imagery set to Daft Punk music in the world's largest domed laser theater. Each show at the Pacific Science Center is unique, and this same Daft Punk show will not look the same as its next performance.
The Creative Laser Programming Coordinator, Chris Harris, explained that each show is programmed to an extent. While Harris creates the foundation for each show, the preprogramming merely serves as a platform. The artists are able to maintain and express individual creativity and spontaneity during a live show.
"When I program a laser show, I want to make sure the base imagery is rich, dynamic and engaging, while still leaving room for the artists to customize the show on they and make it a unique performance," Harris said. "We don't run 'canned' programmed shows."
Additionally, Harris described the technicalities of producing impromptu laser imagery.
"When our laser artists perform shows, they're playing back some programmed content while manipulating the imagery with both computer based effects accessed via knobs and faders on MIDI hardware controllers, and physical optical effects that actually slide in front of the laser beams to create effects like Star, Fuzz, Lumia and Diffraction Grating," Harris said.
Due to the spontaneity of the show, two performances of the same show, such as Daft Punk, will have similar elements but will remain distinct to the laser artist performing.
The Laser Dome has five laser artists on staff . Although some of them hold administrative positions at the Pacific Science Center, conducting laser performances remains their primary responsibility.
---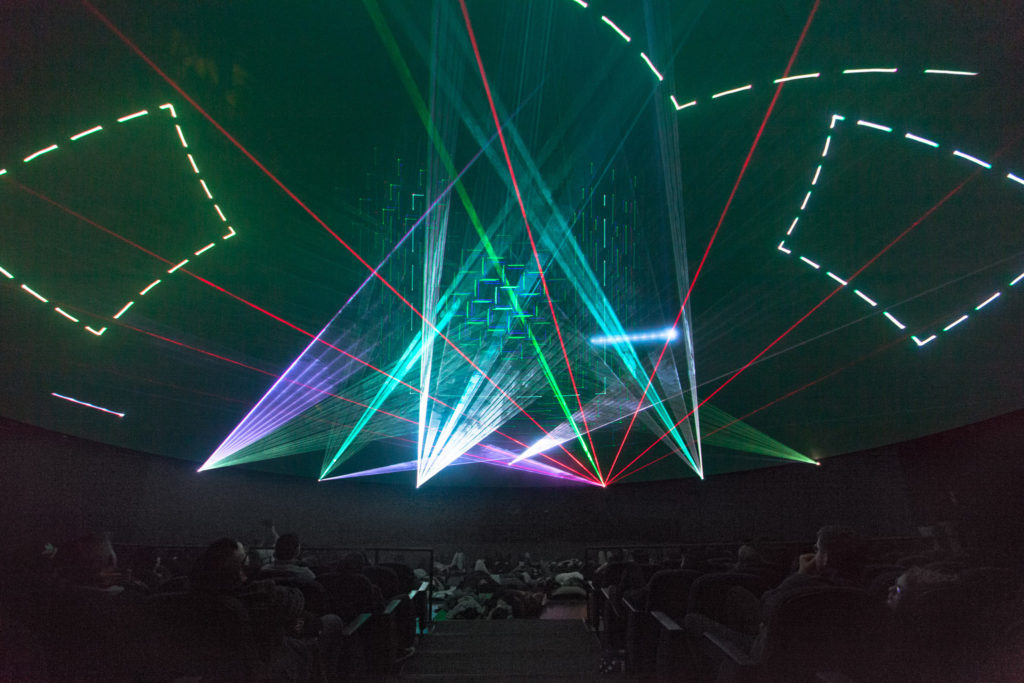 Orginally designed by American architect Buckminster Fuller for the 1962 Seattle World's Fair, this 80 foot diameter dome now exclusively hosts laser shows.
---
One of five laser artists, Michelle Scotty, directed the Daft Punk themed show on Jan. 13, and described the collaboration of 15,000 digital watts of sound and vivid laser imagery as exhilarating and awe-inspiring.
Scotty has been practicing laser art for nearly four years, and revealed that laser art encompasses a multitude of skill sets such as digital design, light technician and animation.
Additionally, Scotty briefly explained the process of setting laser imagery to music.
"It can be kind of complex," Scotty said. "For our regular shows, like Daft Punk and Pink Floyd, we will get the music and compile it. Then we block it out and think of appropriate imagery for each of the songs. We lay it down on tracks and align it with the music, and then we tighten up those transitions."
While Scotty said the programming process is similar to video editing, the live performance aspect could might be best compared to audio mixing.
Although the audio of the show is predetermined, the laser artist can choose the colors, add effect to the colors, get creative with the filter effects, and manipulate the shapes projected, as well as their path of motion.
Pacific Science Center merchandiser Emma Avery described the laser shows as unexpected and unlike anything she had seen before.
"At first I was like, 'I'm not sure what kind of person would come and see this on their night off.' But since I've seen a couple of them, I've decided that they're actually really cool."
Avery compared the laser shows to something you might experience at a live concert, without the live musicians.
A popular part of the laser dome experience is that there is a designated space for those who want to experience the show lying down. Beforehand, audience members arrive to the show with pillows and blankets. They proceed to assume comfortable, star- gazing inspired positions on the floor of the dome.
Avery attested to this experience, "Laying down on the floor provides the audience with a totally different experience," she said.
Most of the audience viewed the show from the ground, so it is safe to assume that this allowed for a more immersive experience, as well as a 360 degree view of the mesmerizing display.
"It was hypnotic," first time attendee Francesca Robello said. "My mind wanted to zone out on the lights. It was meditative, yet captivating at the same time."
The editor may be reached at
[email protected]