A few blocks away from Seattle University campus on Belmont and Pine, the new Neko Seattle Cat Cafe offers a place for cat-lovers of all ages to relax and interact with some furry adoptable cats. This cafe experience has been open for three weeks and adds a different mix to the coffee and happy hour choices on Capitol Hill.
Cat cafes are a social and cultural novelty popular in Japan, and Neko Seattle draws inspiration from this Japanese influence. The name itself, "neko," is Japanese for cat. The owners, Corey James and Kaitlin Unsell, lived abroad in Japan and got their inspiration for Neko Seattle cafe from their experiences with cat cafes and their love for Japanese culture.
Hoping to get acclimated to the area, Neko Seattle opened its doors for a soft opening last month.
---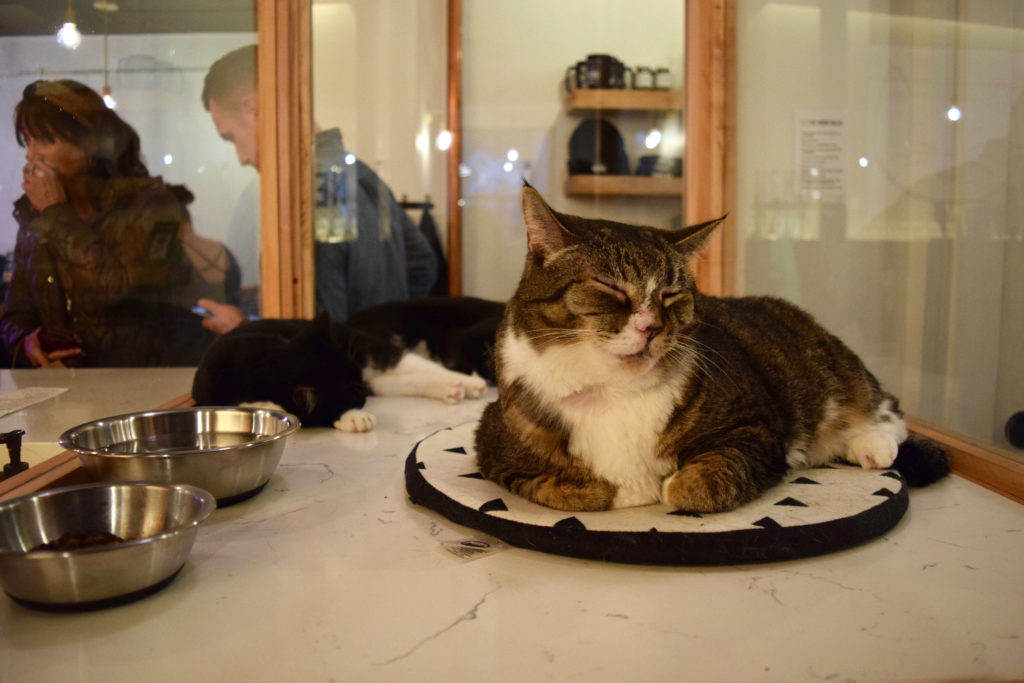 After experiencing the cat cafe culture abroad in Japan and Vietnam, head cat lady Caitlin Unsell was inspired to bring Neko to Seattle.
---
"We ended up having about 500 reservations our first weekend, which was crazy but very exciting," James said.
Since then, a steady surge of people have continued to book reservations for the cat room. The cats at Neko Seattle are adoptable, but none have officially been adopted yet.
"Our top priorities are the cats," James said.
All of Neko Seattle's resident cats test feline leukemia positive, which means they have a weakened immune system, shorter average life-span and a higher risk of contracting cancer. Because of their partnership with Regional Animal Services of King County, Neko Seattle is able to give these cats a chance to play together, interact with people.
"It is more difficult for cats that are feline-leukemia-positive to get adopted. We take in the cats from the shelter and they live here until they get adopted out," said Jules, a "Pawtender" at Neko Seattle ("Pawtender" is Neko Seattle's cat-related term for barista and bartender).
Neko Seattle offers organic Japanese teas and drip coffee at the bar and fun drinks such as Maneki Neko Lucky Cat Soda, a Japanese soda similar to ginger ale. Customers can also nibble on small treats, such as cat-inspired donuts and senbei, which are Japanese rice crackers. Neko Seattle is also unique to other cat cafes, such as Seattle Meowtropolitan, because it offers a drink menu with sake, beer and wine and Happy Cat Hour from 3-6.
The staff works to create a welcoming environment that is open to all types of cat-lovers, as a spot for Sunday morning coffee and for after-work happy hour too.
If guests manage to secure a spot in the cat room, entry costs ten dollars. For anyone familiar with Seattle Meowtropolitan, the experience in Neko Seattle's cat room is similar, but the ten dollar registration fee for the Neko Seattle cat room does not include a drink like it does with the Meowtropolitan price. Neko Seattle, however, also has Japanese theme that Meowtropolitan does not.
---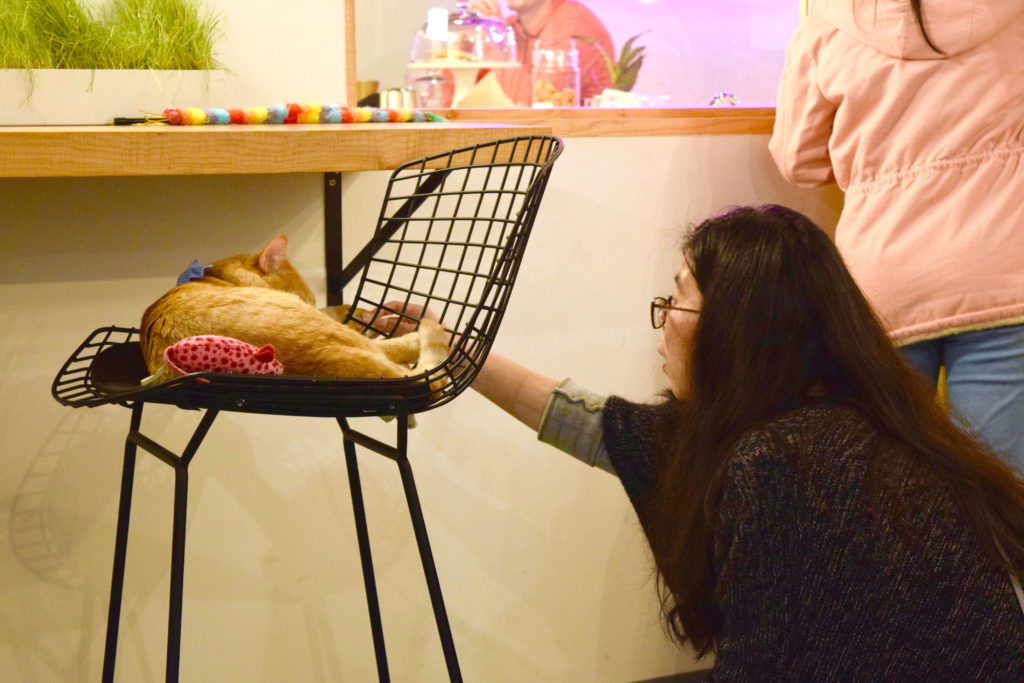 Need a new cafe and some cat love? Then make your reservation to visit Neko Cat Cafe's seven adoptable kitties!
---
Seattle U Sophomore Criminal Justice and Psychology Major Jamie Vo visited Neko Seattle cat cafe in its first opening weeks, and has also previously visited Seattle Meowtropolitan.
"In terms of pricing, I think Neko Seattle is more expensive, so that's something to consider," Vo said.
Every hour, there are ten spots available in the cat room. Neko Seattle asks customers to make a reservation online to guarantee a spot, but it offers walk-in and stand-by appointments if there are openings.
As customers check in, they are given a cat stamp on the hand by a Pawtender, and then they can enter in the cat room under the supervision of the Cat Bouncer and start their hour with the cats.
"They had this really adorable vibe that I really enjoyed. There are also little toys scattered around so you can play with the cats, although they do take some time to warm up to people," Vo said.
There are cats of different sizes and personalities to pet and play with in the cat room. The room is decorated with pillows and is designed to create a calm experience for the cats and the customers. Relaxing music plays, and the room is equipped with a lavender oil diffuser and cat-calming oil diffuser.
For those who may have a roommate with a cat allergy (or an apartment that needs to be kept pet-free) Neko Seattle can be the perfect alternative for a busy Seattleite looking to relax with a cat-filled afternoon.
Jacqueline may be reached at
[email protected]