In Seattle, the allure to stay inside, cozy and dry from the rain, is strong. However, there is a tastier alternative waiting for you—one with freshly-squeezed orange juice, oven-baked biscuits and the perfect Instagram pic, and it's only a few blocks away!
There are only a few things that match my passion for brunch. It's the only time when rolling out of bed late and leisurely can actually work in one's favor. Brunch makes me feel like I'm the pinnacle of self-care, that I have a jump on my day and that I'm being financially savvy (hey! You are combining two meals in one). Look up brunch hours for some of your favorite restaurants (Babar's has a really fun Vietnamese brunch) and you may be surprised with what you'll find. Here are a few places in the neighborhood to get you started on the Seattle brunch scene.
Café Presse
For students trying to dip their toes in the brunch culture Seattle has to offer, walk no further than Xavier Hall, where Café Presse is stationed right next door. It has enough French on the menu to make you feel sophisticated and loaves of fresh bread and jam to help you forget about proper food groups.
---
Voilà! Cafe Presse serves up the Croque Monsieur and delicious lattes. (Add an egg to the Croque Monsieur and you have a Croque Madame!)
---
The croque madame is a popular item, which is a baked ham, gruyere and béchamel sauce sandwich with a sunny-side-up egg on top. While the ham is not the best, the whole plate really comes together with strong cheese flavors, coupled well with the creamy sauce and toasted to crunchy perfection.
"It was the perfect meal to start off my day. The croque madame was savory and so good, and the restaurant's close enough so I can make brunch a regular social thing," said sophomore Annelise Loveless.
I recommend giving this place a try instead of the normal IHOP runs; Café Presse is just as close, tastier and similarly priced.
Oddfellows
The quintessential brunch spot for Redhawks, Oddfellows can be the right move with the right planning. Seating is available for mostly one-on-one meetings, and the wait can get too long for comfort on the weekends with no reservations. I have stopped by, early during a morning walk or weekend errands around the neighborhood to put my name in, running back to campus real quick for a shower or to meet a friend, and walked back to Oddfellows with enough time to spare before I was seated.
---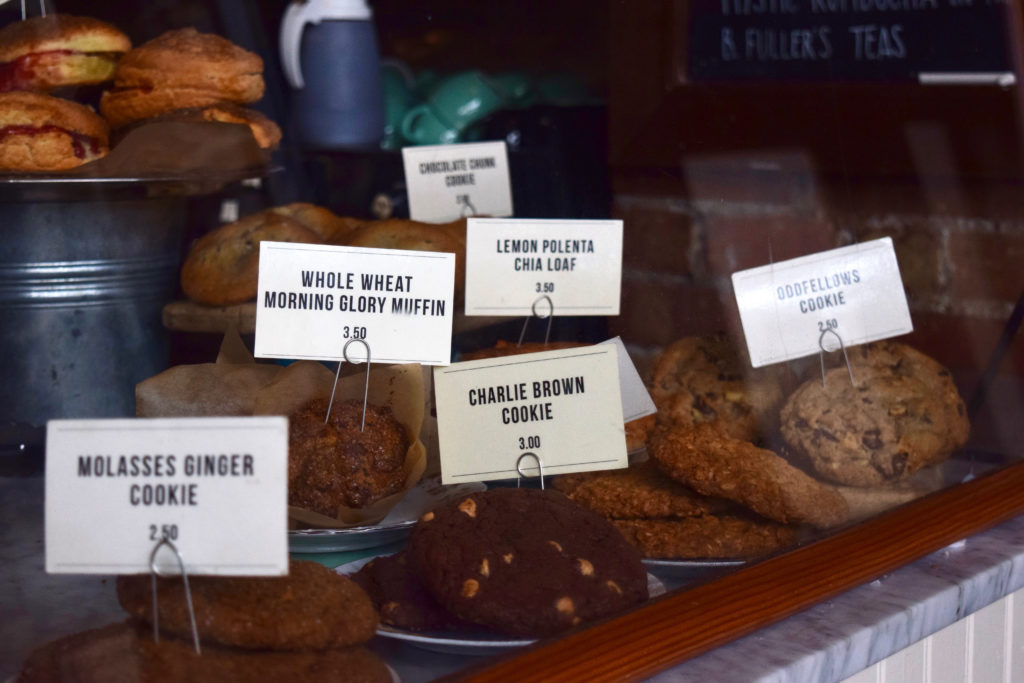 Grab a fresh pastry or sit down and enjoy weekend brunch in the cozy ambience of Oddfellows Cafe and Bar on E Pine St and 10th Ave.
---
In addition to putting your name in, I recommend going on less-popular brunch days to any restaurant. You may not get the specially-made brunch menu, but the normal breakfast menu has most of the same items. Wednesday brunches may be hard to coordinate, but nothing gets you through the week like a little self-indulgence with a mimosa and an omelette to break up the monotony of work and school.
---
Enjoy weekend brunch specials made from locally-sourced ingredients in the cozy hipster ambience of Oddfellows Cafe and Bar.
---
The homemade Biscuit is my go-to at Oddfellows—it's pretty much a breakfast sandwich with a buttery biscuit instead of normal bread. The biscuit is fluffy and tasty enough for biscuit standards, but not too flaky where it's breaking off all over the place. Everything on the menu will be a treat, from the fresh juice of the day to their beignets with jam, but it can get a little pricey depending on how hard you brunch. The atmosphere inside is what Instagram dreams are made of, and in the summer, there is cute outdoor seating and back-alley seating for a change of scenery.
Sitka & Spruce
While brunch itself is quite the luxurious activity, Sitka and Spruce takes local and seasonal grains, fruits and other ingredients from the Northwest to create an inventive brunch experience from simple ingredients. They work with a cohesion of different flavors—their yogurt even sounds like a labored over delicacy, made with grilled stone fruit, olive oil, pepitas and basil. With a changing daily menu, Sitka and Spruce updates brunch to a uniquely Seattle standard. If you're looking for a wholesome brunch day and willing to splurge, make a reservation and check this place out.
Americana
"You have not brunched if you haven't been to Americana," said sophomore student Catie Etkins. "When I want to sip some coffee and catch up with a friend, this is my place."
With a delicious daily brunch menu, this classic spot has a friendly staff and a rustic atmosphere perfect for anyone looking for a place to dine down Broadway. Alongside their Southern-style pork belly, they have an inventive drink menu and varying pancake specials. Their eggs benedict come smothered in a creamy tomato and mushroom sauce, adding a tasty twist to a standard brunch dish. In the same sense, it's a pretty standard brunch spot with a Seattle quirk to keep you coming back.
Jacqueline may be reached at
[email protected]