Folks Will 'Say Cheese' for New Restaurant Happy Grillmore
Happy Grillmore, not to be confused with the 1996 movie starring Adam Sandler "Happy Gilmore," is serving up smiles at their new burger joint owned by the same folks who operate Nate's Wings and Waffles.
Originally finding success with their food cart in Portland, power-couple Darren and Kristine McGill have spent the past seven years with sights set on Seattle. They made the initial decision to move north and open Happy Grillmore as a food truck in 2012. After dominating that market, they finally decided to turn their dream into reality.
---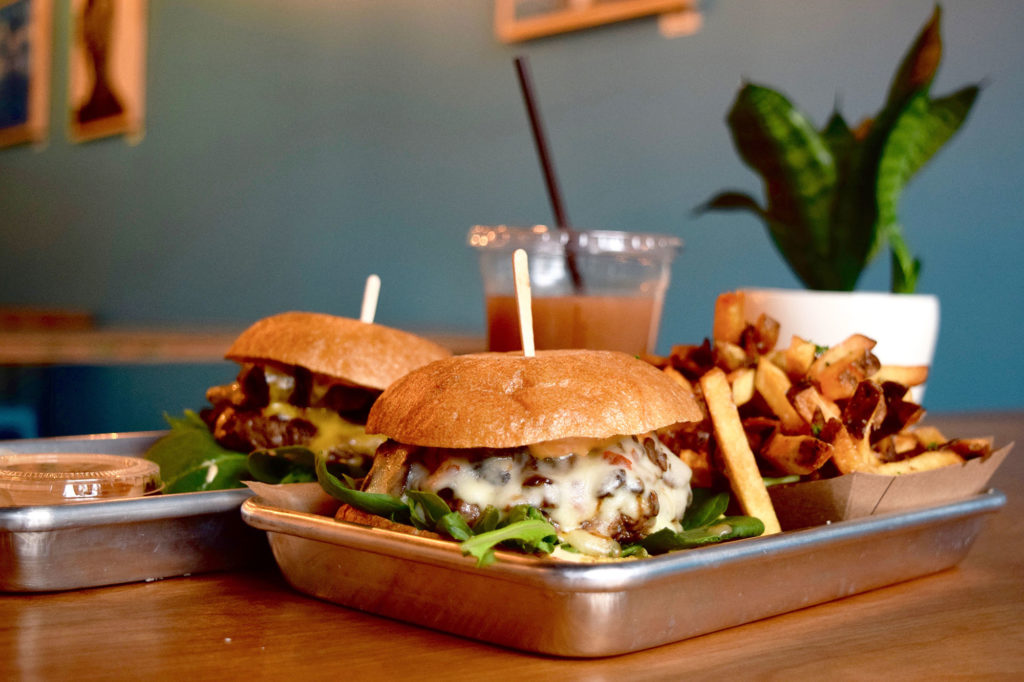 Happy Grillmore features unique burgers, such as the Happy Burger and Shrooms burger.
---
The restaurant opened its doors in mid-October, meaning that the food truck will no longer operate daily, but is still available for catered events.
Voted best burger in both Portland and Seattle, this menu has something for everyone with a variety of burgers, fries, milkshakes, pies and beer.
On Friday night, my roommates and I braved the cold to check Happy Grillmore out.
We were welcomed into an open space,with painted wood floors, a scrap wood counter and open entryway to the kitchen. Employees wandered in and out laughing and joking around, waiting for the Friday night rush to hit. The main wall, painted a bright turquoise, is decorated with portraits of famous rappers. The Friday night atmosphere was completed with the large projector featuring that night's basketball game.
The Chubs, Happy Grillmore's signature burger, is a 1/3 pound angus beef patty with Tillamook cheese, spinach, arugula, roasted red pepper aioli and brown mustard of toasted ciabatta. As you move down the menu, most options are a slight variation on the classic. The You Can Do It adds onion rings, the Shrooms adds sautéed mushrooms, and the Kalua Pork tops the burger with Hawaiian style pulled pork and sriracha. Californians will be pleased to have the option of adding avocado for only $1.
Happy Grillmore has six different kinds of fries, all available for separate purchase. Your friends who think sweet potato is a healthier alternative may be surprised to note the option of sweet potato fries, and everyone else can enjoy the delicious natural cut fries, or mix it up with garlic, truffle or kalua pork fries. There are also four kinds of dipping sauces available to mix up the flavor.
We tried the Chubs, the Happy, and the Kalua Pork, splitting the natural cut and truffle fries. With immediate consensus on flavor—oh so good— the jury's still out on using ciabatta buns versus traditional hamburger buns. I loved it, but others need more convincing.
My burger was prepared perfectly, but a friend's was too well done. They offer a variety of dipping sauces for french fries, though if you are the faint of heart like me, the spicy aioli might be too much for you.
Using the owner's small batch ice cream company as a base, Central District Ice Cream Company, the Happy Grillmore also offers a variety of milkshakes. Starting with the classics chocolate and vanilla, the menu also boasts more fun flavors like salted caramel, as well as other seasonal options. If you're avoiding milkshakes due to the cold, Happy Grillmore also serves handmade pies to satisfy any sweet tooth.
For the 21+ folks, Happy Grillmore has a selection of six beers: beloved Rainier, Hi-Life, Corona, Heineken, Dead Guy Ale and 6 Hop IPA. Younger friends will have to settle for typical fountain soda options, though they do have ginger beer.
Happy Grillmore matches Nate's hours, and is open daily from 11 a.m. to 10 p.m., though on Friday and Saturday they stay open until 11 p.m. If you're worried about a wait, be sure to get there before 7 or 8 p.m to avoid the night time rush.
While it is difficult to beat the prices of Seattle's own Dicks or Lil' Woody's, Happy Grillmore offers a wider selection than these less expensive spots and falls in line with prices of other Capitol Hill burger spots such as 8 Oz.
While Happy Grillmore has just started to become a familiar name in the Capitol Hill burger scene, their recent arrival hasn't stopped the McGill couple from looking to the future, with hopes to expand the menu to include breakfast.
A location mere blocks away from Seattle U's campus and a delicious menu are strong indicators that Happy Grillmore will find success here in Seattle.
Rachel may be reached at
[email protected]
Leave a Comment