Beat Connection Connects Audience to Disaster Relief
On Sept. 7, Seattle based alternative indie band, Beat Connection, posted on their Twitter, "Praying for the world right now."
Overwhelmed by recent global tragedies, Beat Connection challenged their audience to act and help aid relief efforts in Mexico, Houston and Puerto Rico. The band collaborated with Ticketfly and Seattle electronic DJs Zoolab and Beeba, to organize an all-ages disaster relief concert at Neumos on Oct. 11.
---
---
On the Ticketfly sales page, customers were given three different donation options: United Way of Greater Houston Area, GlobalGiving Hurricane Maria and Irma Relief Fund and Topos Mexico. Additionally, proceeds of merchandise purchases went to United We Dream Action to aid DACA recipients.
"Since U Been Gone" by Kelly Clarkson rang throughout the venue, thrilling the audience with a thick mist of 2000s nostalgia. In addition to this exciting throwback, electronic musician Zoolab spun a mix that contained a variety of songs, incorporating his original songs and original remixes of pop hits.
As he progressed through his set of songs, Zoolab seemed to get comfortable in the space, venturing his gaze beyond his electronic beat-pad. Colored spotlights lit up Zoolab's DJ setup. The visual jockeys at Neumos executed an exceptional light show. By the end of his last song, Zoolab had captured his audience and left them wanting more.
---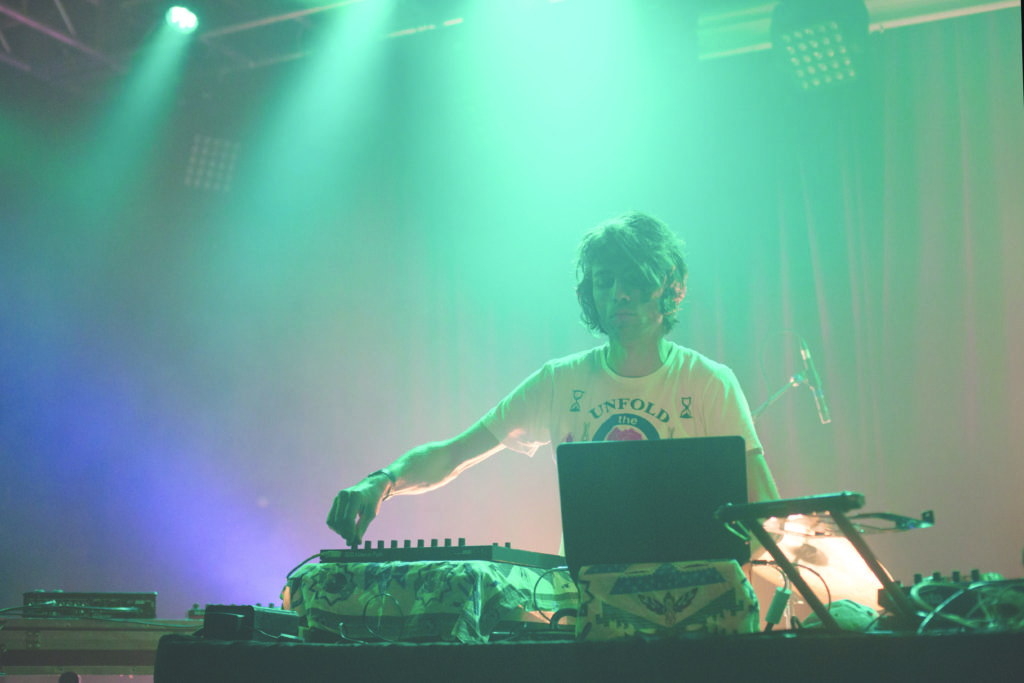 Terence Ankeny, who goes by the artist name Zoolab, is an electronic musician from Seattle, WA.
---
"Get jiggy with it," DJ Beeba said to the crowd at Neumos. He disclosed his personal phone number to the audience, encouraging women at the show to text him if they ever saw a "creepy man in the club." The audience shared in a mixed response to that offer.
He proceeded, dancing to his remixes and showcasing his diverse musical background with an array of songs. He incorporated popular pop and R&B songs into his mixes like "Everybody" by Backstreet Boys, "No Scrubs" by TLC and "Yeah!" by Usher. Beeba ended his feature with none other than Queen Bey herself, Beyoncé, with his remix of "Formation."
After the two opening artists had performed, the audience was eager for Beat Connection to take the stage. The main floor of the venue was packed with people. The number of bodies on the dance floor was a visual representation of charitable donations. There seemed to be a variety of people who came to the show. Everyone stood shoulder-to-shoulder, all there to support other human beings, whether it was for their music or for their devastating circumstances that had been caused by natural disasters.
At 10:30 p.m., Beat Connection ran out onto the fog-filled stage, illuminated with blue and green hues of light. Their grand entrance initiated a roaring applause from the audience. The band began their show with their classic easygoing and catchy sound to create a positive atmosphere for audience members to sing along and dance to. Their energy was high as they connected with the audience, making for a communal atmosphere.
---
Drummer Jarred Katz and bassist Mark Hunter bring their unique background in jazz music to Beat Connection.
---
Tom Eddy, the lead vocalist of Beat Connection, addressed the audience halfway through the band's set, talking about the purpose behind the concert.
"It's easy for us to be helpless, but if we collect, gather, and funnel, I think we can do a lot of good things…let's make this world better, let's get it back on course," Eddy said.
After Eddy finished his call to action, he thanked the audience for their support and for their efforts towards helping those in need through their attendance. The band continued in their set for the night by picking up the pace with songs like "Hesitation" and "Saola." Beat Connection brought the benefit concert to a close with a fun, upbeat song from their new album titled, "So Good."
The benefit concert not only brought members of the Seattle community together to support local artists, but also served as a reminder of the aching global need for generosity and compassion. Beat Connection fused their passions and talents into legitimate social action, serving as a prime example of the healing power of music.
Hunter may be reached at
[email protected]
Leave a Comment