Doctors Without Borders Simulates Refugee Experience
Médecins Sans Frontières (MSF), also known as Doctors Without Borders, was founded in 1971 by a group of French doctors and journalists who wanted to help those caught in the crossfire of war, violence and other natural disasters. One of the founding principles of this organization is to bear witness and speak for those who cannot. "Forced From Home" is a travelling exhibition that simulates the experiences of displaced people around the world. Last week, it stopped in Seattle at the South Lake Union Discovery Center.
---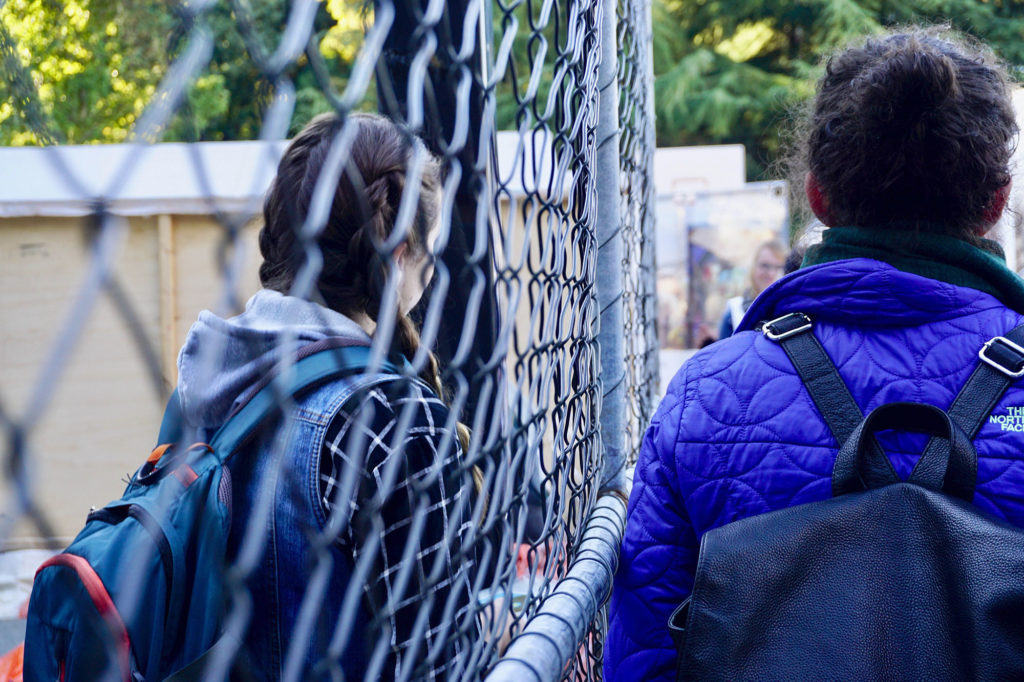 SU Student Megan Grosse (left) is separated by a fence due to her new status as a Internally Displaced Person (IDP).
---
At the fenced entrance of the exhibition, each guest is handed a note card with their new identity. On the card it states their victim status: refugee, asylum seeker, internally displaced person or stateless person.
This exhibition focuses on people forced to flee their homes in Afghanistan, Syria, Burundi, South Sudan and Honduras. Aid worker, nurse Valerie Gruhn, lead the tour. Gruhn, who has traveled with MSF and witnessed firsthand the challenges people face leaving their home. Gruhn asked people to stand in front of pillars with their perspective countries and told them to pick five items in which to carry.
Oftentimes displaced people only have minutes to decide which belongings to take with them such as clothes and medicine. Many will lose these objects during their journey because they might need to pay their way to safety or they could run out of supplies.
Some refugees travel by boat across the Mediterranean to reach safety. Gruhn took the group to a small inflated gray boat which can hold 15 occupants. Women and children are typically placed in the center and men are positioned to surround them for protection. When the engine needs to be refilled, gasoline can spill into the boat causing severe burns when the water and gasoline mix. This acidic mixture can severely damage skin. The group on the boat can be led by men trying to make profit. Lifejackets are expensive. These lifejackets are lined with styrofoam, so instead of helping people stay above the surface of the sea, they often make them sink much faster.
"I can't imagine setting off with nothing and hoping the person leading the boat knows what they are doing and are not going to try to take advantage of you," said Gail Gustavson, who works for a global health organization called Program for Appropriate Technology in Health (PATH).
It can take refugees several months or years to try to establish a new home in a country, especially if countries refuse to provide shelter for those in need.
When MSF is established in refugee camps they provide some of the basic necessities like clean water, food and sanitation. Gruhn showed the group what a typical treatment center looks like for patients infected by cholera and malaria.
Cholera is caused when someone consumes contaminated food or water and is highly contagious. Patients lose a lot of weight and energy to move because they are not able to hold anything down well and suffer from dehydration. They lay down on a plastic bed cot with a hole in the middle of the bed for them to be able to use the restroom. Patients need an IV to supply them with adequate medicine.
Malaria can be treated if the infection is diagnosed quickly. Malaria can infect parts of the brain and if medication is not given consistently, patients can develop resistance to medication which slows down healing.
"Getting to walk through one of the tents was really cool. It put things into perspective of how small the tents actually were, but then how that was also their community," Seattle University second-year Megan Grosse said.
As the group moved past the medical tents, posters that showed the top ten host countries that take in the most displaced people in 2016, the United States was not a part of the list. The only western country that took in a large portion of refugees was Germany and others were countries in the Middle East and Africa. Germany had aided 669,000 refugees while the United States aided 272,959. Due to new policies enacted by the Trump Administration, that number will drop down to 50,000.
"I was not surprised, but I was definitely disappointed," Gustavson said in response to the decrease in United States refugee aid.
Gruhn works with MSF so that when refugees lose their safety and stability, she can restore some of that by providing medical care.
"People who are fleeing persecution or war zones did not choose this and we are very lucky because we still have our freedom, our safety," Gruhn said. "They are entitled to the same exact things that we are, we are all human beings at the end."
The editor may be reached at
[email protected]
Leave a Comment