Safeco Field erupted in energy Saturday evening when the Doobie Brother's took the stage as the opening act in The Classic Northwest tour. The stage surged in light and noise as the Doobie's kicked off the concert with a spirited rendition of "Jesus Is Just Alright". The beat of their drums resonated to the heart as throats grew sore, singing as loud as their lungs could go to songs like "Blackwater and Spirit". Throughout the set, a saxophone, fiddle and harmonic would join the band, lending lively variety to an already rocking performance. "China Grove" acted as the set finale, but it was easy to predict the encore that would soon come after in the form of "Without You" and the iconic "Listen to the Music." When they had finished these final performances, with the crowd screaming and cheering, they threw their picks into the stands as a goodbye before they left the stage for the night.
It was a brief interlude before the Eagles took the stage. The lights dimmed, and fog concealed the stage as silhouetted figures appeared breaking into the opening of "Seven Bridges Road." The eerie harmony of five voices in the foggy dark with the gentle twinkling fireflies on the big screen brought the audience into the moonlit marsh of the song's fantasy. Of the five voices, two are guests to the Eagles name. The first, Vince Gill, is the winner of 21 Grammy Awards, asked to join the tour to lend his voice to the band in the absence of their late bandmate, Glenn Frey. The second guest, is Glenn's son, Deacon Frey on guitar and vocals. Songs ranged from ballads to rock to country as Vince Gill, Deacon Frey, Don Henley, Joe Walsh and Timothy B. Schmidt each lent leading vocals to the set, with songs like "Take It Easy," "Peaceful Easy Feeling," and a finale of "Life in the Fast Lane."
---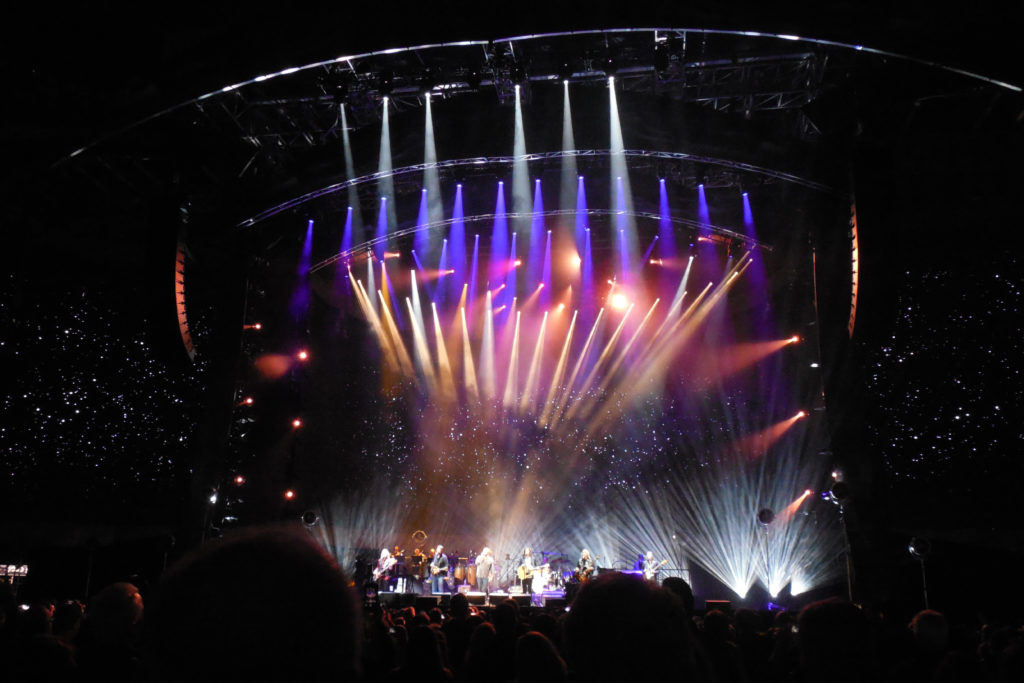 The Eagles end the show with an exciting rendition of Life in the Fast Lane.
---
When they left the stage, the audience lit up with a sea of flashlights like a sky filled with stars, calling them back for two encores of the much anticipated "Hotel California" and "Desperado," a more mellow end to a night of absolute excitement.
The editor may be reached at
[email protected]