Chasing Coral: Diving into Ocean Conservation
Within our lifetime, the ocean may become a graveyard filled with the barren skeletons of millions of animals. In the not-so-distant future, diving will be a completely different experience, one lacking the vast array of vibrant colors that have always spread across the seafloor. Coral, an animal that provides a vital ecosystem for fish and other sea life, are rapidly becoming bleached and dying. We have already lost 80 to 90 percent of coral around Florida, and it is estimated that if current trends continue, most of the world's coral will be dead in 30 years.
---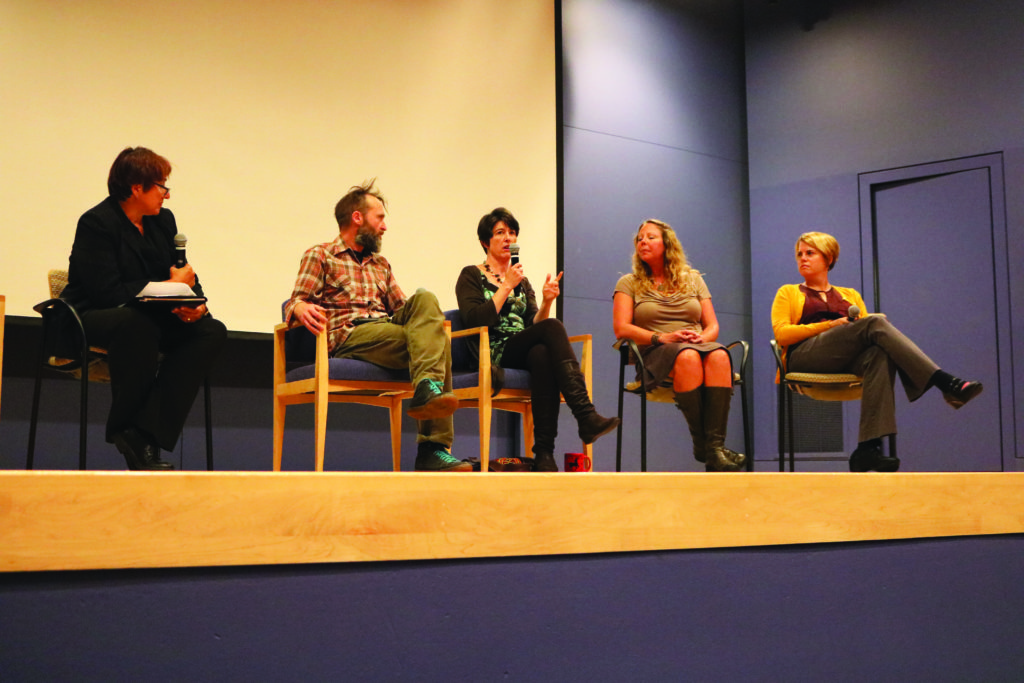 The panel included faculty from the Environmental Studies and Film Studies programs as well as guest speakers from the Seattle Aquarium and Joint Institute for the Study of Atmosphere and Oceanography (JISAO) at the University of Washington.
---
Students gathered in Pigott auditorium last Thursday to watch the documentary "Chasing Coral", which followed a team of scientists and filmmakers as they documented the death of coral around the world. The documentary revealed grave facts about global warming and the effects it is having on the oceans.
Following the film screening, there was a panel discussion where experts from Seattle University's biology, film, and environmental studies departments and a representative from the Seattle Aquarium addressed student questions. Students asked about climate change, the politics involved in environmental action, and how to have difficult discussions about these topics.
"Conflict makes for a story. Have the bravery to have these difficult conversations," said panelist Craig Downing, a film studies instructor at Seattle U.
Students and panelists alike had mixed feelings about "Chasing Coral", including Tanya Hayes, one of the panelists and the Director of Seattle U's Environmental Studies Program.
"I think that as a documentary it brings up and highlights a problem, and it does good visually to draw attention to coral," Hayes said. "I have concerns that it is overly simplistic in explaining coral bleaching and degradation of coral," Hayes said in an interview prior to the screening. "I understand that the film is focused on showing the problem and raising awareness, but it lacks the human dimension."
Hayes said that the documentary should have explored more of the ecosystem services corals provide as well as recognizing the work of local groups instead of only a few scientists working with a big company. Coral reefs are a habitat for fish and other creatures and therefore provide a food source to humans. Another ecosystem service that corals provide is coastal storm protection. Many coastal communities and impoverished populations rely on the fish that live around the corals for their income as well as their diet. Sophomore Marine and Conservation Biology major Diana DiMarco watched the documentary for the first time at the screening and thought that it made some important points.
"I had been avoiding watching it because it is full of sad truths that really hit home for me," DiMarco said. "For someone who already knows about the problem, it was a poignant reminder. I loved that it brought my friends to tears who don't have as much ocean background as I do. It touched the human heart, and I think everyone should watch it."
The imagery of coral dying within the span of just a month was very impactful, sniffles could be heard throughout the auditorium as students with teary eyes watched the transformation of bright and colorful coral into dead, algae covered skeletons.
DiMarco listed some concerns about the documentary: "I think the call to action needs to be followed by concrete ways to take action, for example signing up to call your local policy makers or pledging on a social site to eat one less meat meal a day," DiMarco said. "It also would have been helpful if it talked more about the impact of the reef death on people, because although the earth impact is where I am focused, policy makers and people in power seem to make decisions based on what impacts humans."
The future may seem grim, but hope is not lost. Tanya Hayes' hope is that instead of feeling negative or hopeless, students are driven to learn more about coral.
"When you look into the complexities of the issue you will understand the problem better and see more points of leverage for solutions," Hayes said. "There are a lot of solutions, some of which are very simple solutions that students can do, like promoting stuff on climate change or reducing their carbon footprint."
The ocean is a mostly unexplored alien world that resides on our own planet. It is filled with beautiful colors and fascinating creatures, and with efforts by documentaries like "Chasing Coral" and caring groups and individuals this world can be preserved.
Author may be reached at
[email protected]
Leave a Comment