Ah, fall. Chubby pumpkins on doorsteps, the cinnamon-y smell of baking pies and warm apple cider and the leaves turning from bright green to a warm orange—what's not to love? For students who hail from outside Seattle, autumn in the city can be an exciting experience. Fall is the time to purchase a Pumpkin Spice Latte from the original Starbucks, partake in Halloween festivities and enjoy the clearance bulk candy at the end of the month. Although fall in Seattle is often associated with grey skies and a nonstop drizzle, a trip to Pike Place Market might be just the right dose of the warm-and-fuzzies to cure your gloomy mood. Although it's typically famous for its summer flowers and fishmongers throwing their daily catch, Pike Place Market is serving up some delicious fall specialties; from warm drinks to sweet treats and other eccentric autumn offerings. Don't know where to go? This simple guide will help you find everything you need to eat and drink your way through Pike Place Market this fall.
---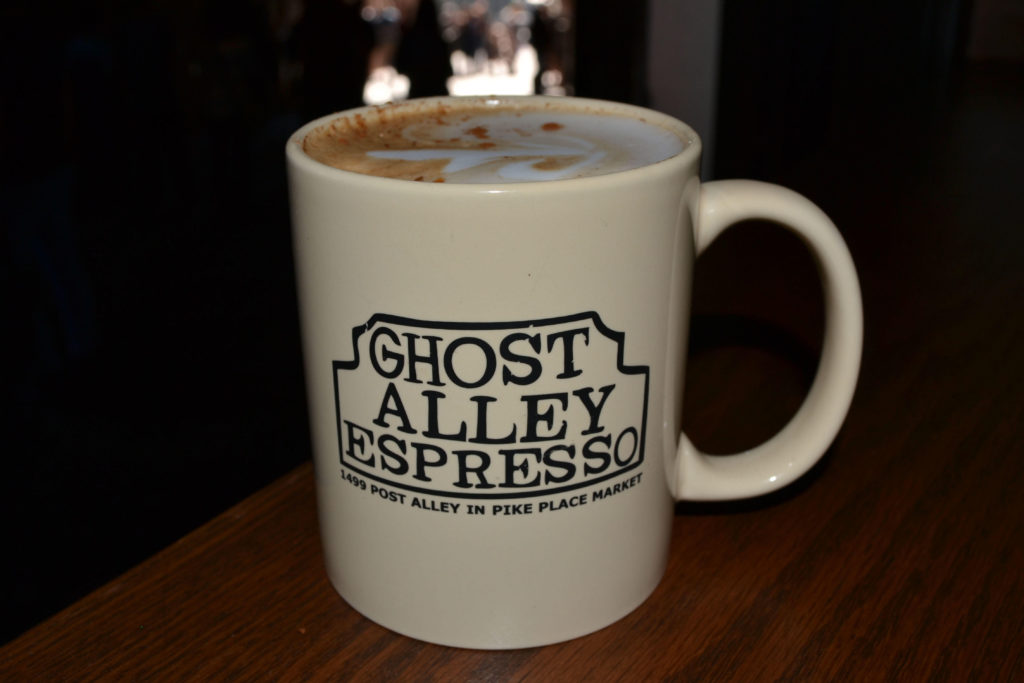 Ghost Alley Espresso offers unique espresso drinks in an intimate setting. Pictured is a pumpkin spice toffee latte.
---
Ghost Alley Espresso– Nestled underneath the Pike Place Fish Market and next to the famous (though currently bare) Gum Wall, Ghost Alley Espresso has been serving up their signature autumn-style coffees since early September. The espresso and specialty coffee shop's fall treats include the Pumpkin Spice Toffee Latte, which tasted just as sweet and delicious as the name implies, and the Habanero Mocha. Both drinks are flavored with spices from Seattle's own spice company, Whole Spice.
Tiny's Organics Apple Ciders– For a spiced drink that isn't caffeinated, head over to Tiny's Organics Apple Cider. With a stand located just outside of the market, across from Beecher's Cheeses, they are a Pike Place Market staple year-round. In the fall, their traditional cold pressed apple cider transforms into a warm and delicious treat that comes in a variety of flavors that change daily; from the ordinary, like original or strawberry, to more bizarre flavors like lavender or maple bacon. All of their warm apple cider blends are a must-try while exploring Pike Place Market during the autumn months.
Cinnamon Works– If you're looking for a sweet fall treat, Cinnamon Works, the bakery on the corner of Pike Place and Pine St., might be the place for you. All the cookies and muffins at Cinnamon Works are likely to make your mouth water, but their pumpkin cookie illuminated feelings of autumn cheer in my heart! Huge and delicious, the cookie is available in both gluten-free and traditional options.
Piroshky, Piroshky– The brick-and-mortar store located just down the street from the original Starbucks serves up a variety of baked goods, both sweet and savory, all year round. In autumn, the Cranberry Apple and Whole Baked Apple piroshkies utilize freshly harvested fruits to create a sweet fall flavor, while the Cinnamon Cardamom Braid adds hints of raisin and orange peel to an already delicious treat. Not to mention, the autumn flavored delicacies at Piroshky, Piroshky make the nearby sidewalk smell delectable.
Inside the Market– If you make the decision to venture into the heart of Pike Place Market and visit their various vendors, be on the lookout for fall specialties. Pappardelle's, which sells dozens of types of extraordinary pastas (located close to the row of fruit stands) manufactures several autumn-flavored noodles, including Sweet Potato Spaghetti and Autumn Harvest Blend Orzo. The fruit shop Chukar Cherries, which serves up dried cherries and berry and nut mixes, recently began selling their signature fall product, spiced hazelnuts, all year round. Woodring Orchards, which sells their many flavors of jams and jellies next to Chukar Cherries, recently began selling their fall specialty, Pumpkin Butter, which the shop owner said tastes just like a pumpkin pie. Not to be overlooked, the produce stands at the market sell fresh seasonal specialties. I recommend snacking on a crisp autumn-harvested apple, which are harvested all over Washington state.
The best way to achieve the quintessential Seattle fall experience is to go out and explore, and the world-famous Pike Place Market may be the best place to start. Of course, there are dozens of shops inside and around Pike Place Market that serve up delectable and delicious treats during all four seasons. However, if you're specifically looking for the traditional flavors associated with autumn, these shops and stands may just be perfect for you!
The editor may be reached at
[email protected]