"Rebrand" Puts a Twist on New Fashion
Seattle University's Fashion Club brought a unique spin to fashion in their 10th annual fashion show. In previous years, the club has reached out to local boutiques for donations of clothing to showcase. This year, the head stylists of the show bought clothes from Goodwill and altered them. The goal was to be more sustainable and to give the stylists more creative freedom in designing the clothes. The title of the show was "Rebrand".
---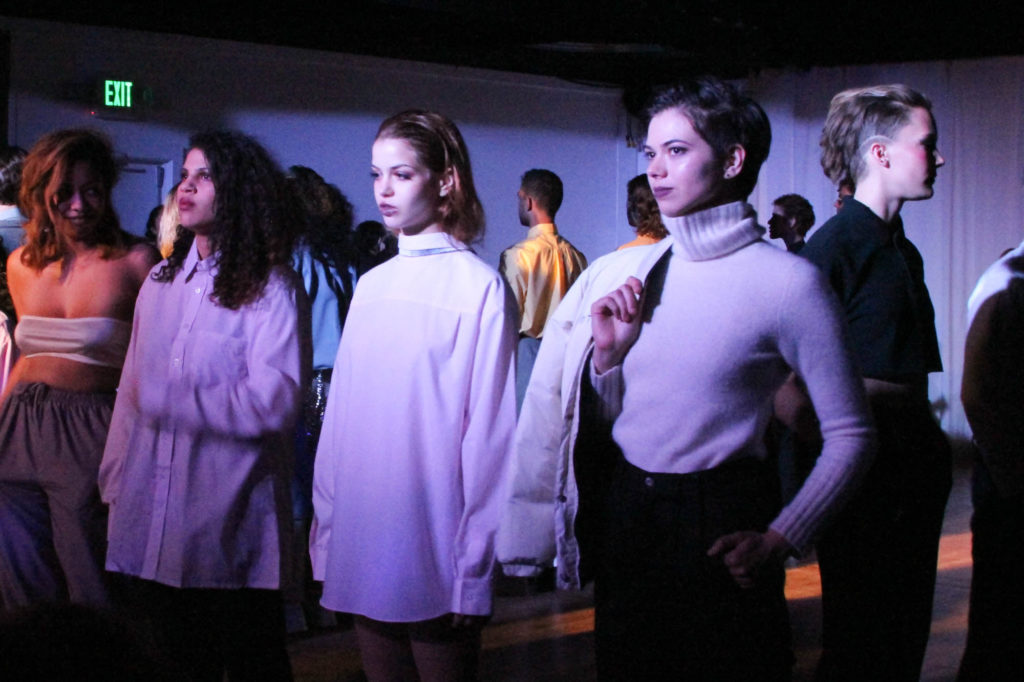 All models featured in the Fashion Club of SU's fashion show were wearing outfits styled by SU students.
---
"Since it is our 10th anniversary we wanted to do something different. We felt very passionate about the economic and ecologic aspect of fashion," said Jack Hemenway, a freshman business administration major and one of the three head stylists for this year's show. Beyond the vision of sustainability, the stylists sought to portray a unique stylistic vision.
"We had the aesthetic vision to mix 90s, grunge and skate culture and bring in the influence from designers we like. The clothes are an amalgamation of all of these different ideas along with inspiration from the past," Hemenway said.
The clothes featured in the show were one of a kind. Included in the mix were coats with a square cut out that was replaced with a transparent material, old shirts made into crop tops and otherwise altered clothing. Clothes were also worn in unconventional ways, such as a shirt and tie that were worn backwards, tights that went over a model's shoes, and all white outfits. All of the models were wearing gorgeous makeup that made their faces shine.
The show also subverted gender norms; there were males in heels, makeup and skirts in addition to girls in ties and shirts that would traditionally be seen on men. The fashion show highlighted the inclusivity of Seattle U and the vision to dissolve gendered stereotypes.
The Fashion Club went even further to support a good cause; half of the ticket sales went to an organization called Muses, an apparel production training house that has a mission to serve immigrant and refugee communities. The show was for a good cause, and it gave the models a chance to strut their stuff. The models were confident and poised, but they seemed to have a lot of fun too.
"It was a lot of fun. At first I was very excited about it but in the middle I started thinking 'I don't know if I can do this,' but the adrenaline of standing in line with the other models got me excited again," said senior digital design major Afina Walton, who was a model in the show.
---
---
The show took place at Velocity Dance Center with upbeat electronic music and colorful flashing lights creating an aesthetic and hip runway. There were free chocolate chip cookies and a back room that had a bar with an assortment of drinks. The back room also showcased photographs, artwork, poems and other creative pieces done by Seattle U students that were for sale. The clothes worn by models in the show were sold in a silent auction after the show. The crowd seemed to love the unprecedented clothing, and some were inspired to go do some thrift shopping of their own.
"The show makes me want to go out to thrift stores," said Marta Gamez, a sophomore strategic communications major. "I liked the show because it makes me think that we can all go to Goodwill and cut up and renovate an old piece of clothing and make it new."
Gamez was also impressed with the poise and confidence of the models; she was in last year's fashion show and knows that it takes confidence to walk in front of a crowd.
"The models owned it. They looked so confident and fierce. Their outfits were so innovative, too, I was inspired," Gamez said.
"Rebrand" portrayed the message that people don't have to buy new clothes every year to keep up with the latest trends—they can go to thrift stores and buy styles they love and create anything they want out of it. Thrifting saves money for the shopper, gives old clothes another life, and is a way to stand up against unfair working conditions and environmental degradation that occurs for the purpose of the production of new clothing.
Fashion doesn't have to be defined by having the hottest new style; it can be innovation and making something old into something new.
Bailee may be reached at
[email protected]
Leave a Comment