Reviewing Campus Eats: A Search for the Bon-Appetizing
For first and second year students who are required to purchase Meal Plan 4 ($1480 minimum per quarter), spring quarter can be a time of intense food frustration. By now, the same foods have circulated through your body countless times. Your bank account says "absolutely not" to off-campus food and the burning desire for a home cooked meal is real. But is 'Bon App' all that bad?
---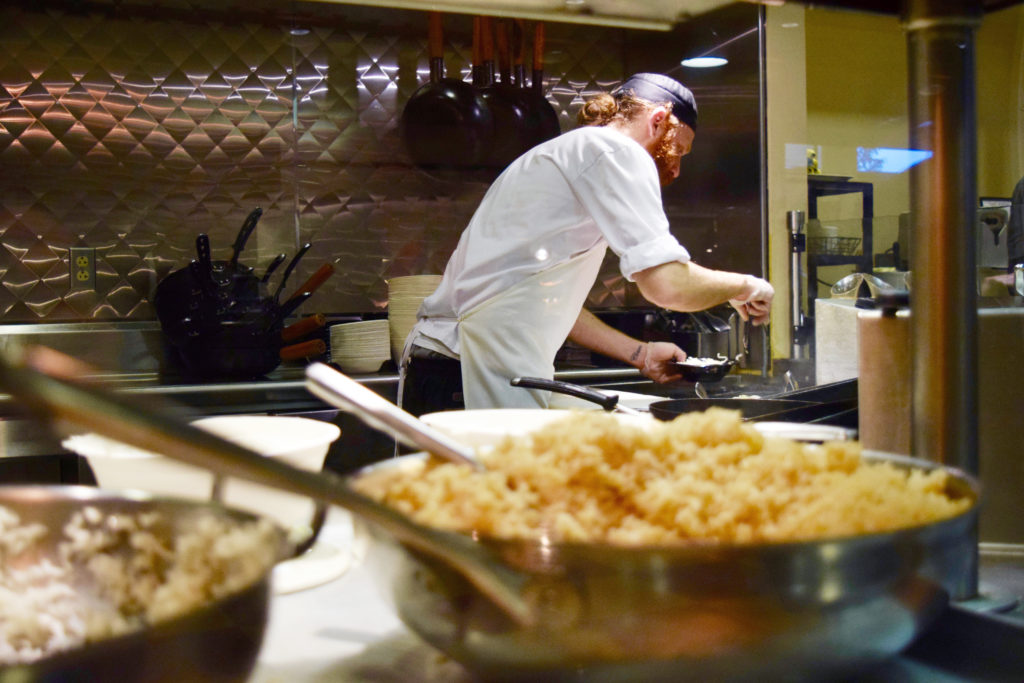 Cherry Street Market allows students to mix and match to make their own wok creations.
---
Eating at Cherry Street Market, also known as "C-Street," every day can be tiring. After testing and carefully reviewing all of the alternative on-campus eateries, the good, the bad and the secrets have been revealed.
The Cave: A junk food haven for the late-night moments when you need a bag of Sour Patch Kids.
Best meal item: The made-to-order sandwiches can be pretty tasty, especially if you want a wide selection of processed meats and an additional choice of fruit or chips.
Worst meal item: The daily special. When you see it, it reminds you of your ex—mediocre, boring and unreliable. It sits there, often uneaten, for the whole lunch hour. You feel sorry for it, but not quite sorry enough.
Wait time: 3 out of 5 stars. When The Cave gets busy and there is only one person staffed to make the food, it can be a bit of a hassle.
Biggest complaint: Lack of options for those with dietary restrictions and a general lack of healthy options.
The Bottom Line: The only breakfast sandwich on campus, plus other food you could probably make in your microwave.
Best meal item: The 'Daybreak' sandwich is the only breakfast sandwich that can be ordered all day on campus. That means the dream of breakfast for dinner can be a reality.
Worst meal item: The nachos. They are simply tortilla chips and shredded cheese with a sloppy array of beans and black olives that you could probably make in your microwave.
Coffee: 3 out of 5 stars. Not bad, depending on who is preparing your drink and how rushed they are.
Wait time: 2 out of 5 stars. Pigott is a busy building, and during the peak of meal time, this line is always long.
---
The Byte: If you're vegetarian, you get one option a week. Take it or leave it.
Only meal item: Usually, this weekly meal option is pretty tasty. This is the only cafe on campus that advertises a healthy vegetarian dish, and many venture to The Byte to take advantage of it. The ingredients look fresh and the preparation is clean.
Coffee: 4.5 out of 5 stars. It seems that many daily coffee drinkers on campus flock to The Byte for their fix.
Wait time: 3 out of 5 stars. This line moves rather quickly, but can be daunting in the morning.
Biggest complaint: The grain bowl is only offered at lunchtime, reducing vegetarian on-campus dinner options.
The Sidebar: The Seattle U School of Law stays winning. They run on the semester system and they get the eatery with the best grilled cheese. We're all jealous.
Best meal item: The grilled cheese. It makes The Cherry Street Market or C-Street grilled cheese cry and call its mom. It tastes like garlic bread and is truly glorious.
Worst meal item: The premade salad is usually just "eh".
Coffee: 5 out of 5 stars. The drink specials at The Sidebar are always delicious. Last week's coffee special the "Hippie Chai" was fantastic.
Wait time: 4.5 out of 5 stars. Very rarely as busy as The Bottom Line or The Byte.
Biggest complaint: Sometimes the grilled cheese and other toasted sandwiches do not melt all the way through. Lacking a variety of vegetarian and vegan options.
Employee expert hack: They will toast any sandwich they sell, and apparently a lot of folks like to toast their PB & J.
The Bistro: More food hacks than you realized were possible…
Best meal item: Undoubtedly the new and improved macaroni and cheese. Infamous for having its own Instagram page, The Bistro's mac is great, and even better with bacon. Trust me.
Worst meal item: The smoothies. The C-Street smoothies contain whole legitimate fruit while The Bistro has decided that their blended assorted smoothie juice concoctions that sit on the counter all day are sufficient.
Coffee: 3.5 out of 5. When The Bistro is not too busy they do a great job with their Caffe Vita espresso. However, the baristas are usually multitasking, which can lessen the quality of the drink.
Wait time: 2 out of 5 stars. Definitely the longest wait time on campus due to its restaurant-style food service. The Bistro's line is also one of the longest lines during busy lunch and dinner hours.
Biggest complaint: Aside from the smoothies, none of the meal options are particularly healthy. Many of them are very dense in carbohydrates like bread, rice and pasta.
Employee expert hack: You can replace any regular cheese with goat cheese and mix a vegan thin mint cookie into your mocha frappé.
Haley may be reached at
[email protected]
Leave a Comment