Once a year, the planets align to bring one of Seattle University's cornerstone events. Amazing to behold like a shooting star, but like a shooting star, always over too soon. The spacethemed spectacle in question is, of course, the 11th iteration of Triangle Club's annual Drag Show, which brought out talent from across the state and our own student body.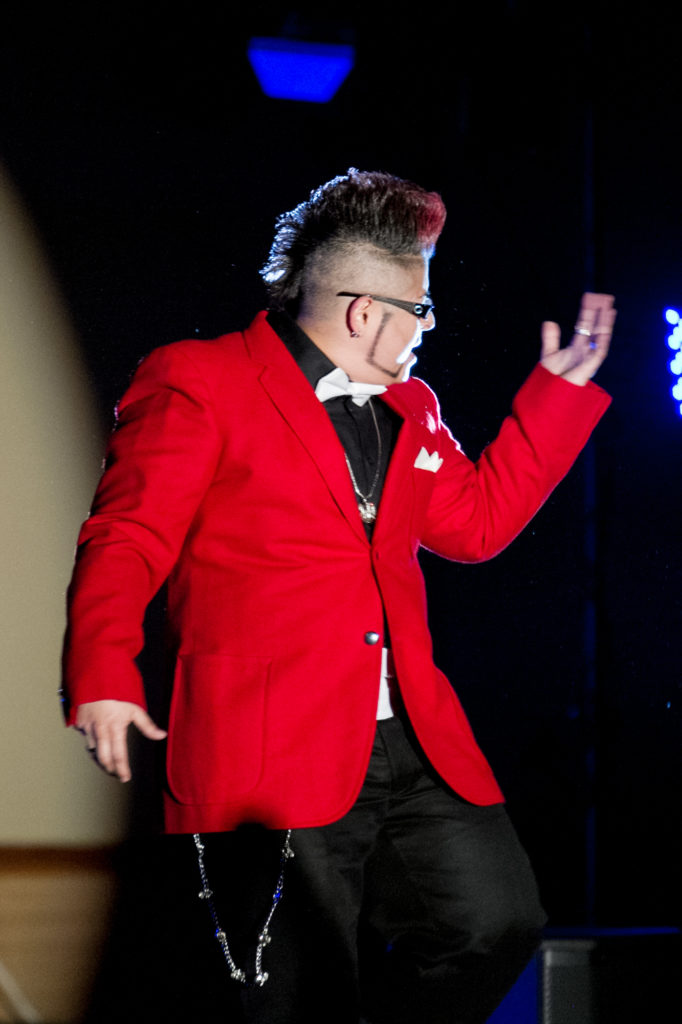 Cesar Hart was the host for this year's Drag Show. He also performed at the 2015 show, as pictured.
As one of the campus' most popular events, the Drag Show hardly needs introduction; it is a night of lip-syncing, elaborate outfits and performing as another gender… in other words, it is always a memorable show. Though recently popularized by media like Rupaul's Drag Race, this type of performance has a long, rich history and has been hosted on our campus for more than ten years.
"It was great to see the LGBT community in our school get represented and advocated for in this way," said Veronica Espitia, a first-year cultural anthropology major. "Drag is such a fun, unique form of expression. It inspires confidence and individuality and provides a supportive community to so many queer folx."
For every installment, Triangle Club recruits drag queens and kings who have earned their rep in the Washington area, sometimes even having their favourite hosts return for another year. This year's lineup had Caesar Hart, a king that has recurrently graced the Seattle U stage, only this time though stepping into the position of host for the first time.
The change in MC was not the only thing that was different this year. Triangle Club also went into Drag Show 11 with the intent of giving more drag kings the spotlight than other years.
"One of our biggest goals for the show was to include drag kings in the performance," said Ann Marie Zocchi, second-year U.S. history and education double major and the director of this year's Drag Show. "Drag kings are not as well-known in the community and we wanted to shine a light on them."
The environment was vibrant from start to finish, with a wide range of music genres and performance types to suit all tastes. One minute, you were soothed by Fleetwood Mac and elegant, ballet-like movements, while the next you were out of your seat and clapping to Lady Gaga's "Bad Romance".
The kings and queens would literally transform on stage, changing their outfits, pulling out props and even going out into the crowd. After each act finished, the anticipation built for that performer's return, as many came back singing a different tune, both literally and figuratively.
For many students, the most anticipated segment is when they get to be in the show. Every year, a small handful of audience members are taken backstage to be transformed into their drag persona and earn their own space on the stage. With a team of professional makeup artists and about thirty minutes, students become stars with their own outfits, stage names and song and dance routines to share with the crowd. After all the student volunteers have put their best foot forward, it is up to the audience to determine who wins the "drag race" and the trophy and pride that come with it.
"There's always so much love and support in the room," said Brandon Bassler, second-year film studies major. "Not only that but you get a fantastic show that is always professionally put together full of lights, music and glamour."
Though the Drag Show is meant to entertain, it is also a lot more than just a good time. Proceeds from the event go towards funding Triangle Club's Colors Retreat, which is an important yearly tradition for the club. Drag Show is the culmination of months of work from several members of triangle club and many community members as well, coordinating everything from outfits to decorations to the music that is played.
"One big thing people might not know just from seeing the show is that organizing big events like this take a lot of work and lot of people to help," Zocchi said "This is definitely not a one-person job; there's so much behind the scenes action."
With a cast of performers that never ceases to impress and a formula that dares to be different, Triangle Club's Drag Show is an event you should not miss out on.
Carlos may be reached at
[email protected]