Tom Ogden looked up from his guitar between songs. "This is the most intimate show we've done in a long time," the singer said coyly to the crowd of roughly 40 people.
---
England's rising band, Blossoms, performs at the Vera Project during their first stop in the U.S.
---
"Intimate" is certainly one way to describe Blossoms' April 11 performance at The Vera Project. While the room was far from full, most of the audience seemed familiar with Blossoms, singing along to the songs. The opener, a local band named Joyfield, was also well received. Their rolling indie rock featured Ellie Hanes' soaring vocals, reminiscent of Paramore and Misterwives, along with crisp guitar, a great Cold War Kids cover and, oddly, a lack of shoes on stage.
Blossoms stood in contrast with their opening band, long locks waving and pants sitting high on the waist. They've rolled out of the U.K. as part of the new wave of British alt-rock, crossing the Arctic Monkeys' slanted vocals and sauntering rhythm with the synth-pop and 80's inspired hooks of the 1975.
Before the show, Blossoms (singer Tom Ogden, bassist Charlie Salt, drummer Joe Donovan, keyboardist Myles Kellock and guitarist Josh Dewhurt) sat down with the Spectator for an exclusive interview. As we settled in, I asked how life on the road has been. "It's terrible," Salt grinned. "People singing your songs back to you every night and paying money to come see you is really, really awful."
---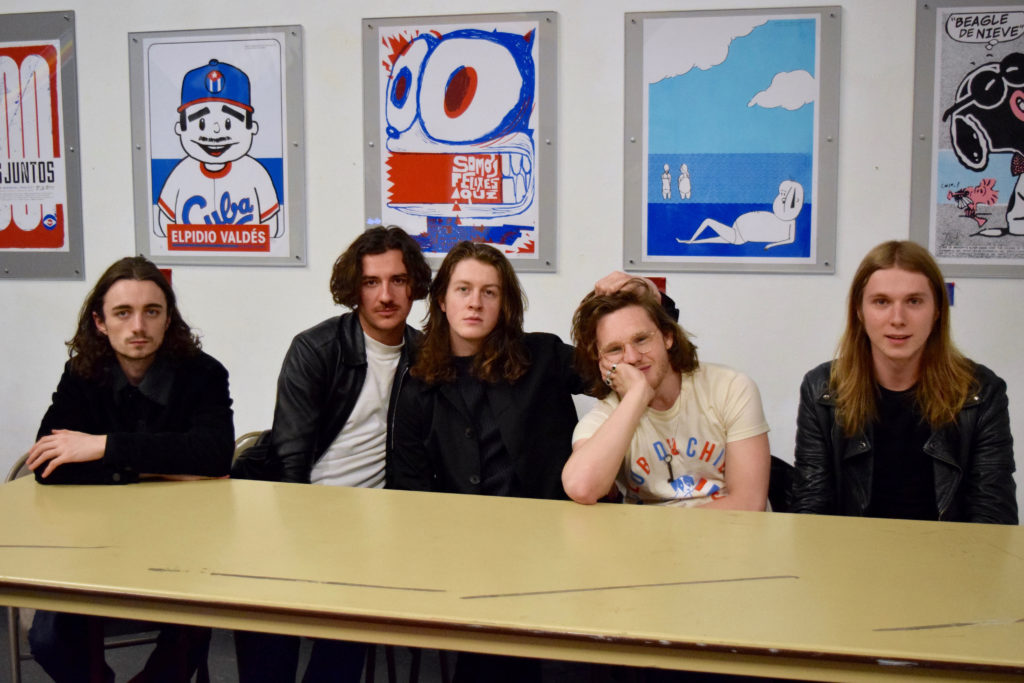 Blossoms sat down with the Spectator for an exclusive interview before the show.
---
Like Salt, none of the others took themselves too seriously, despite their Extremely-Cool-and-British media personas. This was exemplified by a small secret they let me in on. "I like it when Tom changes the lyrics [onstage]," Salt said.
Ogden laughed. "That's usually for our benefit," he explained. "When you're playing the same show over and over you've got to find little ways to have a laugh…But in a loud room no one knows what I'm saying, really. It's just funny…I'm gonna find a new one tonight."
Blossoms' casual attitude started with their formation. All five are from Stockport, Manchester, and played in different groups before haphazardly joining as Blossoms in 2013.
"We used to go to parties at Myles's flat above a quarry house in Stockport," recalled Ogden. "He overheard us saying we wanted a keyboard player and he just nominated himself…and now here we are in Seattle!"
"There was no interview for sound," Salt added. "Just straight in—'I'll do it.'"
Donovan laughed at Kellock. "Maybe we should've interviewed ya!"
The same ease and natural cohesion between the five was visible on stage. As they rotated through most of their self-entitled debut album, their performance appeared to be sheer muscle memory, a practiced balance. Less cohesive, though, was the relationship between the band and their setting. Understandably jetlagged, all but their top hits and wildest guitar carried less energy than I had hoped. They chatted and joked occasionally with the audience and one another, but space between songs often felt awkwardly empty in the small venue.
Perhaps it had something to do with a band accustomed to performing for thousands playing instead in a small venue for less than 50 people. ("It's like starting again here," said Donovan of playing in the States for the first time.)
But as they continue touring through intimate venues and large festivals alike, Blossoms believes they'll build up an audience here just as in the U.K.
---
---
Donovan named Blossoms' lyrics as their greatest strength. "Tom's lyrics are very relatable, I think that's important."
When writing those lyrics, Ogden said he keeps it simple. Songwriting happens in his messy room back home, with a guitar and the keyboard he learned to play piano on. Usually, he'll "just noodle about, just see what happens," he explained. "There's no rules to it."
Asked for the music currently inspiring them, the boys rattled off a jukebox's worth of artists: Childish Gambino, Michael Jackson, Oasis, Bruno Mars, Glen Campbell. The playlists on their Spotify page demonstrate their varied taste, featuring those artists and more. "I don't think we'd classify ourselves as music snobs," Salt said. "If it's a tune it's a tune."
"I think you'll hear stuff [in our music] from all your favorite songs across the years," Ogden said. "If you're into pop music from across the years, I think you'll really enjoy [our music]."
My favorite moment of the night brought this appreciation for hit songs and Blossoms' lighthearted attitude briefly to the stage. Halfway through the last song of their set, "Charlemagne," I caught Ogden's lyrical switch-up of the night. The band rocking out between verses, he glanced around and mumbled into the microphone, "I'm a motherf***ing starboy." Few people in the audience seemed to notice his pronouncement, but his bandmates clearly did, chuckling as they played their most popular song to close out their first show in America.
Sam may be reached at
[email protected]