Tam Noodle Box: A Sweet Delight
Tam Noodle Box, a small Asian fusion restaurant nestled on the corner Broadway and Jefferson, offers a nice lunch-in or a quick take- out. The outside is mainly marked by a lone, yet colorful sign, but the large windows make up the difference, allowing any passerby a glimpse into the restaurant. Tam Noodle Box enjoyed a soft opening on Tuesday, and it's just across from Campion.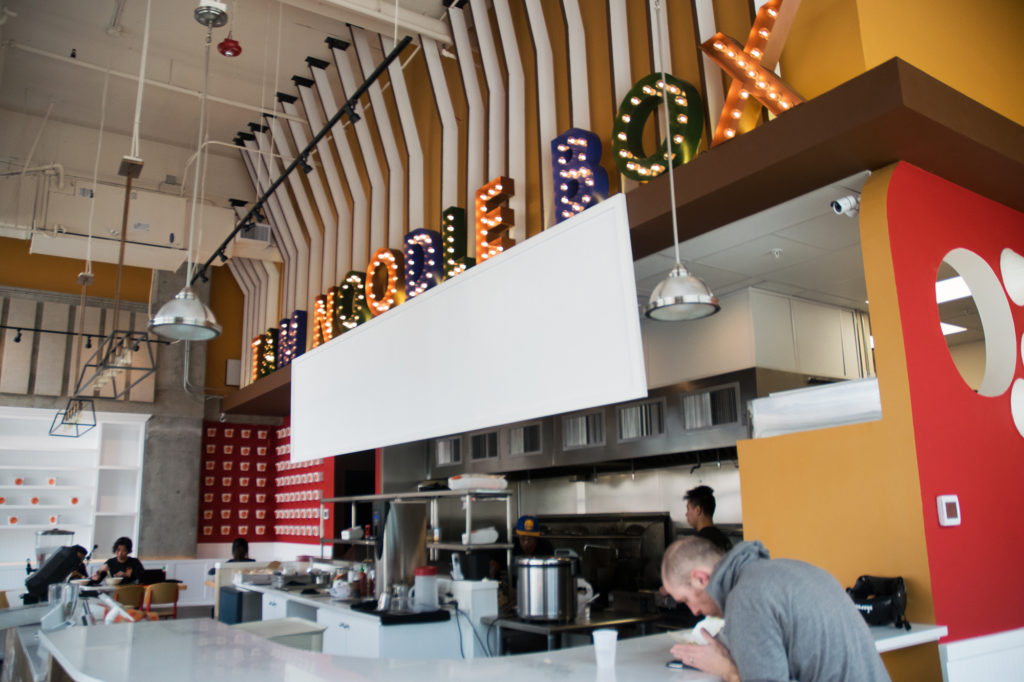 Tam Noodle Box is a new restaurant that opened on the corner of Jefferson and Broadway
Stepping into the door, the first thing I saw was the shining white counter, which was wide enough to act as both a bar to customers and work station for the cashiers. The colors inside the restaurant were a soothing mix of reds and whites, with decorations like small rice hats planted against one of the red walls. Above our heads was a sign made up of light bulbs that spelled out the restaurant's name.
The place didn't have many people in it when I arrived, so the cashier told me to take my time choosing my meal from the orange paper menu they handed me. The menu has three sections—Small Plates, Tam Noodles, and Drinks—and after getting a recommendation for each section, I paid for my meal up front. This initially struck me as odd as I made my way to my seat by one of the large windows.
It wasn't long before I got my next surprise: the food was in take-out containers. There was a square, orange and red sticker that explained how to open the container into a more plate like shape, but how much I succeeded is up for debate.
In any case, the food quickly took my mind off that. The egg rolls came in a set of three. I really liked them for their nice, crunchy shell and hot, soft center made up of vegetables and pork. (Don't worry; veggie egg rolls are also available). I liked it so much I didn't bother to pace myself, and I quickly felt the heat pressing against the walls of my mouth.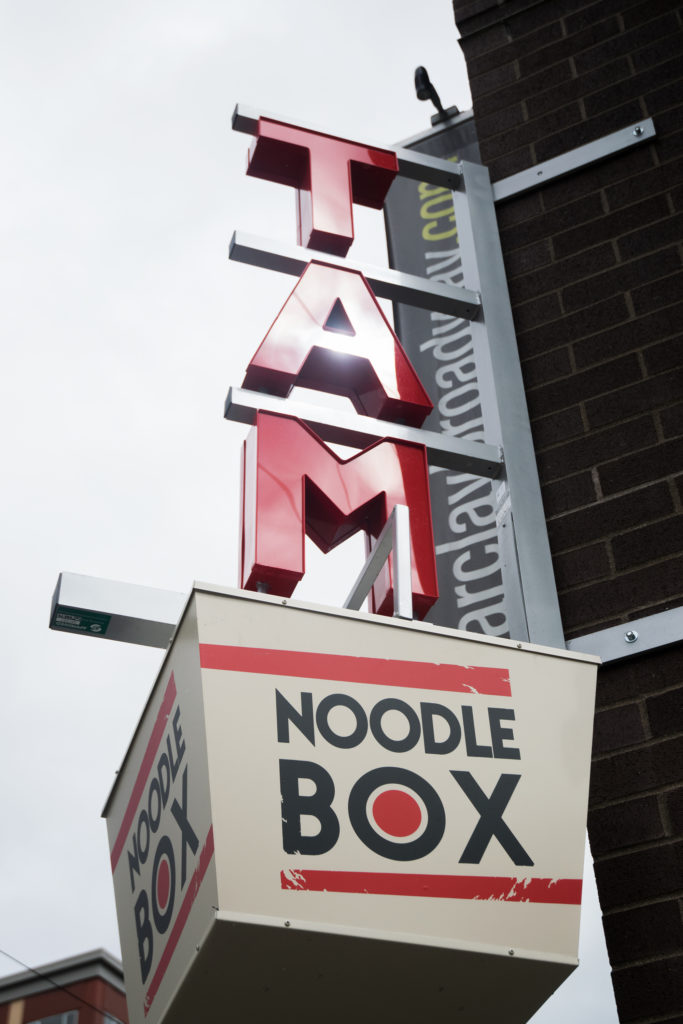 The Tam Noodle Box sign hangs outside the newly opened restaurant near campus.
To help ease the pain of my avoidable mistake, I drank my Thai iced tea. The color of the drink rose from the bottom's dark red to the top's soft pink with little black flakes. The Thai iced tea was almost sweet, but subdued enough that the best way I can describe the drink is "smooth." The second the straw made that empty sucking sound, I was immediately disappointed with life and wanted more.
Then came the main course: the Pad Thai Tam Noodles. I won't lie—it felt like a lot to get through. I managed to finish maybe half of it before I called it quits, so I can definitely say it was filling.
This was a little surprising since I had a light lunch and exercised for more than an hour. The chicken I opted for was tender, and the onions well-steamed. I'm not a fan of tofu in general, so the most I can say is that it's scrambled form was…okay. The noodles and onions were easy to chew, and whatever spices were in it were well hidden, because when I stopped to take a breath I felt my taste buds burning.
Every few bites I took a break, which allowed me to enjoy the view outside my window of Broadway. Cars and pedestrians passing by were oddly soothing, especially since the modern music was loud enough to mute the noises coming from the outside, but not so loud that I couldn't hear the chatter from the other customers. From my seat, I got a clear view of the corner of First Hill Medical Building, where a row of trees with blooming flowers lined the street in front of it.
Overall, it was a nice experience. My only major complaint is that expanding the to-go box into a plate- like form was a little confusing, but even then I see the genius in a take- out container for customers to pack up and leave with.
My recommendation is to come here for lunch. Enjoy a sit down chat with friends and enjoy the view, especially during the daytime. Or you can get your food on the go, which won't be a long wait if my experience is anything to go by.
The editor may be reached at
[email protected]
Leave a Comment