Nikkita Oliver and SU Students Take Part in Poetry Slam
"The youth right now are what?"
The audience yells back, "The truth right now!"
Young people are leading the fight for social justice in Seattle. Their medium? Spoken word.
---
---
Youth Speaks Seattle 2017 Grand Slam sold out Town Hall Friday night with 800 people in attendance. The night was filled with powerful words about personal experience and social justice issues—all performed by poets ages 13 through 19.
The event was hosted by Nikkita Oliver; a poet and familiar face in the Slam community as well as a Grassroots organizer, a UW Law School graduate, educator, boxer and the People's Party's mayoral candidate for 2017.
The multifaceted host set aside politics for the night and kept the audience hyped for the brave young souls on the stage and what they had to deliver.
Slam is the sport of spoken word.
The Youth Speaks Seattle 2017 Grand Slam is a competition that began with preliminary rounds sifting the poets down to a group of 10 folks that competed Friday night. They each had three minutes to speak their piece and then they were judged on a 10-point scale by five judges.
Five of the 10 will compete in Brave New Voices, a national slam competition held in San Francisco in July.
Slam competitor and Seattle U sophomore, Ivy Jong (they/them/she/ her) performed in the first round.
Their poetry is inspired by personal experiences and put in the context of greater social justice issues.
That seemed to be the theme of the night: personal narrative that ties into the larger system.
Growing up in the Midwest, Jong was active in their queer community, and found spoken word in Seattle as a way to express feelings that are otherwise difficult to get out.
After changing the policy of restrooms to gender fluid in their own high school with the help of their Queer Club, Jong felt like the progress they had made took five steps backwards when Trump implemented the law prohibiting schools from having gender fluid restrooms.
Thus fueling their inspiration for a poem.
The poem they performed was about the trans experience with public restrooms and how harmful the binary can be, making it difficult for trans folk to exist in public space.
They delivered it powerfully and emotions were high during the performance.
That's the power of spoken word. Feelings and frustrations of isolation and injustice can be communicated into art and shared among people.
Whether listeners relate or not, Youth Speaks participants have the platform to take up space however they want and it is up to listeners to empathize. (Vocalizing feelings, snaps and foot stomps are heavily encouraged at spoken word events.)
Coco Decker (they/them) is a poet, Seattle U graduate, photographer and collaborator with Youth Speaks.
They point out that as a white person, they will never know what is it like to experience being a POC, but they can listen to those stories and empathize with them.
Empathy is a big part of social movement and spoken word allows marginalized folks to tell their story.
The youth are at the core of social movement in Seattle.
"Young people are mistaken as the leaders of tomorrow, but they are leading right now." Oliver said.
Youth Speaks poets covered issues about trans experiences, police brutality, the killing of POC in America, colonialism, mental illness, disabilities, struggles with identity and more. The stage is a place where anger can serve as a means for change and these kids have a right to be angry.
"The world has told them that as minorities, they are hated," said Jong, "They are expected to stay in the background."
---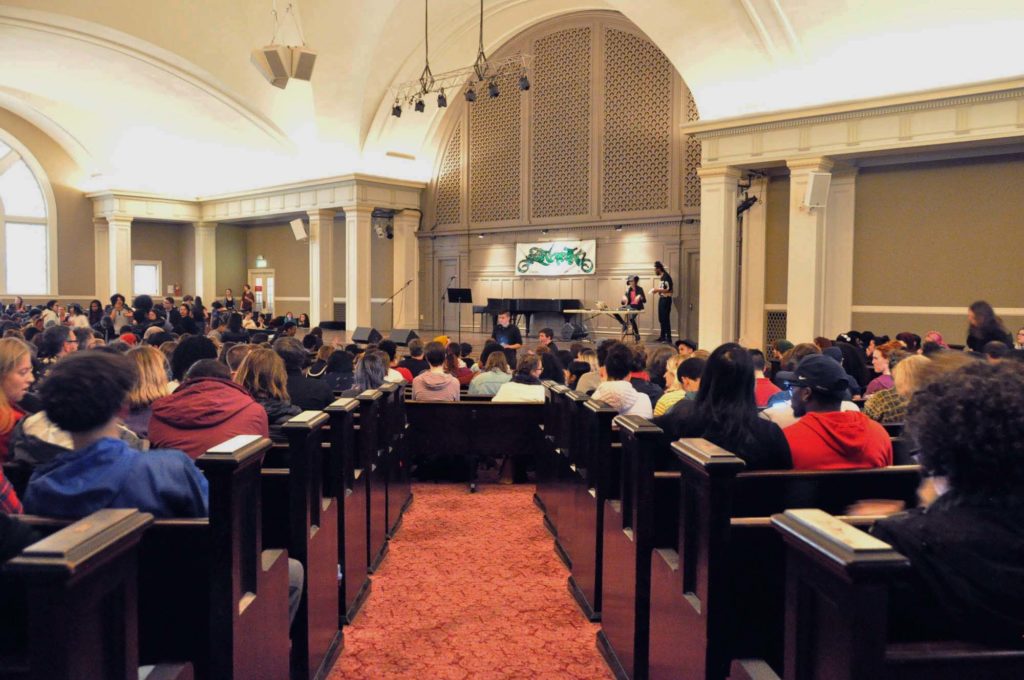 Members of the Seattle community attended Youth Speaks' Grand Slam competition.
---
By getting up on the stage and voicing their experiences, it is an act of defiance for these young folks.
It is a powerful act to speak the truth on stage and you have to listen; they cannot be pushed down nor are they backing down.
Their age did not matter.
If anything, their young age allowed them to communicate their experiences better, even though their lives have been stained with the reality of the social justice issues they were spitting about.
The competition was on the back burner to the messages these young folks were sharing with the audience. Oliver reminded the audience that the point was not about the politics, but about the poets.
No matter the score, every word the poets spoke was important. Their words raised the voices of those who have been silenced by oppression.
For older audience members, the poems they heard were a reminder about what they are fighting for; it is for the youth and their future.
The Youth Speaks poets left the audience chewing on the message of "This is what's wrong in the world. What are you going to do about it?"
The editor may be reached at
[email protected]
Leave a Comment