Charity Pillow Fight Combats Homelessness in Seattle
The sight of the fourth annual Seattle pillow fight hosted in Cal Anderson Park on Saturday would have shocked any average passerby. Feathers were flying, children were screaming joyously and a massive group of people ruthlessly attacked each other with pillows.
International Pillow Fight Day is a day celebrated worldwide by eager people (mostly adults) who come together to have some innocent fun and whack each other. This event was hosted in Seattle by an organization called the Seattle Deviants—composed primarily of one man named Gustavo "Gus" Catalano.
Catalano works as a software engineer at Microsoft, but in his free time he organizes unique charity events around Seattle. In the past, Catalano has organized a bubble battle and a silent disco in addition to the annual pillow fight.
The bubble fight wasn't as popular as he had hoped, and consisted of people blowing bubbles at each other. Catalano said the silent disco he organized was a success. Participants brought headphones and listened to the DJ that was streaming over wireless internet, so they were all listening to the same music, but silently. The event was convenient because there were no noise complaints or permits to worry about because the entire disco was silent.
Catalano's interest in organizing fun events manifested in college when he put on electronic music shows. Promoting the events was something he loved doing, but he explained that the involvement of money made things too stressful and not as fun.
After meeting the man who started International Pillow Fight day in Toronto, Catalano realized nobody in Seattle was participating and decided to channel his electronic music promotion skills into organizing the fun event.
"I like getting people together and knowing that everyone is having fun. I don't really care about anything else," Catalano said.
But there is something else Catalano adds to the equation: charity. After the first pillow fight, Catalano realized that he had a huge amount of extra pillows and nothing to do with them, so he took them to the Compass Housing Alliance. After that, he added an option to donate money to local homeless shelters at the event, which he doubles at the end of the day, if it's in his budget.
This year, the event raised $126, and was matched by Seattle Deviants for a total of $252 to be donated to local homeless shelters in addition to the donated pillows.
---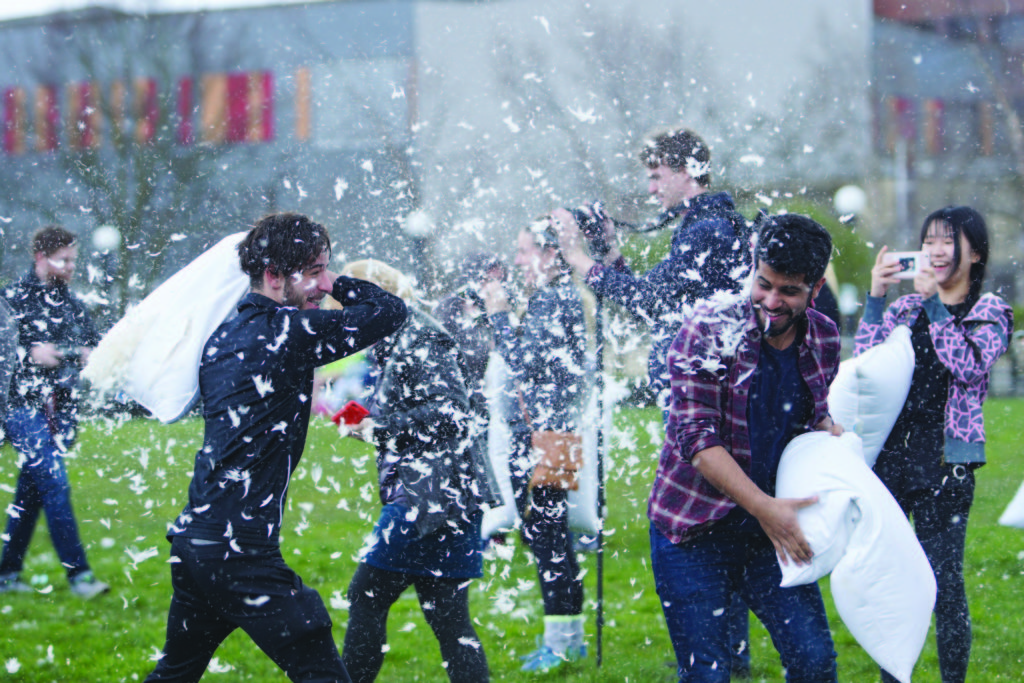 Cal Anderson Park was covered in feathers after a pillow fight was staged on Saturday.
---
A major reason Catalano continues to put on these events is for the joy it brings to the participants and the connections everyone is able to make in the community.
"I thought it was something that was fun and different, I've never seen a public pillow fight before and to have a bunch of adults ripping on each other with pillows I thought would be really funny to see," said Denise Simens, a participant at the event. "I just thought it was something different and fun so I thought I'd come check it out."
Seattle Deviants primarily uses Facebook to get news out about their upcoming events, which proved to be an effective approach on Saturday when dozens, if not over 100, of participants showed up.
Julia Gottliee was a participant who was happy she found the event on Facebook.
"You don't know the people but you still get, like, to know each other, and you fight, and it's fun," she said.
Many of the participants were decked out in footie pajamas, which Seattle Deviants encourages on their Facebook page. Every year, Catalano dresses up as a figure in pop culture for the fight, in the past donning costumes of Peter Pan, Aragon and Deadpool. This year, he dressed as Donald Trump, because he felt like a lot of people harbor frustrations for the new president, and he personally doesn't like the politician.
After adults in muddied footie pajamas retreated to Molly Moon's for ice cream, people who were once strangers came together to help clean up feathers using donated rakes. The event brought them and many others together as they participated in good, innocent fun that mirrors the child in all of us.
Tess may be reached at
[email protected]