For those looking to find sweet refuge from the stormy week in a cozy noodle shop, look no further! Bring a group of friends in to Dong Thap noodles for some pho-nomenal food, huge servings, and fairly reasonable prices.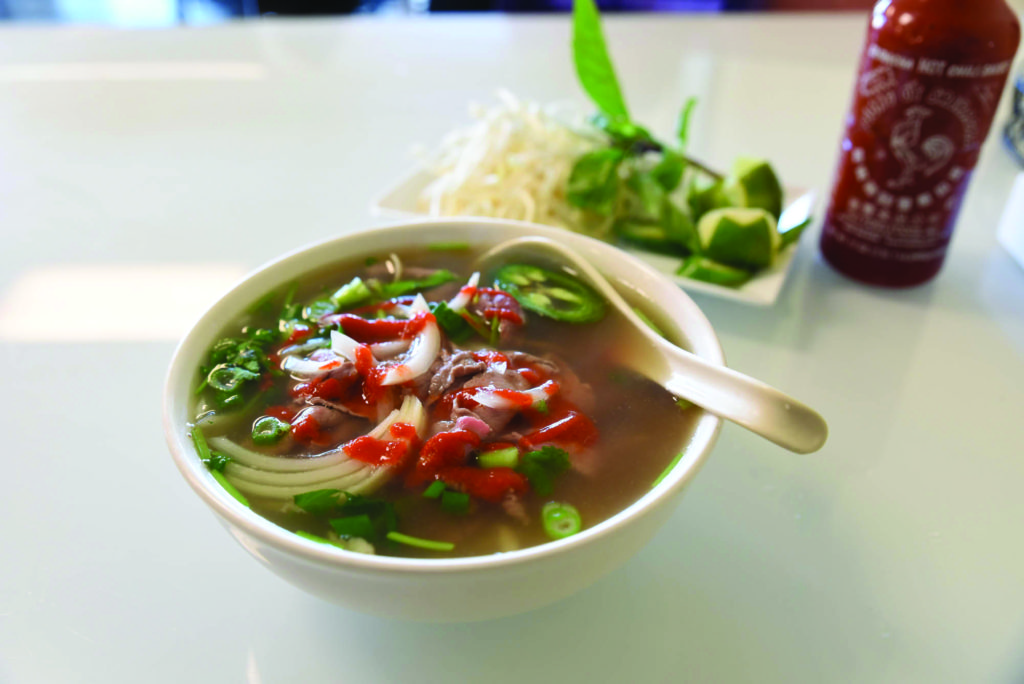 A hot bowl of small Pho Tai Nam with Sriracha sauce drizzled on top.
You may have seen Dong Thap Noodles as the topic for a popular Buzzfeed Food video shared on Facebook. is is because they boast the largest bowl of pho in the world—and the restaurant is located in our lovely Emerald City.
The local Seattle Vietnamese restaurant doesn't look extraordinary at first glance. The storefront blends into the surrounding area and the inside is quite generic, with plastic chairs and white tables. Something may catch your eye as you near the front, though, and that's a gigantic white noodle bowl that sits at the counter. This bowl is set out as an example of the business' "Superbowl Challenge", which involves eating the "world's largest bowl of pho" for 45 dollars.
According to Buzzfeed Food, the rice noodles are made from scratch, a process that is rarely done in the United States and takes four days to accomplish. The classic "Superbowl" is made with the house special, which consists of pork brisket, steak and meatballs. The popular food channel also reported that the bowl will have three pounds of meat and noodles and three liters of beef broth are used for a single bowl. Because the process takes so long to make just a single, massive bowl, the restaurant requires customers to make an appointment that allows them adequate time to prepare the meal.
I was shocked when, during my meal, giant bowl after giant bowl kept coming out to expectant customers. More than half the tables in the packed restaurant were ordering the "superbowl." This isn't just a challenge where customers try to finish it once as something to accomplish; it looked like many groups shared the bowl as a convenience. If you were thinking about trying this giant bowl, I would highly recommend bringing a few others to help the cause.
If you're not ready to commit to a bowl as big as your entire torso, aim for one the size of your face instead! This is the first noodle shop I have encountered that allows you to pick the size of your pho. The restaurant offers small ($7.50), medium ($9.00), large ($10.50), and extra large ($13.50). The medium is the size of your average pho serving: I opted for a large and ended up taking a lot of it home.
The store has a variety of delicious options to choose from, like udon noodle soup, rice noodle soup, special rice dishes, vermicelli noodles and more. The pho options include traditional flavors, and the house special consists of steak flank, brisket, tripe, tendon, and meatball.
The appetizers are a delicious option for people who have zero ability to wait until the main course to eat (like me). The menu offers either egg rolls or spring rolls, for $4.50 and $5.50. I chose the egg rolls, and they were some of the best I've ever had. I feel like egg rolls aren't a food with a ton of variety, and I was shocked by how perfectly crispy and flavorful these chunks of heaven were. I seriously ate these in less than two minutes, which was plenty of time for my pho to arrive—the service was exceptionally quick!
The pho was noticeably fresh, I could definitely tell that the noodles were made from scratch and all the veggies were crunchy. I ordered the chicken pho, and the broth was perfect after adding some hoisin and Sriracha Sauce. I genuinely think that whatever type of pho you order here will be top notch; this place really knows what it's doing. This noodle shop is not messing around—it is pho-real!
Dong Thap Noodles is located walking distance from campus, at 303 12th avenue. The shop is closed on Tuesdays but is otherwise open Wednesday through Monday from 10 a.m. to 9 p.m.
Tess may be reached at
[email protected]