Hole-In-A-Wall Manu's Tacos Among Seattle's Best
Seattle is a city always craving new taco spots. Compared to other cities, it's lacking a variety of yummy taco joints. Any Seattleite who enjoys a good taco (everyone) knows that any time another taco spot opens it needs to be compared to the few existing authentic taco places that call Seattle home. Tucked in a side street in Pioneer Square is a place called the Flatstick Pub, andbeside that is a tiny hole in the wall—literally—that sells some of the best tacos in Seattle.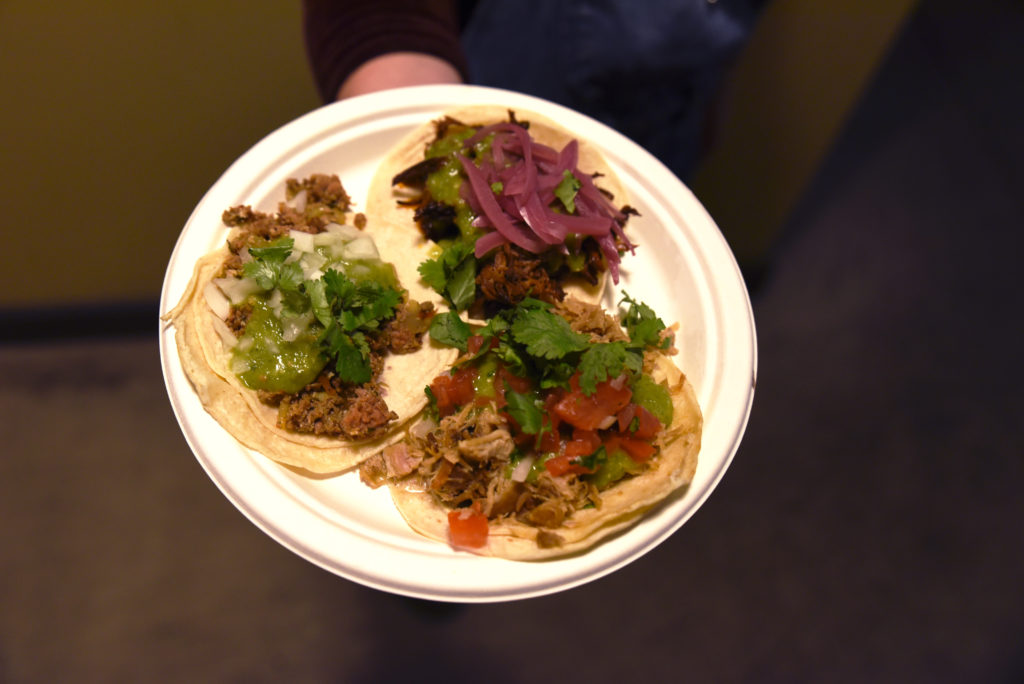 Three different types of tacos at Manu Alfau's Pioneer Square Taco Stand.
It was a struggle to find the tiny spot in Pioneer Square, especially in the pouring rain that kept my friend and I hurrying toward the warmth of a fresh taco (or five). We finally found the little taco haven called Manu's Tacos, just a large window in the side of a brick building. With the shelter from the rain, I finally had time to assess the menu—a laminated list of six taco choices taped to the window beside us.
The tacos are $3 each and offer a limited variety of vegetarian and meat fillings. There was also a quesadilla special that day. I chose to order the top three on the list: pork carnitas, chicken tinga and braised beef brisket. I also ordered a hot horchata because I'd never tried heated horchata before.
I have to add that the customer service was amazing. Manu Alfau introduced himself immediately and was really kind and helpful with his taco advice. He told me that the three tacos I chose were the most popular on the menu.
After receiving our tacos, we ran into the dilemma that there was nowhere to sit near the taco window and it was pouring rain. Manu told us that we could go down to the Flatstick Pub to stay warm and dry. We headed down to the pub, tacos in hand, and spotted a long table to sit at. It felt a little awkward to just eat our tacos, but Manu's Tacos also sells tacos at the bar of Flatstick Pub, so it was okay.
As a person born and raised in Washington State, I have to divulge that my taco rating scale ranges from worse-than-Tacos-Chukis to better- than-Tacos-Chukis. I soon realized, however, that was not how I would be able to do this taco joint justice.
To put it simply, these tacos were amazing. It was a new breed of taco that I hadn't experienced before. These tacos were exceptional in their flavors, ratios and price. $3, the tacos are very stacked with meat and some veggies (depending on which taco you order). I was particularly impressed with the meat. The meat held a lot of flavor and was cooked to perfection, leading to a hearty and satisfying meal. My favorites were the braised beef and the chicken tinga, which were phenomenal examples for how a taco stand should perfect its meat.
Although the tacos weren't as saucy or spicy as other taco joints make them, it's all for the better. This allows the true flavors of these tacos to stand out, instead of being unnecessarily gussied up, the subtle flavors are able to hold their own. Alfau clearly knew what he was doing when he created these recipes.
My one complaint is about the tortillas. I am a strong believer that a little homemade tortilla goes a long way, and these tortillas were very 'meh.' The tortillas weren't as amazing as the taco filling, and to make it one delicious taco bomb, the filling and tortilla need to be cohesive.
I also highly recommend the hot horchata. It was very flavorful and it is great for keeping you warm during a rainy Seattle taco outing.
According to the Seattle Met, the Manu's Tacos window is open weekdays from 11-3 p.m. and the counter in the Flatstick Pub remains open from 3-10 p.m.
Tess may be reached at
[email protected]
Leave a Comment