Sink Your Teeth into Katsu Burger
It was tired feet and growling stomachs that led my group of women's marchers into the new Katsu Burger on Saturday. We had been walking for a few hours with the Women's March before deciding we needed to fuel up to make it through the day. Our choice of fuel? A deep-fried burger, nori fries and a matcha green tea milkshake from Katsu Burger, a new inspired Japanese American fusion restaurant on Capitol Hill.
---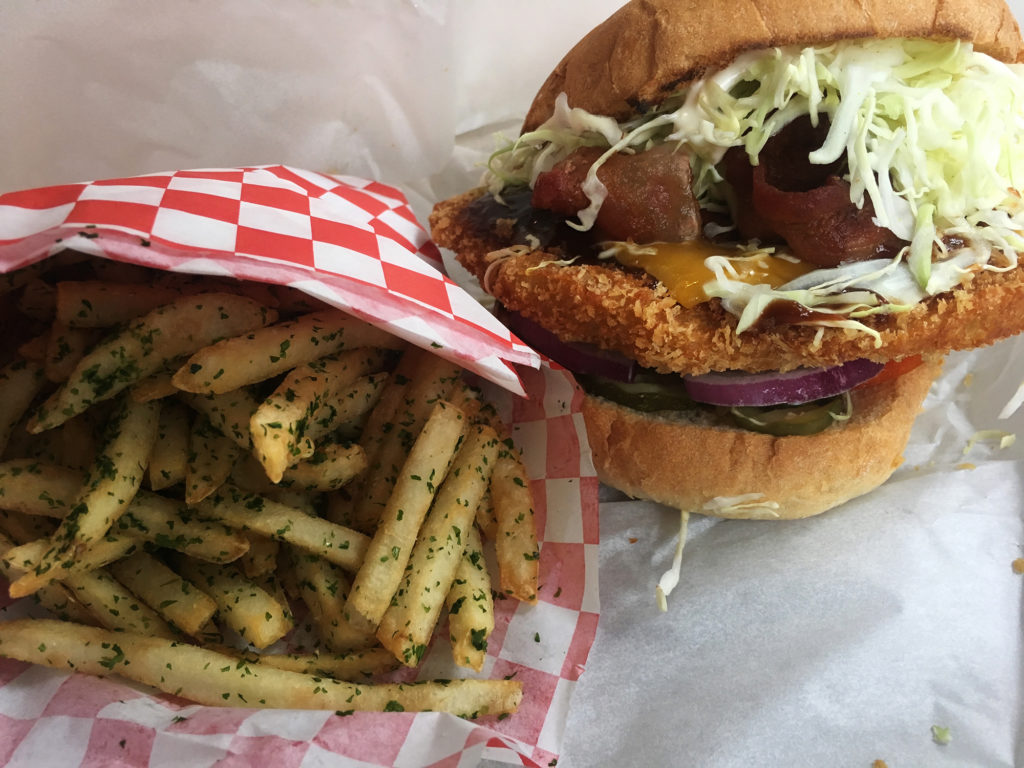 Katsu Burger features a Japanese style fried "katsu" patty and nori seaweed french fries.
---
The unique burger joint is located on 12th Avenue and East Madison Street, next door to Mighty-O Doughnuts. On first glance, the spot seemed simple, with a basic hamburger sign hanging outside the door. As we entered, the restaurant was a lot larger and more hip than I expected. There was a large mural to the left and a bar for ordering along one wall. The environment had a classic Capitol Hill vibe, with community tables and casual service.
The menu is a bit overwhelming, especially if you've never had anything like a fried, Japanese-style burger. I had to ask the worker at the counter approximately a thousand questions before deciding on the "Tokyo Classic," a matcha green tea milkshake and nori fries.
Katsu Burger prides itself on being unique, honest, and delicious, and I can truthfully say that I have never experienced a meal quite like the one I treated myself to at Katsu Burger. First of all, there are a few disclosures I feel like I need to make. One, I am not a huge fan of hamburgers in general. It's not that I dislike them at all, but it's a rare moment to find me actively craving and seeking out a burger. Second, I am definitely not an expert in the arena of fried foods. I can probably count on two hands the amount of times I have eaten fried foods (other than French fries because come on). Lastly, I have definitely never combined these two things and eaten a fried burger, until I stumbled into Katsu Burger.
Our food arrived without much delay, which was good because we were all getting a little hangry. Each burger is served with cabbage, tomatoes, red onions and pickles. Depending on which burger you order, there are multiple meat options, like grass-fed beef, chicken, pork, or tofu. My burger, the Tokyo Classic, came with grass-fed beef katsu, Japanese mayo and Tonkatsu sauce. This was the most basic of the burgers, but because it was my first time I decided to start with a classic. Other options include the "Teriyaki Chicken" burger, with chicken katsu, pineapple, Japanese mayoand teriyaki sauce.
The burgers served here are massive and very filling, so if you're not ready for that kind of commitment I would recommend splitting with a friend. The meat is seasoned with miso seasoning and then hand formed. After the patties are formed, they are submerged in a homemade tempura batter and then breaded with Japanese breadcrumbs. From there, the burger is dropped into a canola oil deep fryer and cooked until golden brown.
These burgers are juicy, delicious and absolutely full of flavor. Although at first I was intimidated by the concept of Katsu Burger, it was clear with my first bite that I wouldn't get anything like it anywhere else. These creations have the comfort of a classic burger with the added twist of unique flavors and textures. I loved the shredded cabbage on the burger, it soaked up all the yummy sauces and moisture. Although these burgers are quite the commitment, I know I'll be craving those flavors again soon.
If you have a sweet tooth, I would highly recommend the matcha green tea milkshake. It was honestly the best milkshake I have ever had and I might become a regular at Katsu Burger just for that. I would also recommend ordering the nori fries. Nori is a seaweed seasoning and I think it pairs perfectly with the flavors in the burger. The fries at this burger joint are thin and light, which makes it easy to eat a whole box without really trying.
Katsu Burger exceeded all of my expectations. At first the concept intimidated me, but now I know I'll become a regular at this spot and I hope the servers are ready to make a lot of green tea milkshakes.
Tess may be reached at
towen[email protected]
Leave a Comment