Consent: The Key for a Sex-ccessful Night
It is no question that college campuses play host to sexual encounters of every kind—sometimes romantic, sometimes awkward. Regardless, each demands one prerequisite: consent. "Can I Kiss You?", an engaging informational event about consent, rocked Pigott Auditorium on Nov. 1.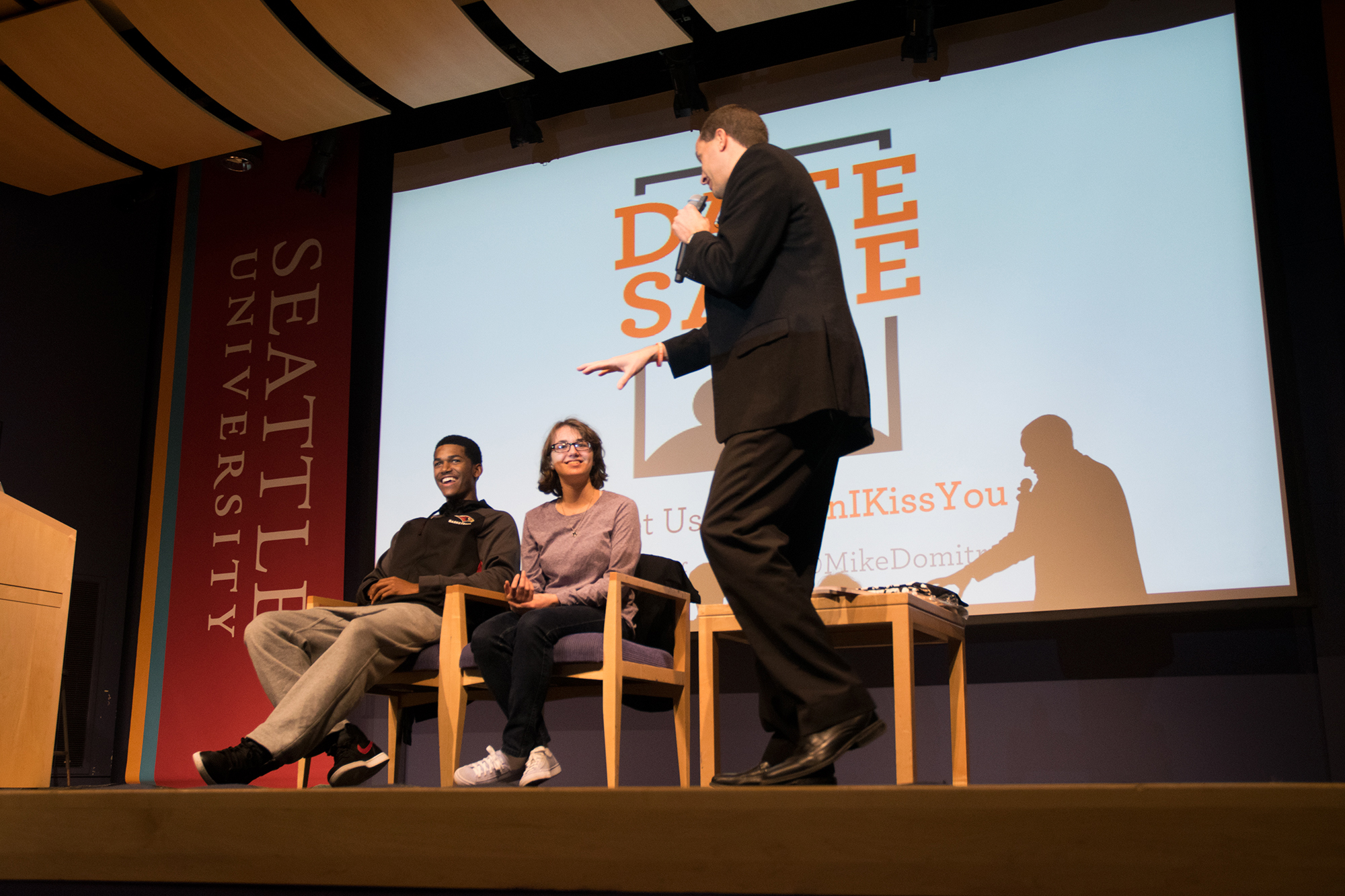 Mike Domitrz's program, "Can I Kiss You?", brought students on stage for role playing exercises and to get their opinions on relationships, consent and responsibility.
The event was sponsored by Seattle University Athletics, Housing and Residence Life, Integrity Formation and HAWC, and was hosted by Mike Domitrz from Date Safe Project. The new Director of Athletics at Seattle U, Shaney Fink, kicked off the event.
"What I hope you take away from this today is not only important pieces for healthy relationships and how to have good, authentic, respectful, courageous relationships with all sorts of different people, but how this also needs to be about how we interact with each other," Fink said. "We're going to take some of the tools on the intimate level, and we're going to know that we need to relate with that same respect with every member of our community."
Members of all athletic teams were required to attend this event, and the amount of laughter in the room signaled that it was a hit. The program kept the audience fully engaged through a series of interactive hypothetical scenes, as well as personal insight from Domitrz, had the audience members shouting out, finishing his sentences and filling in blanks. Mike Domitrz knew when to make the room laugh, and when to employ a serious tone.
Sexual assault is never a light topic of conversation, but the program did not feel heavy. Domitrz criticized the sentiment expressed in some other prevention programs that "rape ruins lives". He spoke of his own personal connection to a survivor, and lauded their courageous and strong accomplishments since their assault.
During the program, Domitrz gave a few different examples of ways to ask for consent with a partner, including the phrases: "Can I Kiss You?" and "What would you LOVE for me to do in the bedroom tonight?" He also helped the audience define consent, "Consent is ongoing, enthusiastic, and mutually wanted."During the program, Domitrz emphasized that intervening in a situation which looks like it may lead to sexual assault "is your business". He set up a hypothetical situation in which two individuals are at a party. One is not drinking much, but instead ensuring that the other consumes a lot of alcohol. For many in the crowd, this was not a new image. The solution to this potentially harmful situation? Offer the target victim a ride home or company back to campus.
"Everyone is wired to care for every other human being on the planet," Domitrz said.
Sexual assault is an issue which has also recently been highlighted in conjunction with the presidential election. HAWC member Michael Clymer saw a connection with recent Trump controversies."I think we don't talk about consent enough on campus, especially with recent presidential nominees and candidates with recent "locker room" talk, because this is not locker room talk," Clymer said.
With too many voices minimizing the danger and harm of sexual assault, more and more people simply become bystanders to situations that they know are unhealthy. The program was insightful for many, including Seattle U first-year Kailan Claiborne.
"I learned a lot tonight, especially about just asking first. It's not just about asking, but just stepping in if you see something you don't think is right" Claiborne said. Freshman Morgan Means had a similar experience."I learned that it matters to everyone, and everyone should be involved," she said. Bracelets were passed out before and after the event which read, "Ask first, respect the answer."
If you or someone you know is a victim of sexual assault seeking resources, the Counseling and Psychological Services (CAPS) office on campus is a confidential source can be reached at 206-296-6090 and has urgent hours Monday through Friday from 10 to 11 a.m. and 3 to 4 p.m. While not confidential, HAWC is also an excellent resource for questions about sex life and other health and wellness issues, and can be found in Student Center 380 Monday through Friday from 8:30 a.m. to 4:30 p.m. by appointment. Lastly, the King County Sexual Assault Resource Center can be reached on a 24-hour hotline at 888-998-6423.
Editor may be reached at
[email protected]
Leave a Comment