Robots Building Robots: An Exhibit That Runs Itself
Seattle University's Hedreen Gallery came alive last Thursday in a cryptic blend of audio loops, seemingly random images collected on Google Street View and the constant movements of a 3D printer. These and other elements make up the gallery's new exhibit, Robots Building Robots, which conveys the realities of the digital age through the works of artists from around the world. Included in this exhibit are 10 different pieces done using various mediums, ranging from video and printed vinyl to a display consisting of a camera and facial recognition algorithms.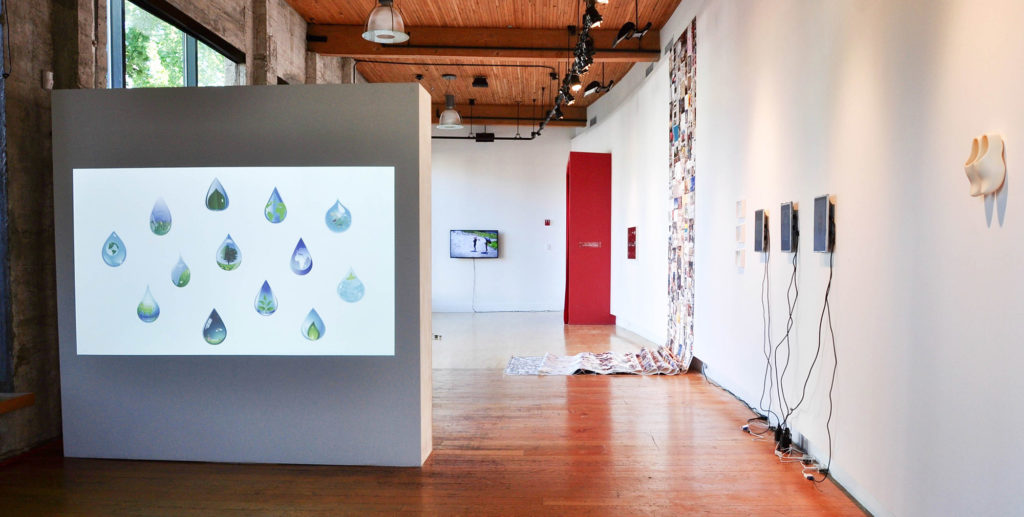 A screen projecting moving images paired with eerie narration introduces visitor's to the gallery's overlying theme of digital consciousness.
In addition to incorporating many different materials and presentation techniques, the exhibit also showcases a wide array of international talent, from North America to countries like France, Germany and the Netherlands. As an exhibit, Robots Building Robots aims to explore the impact of developments like automation, reproducible digital content and computer algorithms in various areas of our lives, illustrating just how integrated technology has become in recent decades. Though the artworks vary in subject matter and presentation, they share a common thread in showing the ways in which technology, though designed and operated by people, has grown to have a degree of autonomy as seen in "lights out" manufacturing and algorithms.
Nowhere is this more apparent than in the very audio and visual loops that permeate the exhibit, operating not only independently of human input, but also continuing to run even when there is no one observing them. "I'm interested in how artists are engaging with those kinds of technologies and automated processes, not for the sake of novelty or innovation but for what these projects reveal about the human condition," said Amanda Donnan, manager of Seattle U's art galleries.
Donnan emphasized that while the exhibit prominently features technology and has been hosted in collaboration with Seattle tech groups, it is at heart an exhibit about people. Though the works present a reality that is seen in the daily lives of people throughout the world, they hold a special significance for the city of Seattle, which for many years has been a center for tech companies and technological innovation.
"I think a lot of the themes that emerge are especially pertinent in this city, which has become such a tech center, especially a center of e-commerce, an industry that of course relies heavily on algorithms and data collection to document and direct our tastes and behaviors," Donnan said. Since its opening, Robots Building Robots has seen steady attendance from Seattle U students and staff, as well as members of the broader Seattle community.
"I think Robots Building Robots is an exciting opportunity to see the hybridization of arts and technology," said Katie Rounds, a recent Seattle U graduate who attended the opening. "It's really invigorating to see something brought about through interdisciplinary collaboration, I particularly loved that our own Mechanical Engineering department assisted in the careful creation of this show."
Though the art pieces were delivered to the Hedreen Gallery in a completed state, their highly technical nature required a collaborative effort between multiple departments to prepare the exhibit for the public. The Hedreen Gallery Staff worked closely with the Computer Science Club and Seattle U's Mechanical Engineering department in order to arrange and display the artworks in their current state. The installation began at the beginning of September and took approximately three weeks to complete.
Robots Building Robots is one of multiple projects planned for the Hedreen Gallery this year, with somewhere between four and six exhibits planned for the year. The gallery has incorporated contemporary art from both local and international sources and has always been consistent in their efforts to present works that are unique and innovative.
"That, I think, is our main mission: to expose students to different types of art, not just necessarily the traditional things that we may study in our classes on campus,." said Reiko Huffman, gallery assistant at the Hedreen Gallery. "Having an open mind and spirit will allow our students to get a well-rounded experience of what this art and what these artists are trying to say."
Robots Building Robots will be on display until Dec. 10 and may be viewed at no cost. The Hedreen Gallery is located in the Lee Center for the Arts between 12th Street and Marion and is open Wednesday through Saturday from 1:30 to 6 p.m.
The editor may be reached at
[email protected]
Leave a Comment