Back at It Again with D1 Improv
As last week marked the beginning of yet another academic school year, Seattle U's D1 improv welcomed this start through their kickoff show of the year "D1 Improv, Back and Better Than Ever." From first years to seniors, students flocked to the Pigott Auditorium last Wednesday night, getting not only a laugh, but also the opportunity to participate along with the D1 improv team.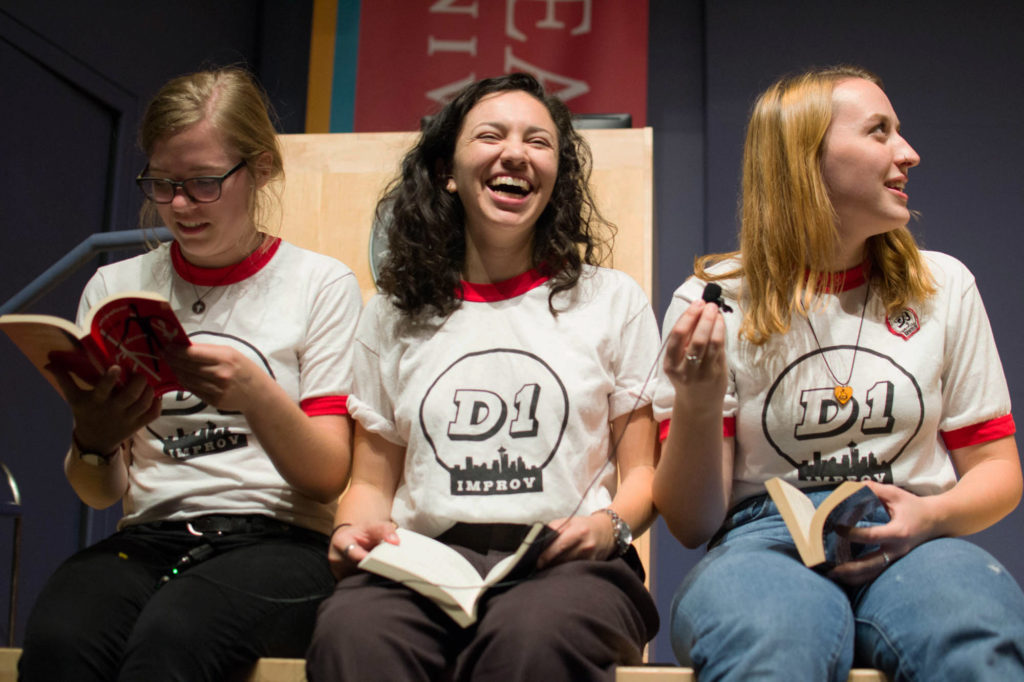 Imrpovisors, Annet Rangel, Lilly Newell, and Maddie Piper at the school year's first D1 improv show.
Mckenzi Grady, a sophomore criminal justice and psychology major, has been going to D1 improv shows since her first year at Seattle U, so attending this year's debut show was second nature to her.
"They're just really, really clever with their answers, even when they mess up it is just comical because they pull it off well, " said Grady, "Now that I know a lot of them, its fun to watch your friends make fools of themselves."
Similar to Grady, Taylor Johnson, a junior English major, not only watched but also got the opportunity to participate in one of the D1 improv skits.
"I thought it was funny, but it turns out that when you make a suggestion, you should probably make sure that it follows the skit," Johnson said. "You feel special when they pick you and you feel like you're involved and a part of the show. Which in turn makes the show more enjoyable for you."
Having done improv in high school, Johnson strongly encourages those interested for trying out and being apart of D1 improv to do it.
"I say that if you are interested in trying out, do it. I used to improv when I was in high school," said Johnson "I feel like if you are a first year student it is a great way to get involved and to make friends."
It wasn't only the attendees who gave a positive response, but also those apart of the D1 improv team as well. Annet Rangel, a junior communications study major, is a member of team and expressed her satisfaction with work performed last Wednesday.
"That last show was a blast. We all had a really good time. Improv wise all of us were saying after the show, we didn't do such a great job improv wise," said Rangel "We did a lot of low hanging fruit jokes, which we don't normally do, but it's the first show so we hadn't practiced in a while."
Rangel believed it wasn't only the energy that the team emanated, but also the energy that the audience provided throughout the show.
"I think it was just the energy in the room that kept the show so exciting. There was an entire full house in Pigott and all of us were really clicking on the scenes. I don't think we missed each other's beats, and we were all really stoked for the start of the school year."
When it comes to performing improv, it takes a lot more than just getting on stage and being able to perform on spot. It takes time, practice and commitment.
"I think that a lot of people think we decided a show date and go ahead and improvise that day, but there's at least three weeks of work that goes into preparing for every show that we do," Rangel said. "We practice twice a week, on Wednesday and Sundays for two hours, and we do a lot of workshops being learning different forms and critiquing of each others improvisation."
This will be Rangel's second year on the D1 improv team. Having started as a sophomore, Rangel explained that she had wanted to join since her first year at Seattle U, but it was her nerves that got the best of her. Now, in light of this realization, Rangel explained the team wishes this year to change the tryout process and shake it up a bit.
"This year, we know that auditioning in general is nervous, no one likes to audition, and if you are auditioning people for a team, it's not cool to have them be nervous and to not have them be their full improv selves," Rangel said.
D1 improv hopes to change the auditioning process by creating an open rehearsal, where those auditioning would participate in a space where the team would be practicing where they normally would. This will help give those who are interested an idea of what they do in practice and how it works.
The open rehearsal will happen on Oct. 5 and 6 from 6-8 p.m. in the Wyckoff Auditorium. Those interested can choose either of the two dates offered, and do not need to attend both open rehearsals.
Shelby may be reached at
[email protected]
Leave a Comment