Is Seattle U a "Hunting Ground?"
---
The campus climate survey released earlier this year revealed that 3 percent of Seattle University students have experienced unwanted sexual contact, but last year the school reported zero cases of sexual assault. This discrepancy has raised a lot of questions. To provide a forum and engage a wider audience in this crucial conversation, last Thursday Student Government of Seattle University President Mallory Barnes-Ohlson, Student Events and Activities Council Media and Lecture Coordinator Kasi Gaarenstroom and Health And Wellness Crew member Jane Hunter organized a screening of the documentary "The Hunting Ground," which examines sexual assault on college campuses.
In 103 minutes of personal accounts and shocking statistics about sexual assault "The Hunting Ground" points a finger at university administrators, accusing them of disregarding sexual assault victims in an attempt to protect their school's image, their star athletes and their fraternities. Survivors attest to the damaging effect their institution's response had on them, highlighting the necessity of believing in and supporting survivors above all else.
The film's main storyline follows two activists who brought this issue to the nation's attention, Annie Clark and Andrea Pino, both of whom are survivors of sexual assault and former students of the University of North Carolina. Their stories reflect the reality of the "rape culture" that exists on many campuses, where sexual violence is normalized and excused by peers and authority figures alike.
Even more shocking than the stories themselves is what happens—or what doesn't happen—when the survivors try to report the incident.
"My rape was bad, but the way I was treated was worse," said one survivor in the film. The schools are often so unwilling to listen or react to their accounts that many survivors are made to feel worthless and are driven into deep depression.
Embedded in the film is a spark of hope. As Clark and Pino describe how they found the courage to tell their stories and connect with other silenced survivors across the country, they simultaneously create a national movement that gained the attention of the White House in mid-2014. Their efforts put political and social pressure on many institutions to change their policies.
---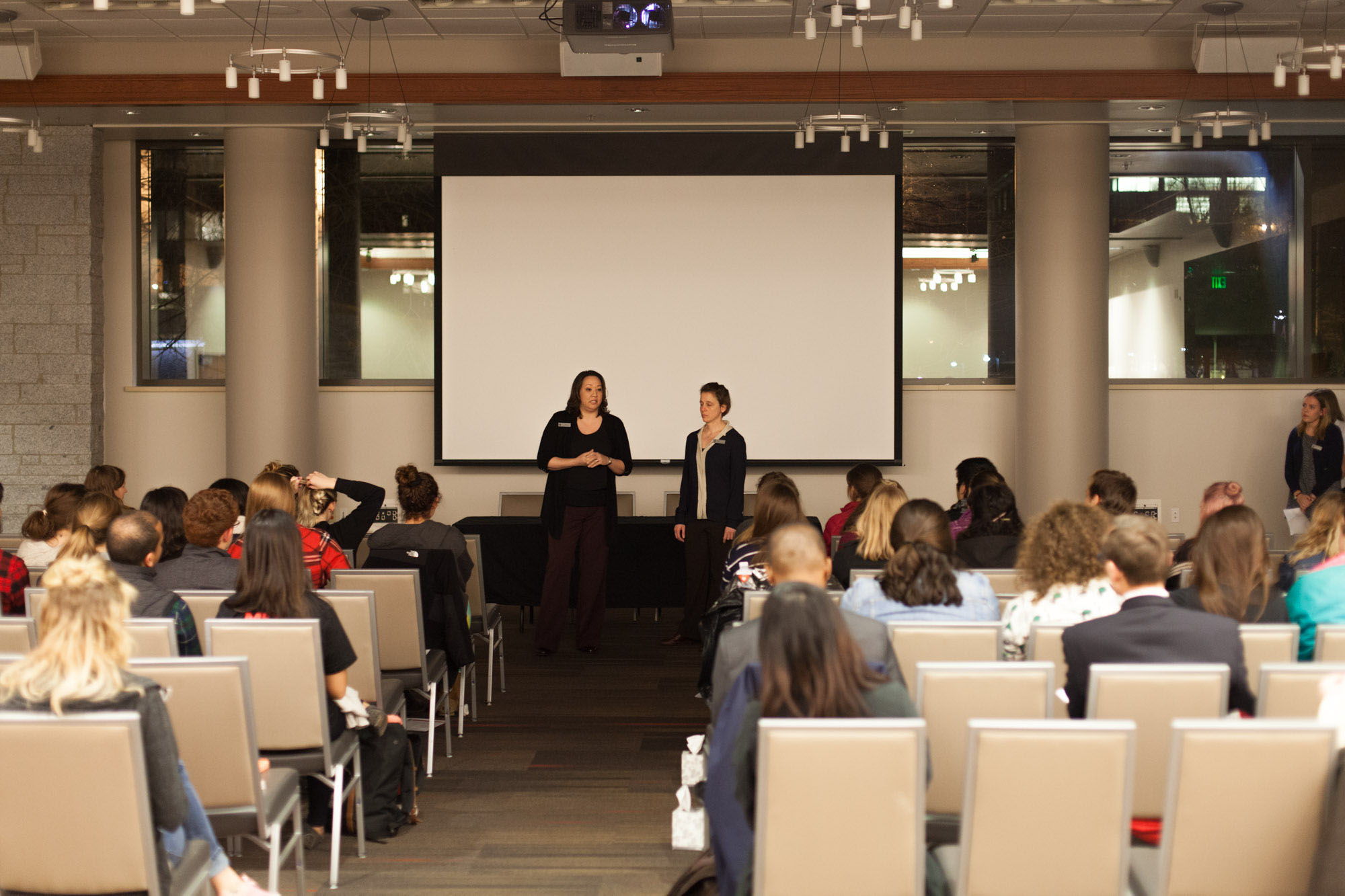 Kim Caluza and Aimee Coonerty-Femiano from CAPS introduce the film and warn about possible physical
or emotional responses.
---
Right around this time, a task force was created at Seattle U to evaluate the school's sexual misconduct policies. In the last two years, the "Think About It" online course has become mandatory for all incoming freshmen. The GreenDot initiative has also been introduced, providing education about bystander intervention. But many students and faculty are still dissatisfied with the
university's efforts.
"We felt that there's a strong student voice behind wanting more transparency," Hunter said. "We wanted to make sure that this was brought to faculty's attention."
Watching the film, it was impossible not to ask, "Is Seattle U a 'hunting ground,' too?"
After the screening, four panelists were available to answer the audience's questions, most of which echoed the aforementioned quandary. On the panel sat Dean of Students Darrell Goodwin, Title IX Coordinator Andrea Katahira, Director of Wellness and Health Promotion Ryan Hamachek and Director of Counseling and Psychological Services Kim Caluza.
Though the film often highlighted the administration's business-like motives, the panelists assured the audience that this aspect was not reflective of Seattle U.
"Business mentality isn't part of how I approach my work and isn't something I've heard from anyone I work with," Katahira said.
According to the panelists, two possible paths exist for victims of sexual assault seeking support. The first is completely confidential support from Counseling and Psychological Services, the Student Health Center or Campus Ministry. The second involves reporting and seeking protection from the perpetrator. In this situation, the survivor could speak to Katahira, Goodwin, Hamachek, Resident Assistants, students working in Public Safety or any faculty member—all of whom are "mandatory reporters," meaning that they would be required to report the information to the Title IX Coordinator. Student employees who are not RAs or working in Public Safety have mandatory reporting responsibilities related to child abuse but are not required to report sexual misconduct between adults.
This policy is our school's interpretation of the federal requirements in Title IX and the Clery Act which mandates the existence of "responsible employees" on campus who report incidents of sexual assault to the Title IX coordinator. These incidents are then reported to the federal government. However, some believe that we could interpret the law differently.
---
Mandatory Reporting: Silencing or Supportive?
According to Katahira, the mandatory reporting policy exists first and foremost to ensure that survivors are aware of their resources.
"Anyone in a mandatory reporting position first must provide non-judgmental support and care to the student, make sure the student knows there are confidential resources and reporting options," Katahira said. "Then they contact the Title IX coordinator and I check to make sure all of these steps have been carried out. It's not a report to take action, it's a way to ensure the students are getting the support they need."
There are rare incidents when the university may be compelled to take independent action against the perpetrator. Specifically, if the university feels that there is an "increased risk" that they will repeat the act. In such cases, the student survivor would be notified, but they would not have to be involved in any way.
As a relatively new policy, the processes still has issues that have not yet been solved. Currently, student employees and faculty members receive little to no training as mandatory reporters, so many are unsure about how to report or to whom.
"Policies have been very confusing," said Social Work professor, Amelia Derr. "Changes have occurred to some policies but they were not updated online. Student employees don't know what to do and it's the same with faculty."
She explained that this is a significant problem because people who are not adequately trained can be more likely to re-traumatize survivors.
Some feel that the policy should be changed altogether, including junior sociology major Claire Penney.
"It isn't survivor-centric," Penney said. "People don't know they're not having a confidential conversation, and there's no way that's not taking someone's story away from them. It makes the process scarier, especially after someone has experienced an assault, to go through this mysterious and vague process where they don't know the outcome or how they will be treated."
Katahira responds that the goal of the policy "is not to take agency away from the student." According to Katahira, by reporting the incident to the Title IX coordinator, the student has access to resources such as academic accommodations if they need to take time off from school, or change their housing situation. Individual staff and faculty members would not have the ability to do that and if a student doesn't want to take action, as long as the university knows they have the resources, it can end there.
Still, some faculty and students object to the idea that the survivor's story could be shared with anyone besides the person they trusted with that information. Other models are emerging.
"We aren't the only ones who have this critique," Derr said. "There are places that are mandating that a faculty member disclose that they heard about an event, but there is no requirement to share details. It's just for legal reporting necessities."
The key difference here is that the survivor's name would remain completely confidential. Sociology professor Mark Cohan added that he feels the information shouldn't be shared with anyone "against the will of the survivor." Instead, he believes that people who experience sexual violence should have complete control and that it should be their decision to determine what process happens next.
---
A Cultural Condition of Complacency
Of course, an even larger problem than Seattle U's response to sexual assault is the cultural state that allows such incidents to occur.
"In the film, they were talking about Greek life, which we don't have, but we still have other things that serve that purpose," Barnes-Ohlsen said. "We're not better than these schools just because we don't have Greek life, which is an important distinction to make. We need to recognize how we've been socialized to experience dating in the party culture. That's part of what contributes to get us to the point that the institution needs to respond."
The "Think About It" course for freshmen can be an important introduction to the subject, but Barnes-Ohlsen feels that it is not as ideal as a face-to-face course, especially because it fails to reach transfer students.
"If we continue to do 'Think About It,' I would ideally like there to be a UCOR class that goes along with it," Barnes-Ohlsen said.
According to Cohan, the programs currently in place focus mostly on bystander-intervention, which is "useful to a point."
"But where we need to put more attention is having that larger conversation about the cultural assumptions and cultural beliefs that can promote a culture that allows violence against women," Cohan said.
The Wingmen is a relatively new student group doing just that. They were present at the film screening on Thursday with information about their club.
"It started last year as a place for men to talk about sexual assault and the role masculinity plays in that, especially toxic masculinity," said freshman member, Michael Clymer. "It's been transitioning into a club less about men but more about masculinity and social constructions of masculinity and breaking down these ideas."
Derr believes that, as a Jesuit university focused on social justice, our school has the motivation and resources to address these problems adequately.
"Within a framework of victim-survivor advocacy, we really believe that Seattle U can be a leader here, led by our mission of caring for the whole person while still acting within the bounds of the law," she said.
The only way awareness can be raised, however, is if students and faculty learn about the issues and engage in the conversations. Gaarenstroom invites students to join organizations like the Wingmen or HAWC or the GreenDot initiative "so that you can start these conversations. It starts with us in organizations and then it spans out to the community. Student voice is the most important one, and it's the one that's really going to make a difference in the school. And I think we all have that voice."
More information about Seattle U's resources for victims of sexual assault may be found at http://www.seattleu.edu/deanofstudents/sexual-misconduct/
Madeline may be reached at [email protected]
Leave a Comment