Starting Feb. 11, Wiancko will share his mastery with Seattle University by working collaboratively with music students in a teaching residency; he will also be performing on Feb. 12 for the entire community to demonstrate his own study and subsequent career. Currently performing at the Ecstatic Music Festival Collaboration at Merkin Hall in New York City, Wiancko spoke with The Spectator via a phone interview. He says he seeks to inspire by illustrating the "diversity and versatility" of his own instrument as well as its access to a variety emotional appeals. Additionally, Wiancko wants to serve as a source of information to aspiring musicians about what constitutes the lifestyle of a professional musician.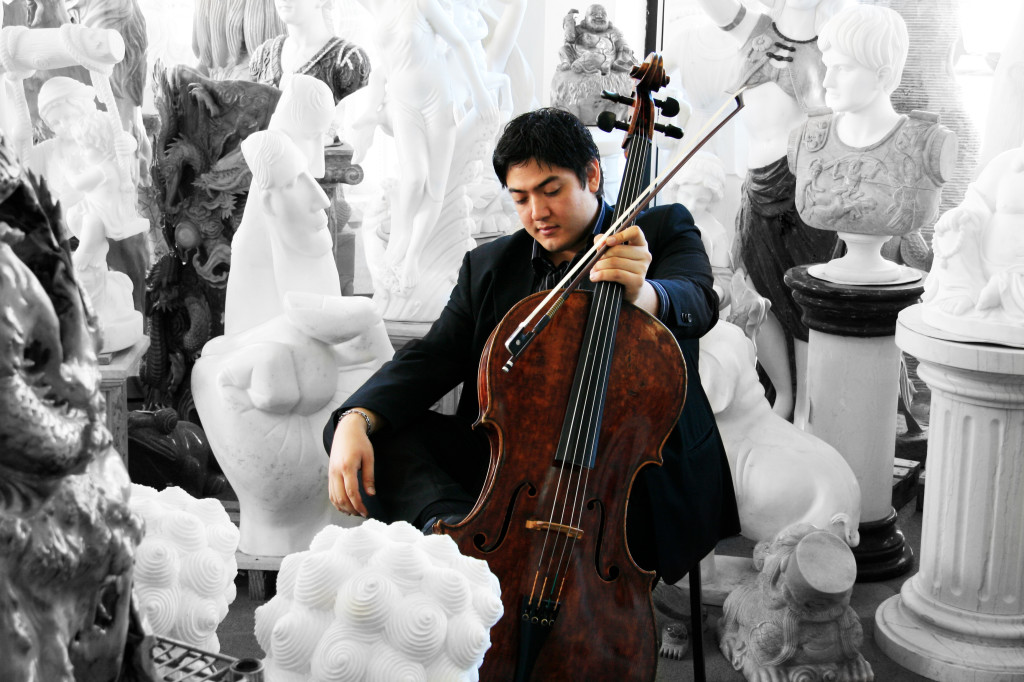 Paul Wiancko, who has been playing the cello since early childhood, has said that he is more than excited to share his talent with Seattle U in the upcoming week.
Wiancko was first acquainted with Seattle U this past summer when he taught at the Methow Valley Chamber Music Festival in the heart of the Cascade Mountains in Methow Valley, WA. At the program, which he describes as "an incredible experience," Wiancko taught four Seattle U music students who were specifically chosen to study under him. Artistic director Kevin Krentz, who also serves as an instructor in the music department at Seattle U, was taken with Wiancko's composition for the program "Toy Bricks." In witnessing his talent, Krentz offered the residency and performance opportunity to Wiancko, which he excitedly accepted. Wiancko has garnered recognition since his start in Los Angeles in the early '90s, first as a cellist then later as a collaborator, composer and producer. Celebrated for his "cellistry," Wiancko's style is freshly modern, pairing hip-hop with improvisation, indie rock with jazz, and producing striking arrangements like his 2004 piece, "Hip-Hop Cello Concerto No. 1." Wiancko's distinct connection to music was evident in his infancy as he smiled and cooed to Mozart's melodies. As a toddler, he expressed interest in the cello and at the age of five he committed to the instrument primarily for its size and sound. With remarkably mature determinations like these in his early childhood, Wiancko earned a noteworthy audience. At the age of 15, he played for 12-time Grammy Award winner Yo-Yo Ma, the world's most famous cellist. Studying under the acclaimed Ronald Leonard at USC's School of Music and at the Colburn School, Wiancko quickly became a decorated performer, winning numerous cello competitions. In 2007, he made his European solo debut in Warsaw at the National Philharmonic Hall where he performed the Lutoslawski Cello Concerto with the Polish Radio Symphony. He then traveled to South America, debuting with the Shostakovich Cello Concerto accompanied by the Bahia Symphony Orchestra at the Teatro Nacional in Brazil. In 2010, Wiancko joined the Harlem Quartet, a noted ensemble praised for its varied repertoire, mixing classical masterpieces with contemporary music. The quartet has preformed for the Obamas at the White House and in 2009 was featured on The Today Show on Christmas Day. By presenting inspired and successful guest artists like Wiancko, the music department continues to encourage students to pursue their unique artistic path. Dr. Quinton Morris, Assistant Professor & Director of Chamber & Instrumental Music at Seattle U, hopes that Wiancko's presence will "inspire students to aim higher… and explore ideas about their direction of their music careers as well as different aspects of their artistry." Morris is "incredibly pleased and excited" to welcome Wiancko, and looks forward to the ways that he will shape students' musical outlooks. Morris first saw Wiancko perform with the Harlem Quartet and was struck by his "urban yet classical styling." "He experiments with a lot of different styles, which is very cool," Morris said. Wiancko says the Harlem Quartet facilitated a new understanding of "how to best break down the fourth wall, how to eliminate the separation between a musician and his audience." "Working with them helped me explore the emotional capability in every note as well as understand the power of rhythm in conveying feeling," he said. For his upcoming performance on Feb. 12, Wiancko will blend the works of some of his "greatest inspirations," including Catalan cellist and conductor Pablo Casals, who Wiancko considers one of the most influential artists for his own career and his inspiration for performance direction. The arrangement that Wiancko has selected for this recital features compositions by Gaspar Casado, Niccolo Paganini,
Vivaldi and Villa Lobos. He says he looks forward most to performing "Song of the Birds," which was one "his favorite compositions as a child." In keeping with Wiancko's own emotionally charged and tender artistic expression, this piece illustrates the humanity of the artistic spirit emphasizing the innate goodness in mankind. Wiancko's Solo/Collaborative Recital will take place on Feb. 12 from 8 to 10 p.m. in Pigott Auditorium. Student tickets are $5, faculty/staff tickets are $8, and general admission is $12.