Most of the students here at Seattle University depend on some kind of financial support. Fortunately for many students, Seattle U has traditionally heavily supported students in purchasing that education with generous scholarships.
According to Director of Annual Giving Leigh Ann Gilmer, 94 percent of the 2012-2013 incoming freshman class depended on need-based scholarship aid to be able to enroll at Seattle U.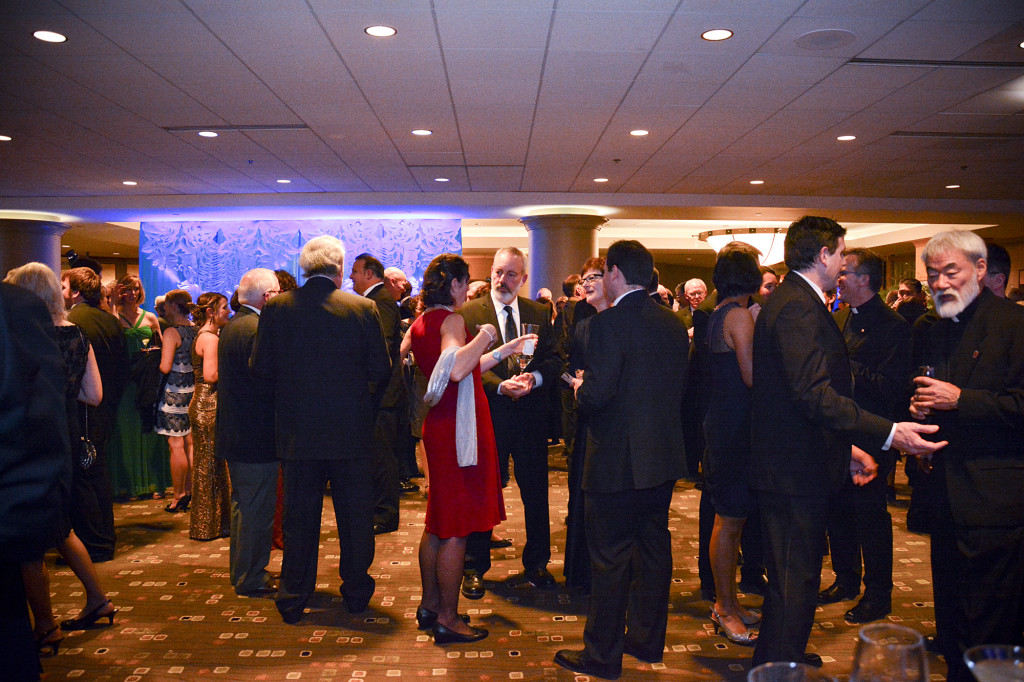 Guests mingle at the 30th Annual Seattle University Gala on Saturday, Oct. 26. The Gala is an event to raise money for Seattle U scholarships.
A considerable amount of that scholarship aid is raised by the annual Seattle University Gala, the school's biggest scholarship fundraising event of the year.
The event is a black tie evening of dinner and entertainment aimed at raising as much money as possible to ensure that students have the financial support they need to attain a Seattle U education.
Guests sipped on Dew Drops and Manhattans, enjoying Roasted Filet au Poivre and Chocolate Espresso Pate with Vanilla Génoise as they chatted congenially with one another.
The night also allows a platform from which to present the school's highest honor, the St. Ignatius Medal. The honor is bestowed only once a year and only if there is an eligible recipient. An eligible recipient, according to the Office of Annual Giving's website, "aims to recognize individuals within our community who have inspired us with their voluntarism, leadership, humility, and service and whose work has influenced profoundly the progress of the University."
This year, at the 30th Gala, community leaders John and Ginny Meisenbach were honored with the medal for their exceptional generosity and service to the university and the city. They were also Platinum Sponsors, which means their meal for the night came with an impressive price tag, $25,000.
Jim Sinegal, a founder of Costco and fervent supporter of the Albers School of Business and Economics, was also a Platinum Sponsor with his wife, Janet.
Meisenbach, a Seattle U alum, served on the Board of Trustees from 2002 to 2011, and is a founder of MCM, a large, privately-held benefits consulting and insurance brokerage firm in the Pacific Northwest. His wife is also a well-respected community member who is considered a leader and valuable volunteer to the Seattle area, helping different organizations to serve people in need.
The Spectator tried multiple times to get in touch with Meisenbach for comment, but his personal secretary never returned our calls.
In addition to generously supporting student scholarship programs, initiatives within the Albers School of Business and Economics, and athletics, the Meisenbachs, according to the Office of Annual Giving, "have consistently inspired others in our community through their integrity, vision and willingness to help solve the most important issues facing our community and our society."
Last year's gala raised over $674,000 for student scholarships. This year's goal was $625,000, but according to director Gilmer, the effort had already surpassed $660,000 days before the event. It is likely this year's Oct. 26 Gala exceeded the previous year's fundraising.
"[The sponsors] are really impressed by the direction [the students are] trying to take their education, and trying to use that in the community, and so they want to be able to make sure that those students are able to stay at Seattle University and they know that the way that they can do that is to support scholarships for those students," said Gilmer.
Assistant Director of Annual Giving Cathy Reilly estimated that 750 people showed up at 30th Annual Gala, including deans, Jesuits and select students.