Veterans of the music industry, students and others in the Bellingham community came together this past weekend to put on a unique interdisciplinary music and art festival. 
2023 is the first year for Bellingham Exit, a city-wide festival featuring headliners like The Hu, Deltron 3030, Monét X Change and comedian Joe Pera. But more than just the headliners, this festival brings in countless local acts, such as the band Actress and singer-songwriter Kazmyn.  
This event was heavily rooted in the community and incorporated many different approaches to supporting Bellingham and its artists. Many of the shows were free, keeping the barrier of entry low enough that city locals could attend performances.  
Acts also didn't just play at music venues and theaters, but at local businesses and different spots in town.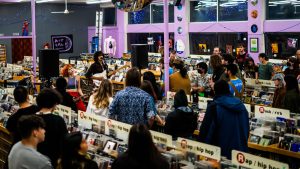 I had the opportunity to watch a few of these pop-ups, including one outside of a local ice cream shop. At first, it seemed to me an odd place to have live music, but I was quickly proven wrong when a crowd of over 30 people formed on the sidewalk. Some came to hear the music specifically, and others came for ice cream and stayed to listen. 
"I've never played outside of Mallards or any ice cream shops," Kazmyn said. "I play in cafes and restaurants and stuff like that, so I'm used to being kind of the background noise. However, I think it's cool that this is a mixture of both. This can be just as fun as playing at a venue because people are constantly up and down the strip." 
Kazmyn, a Seattle native, attended Western Washington University and attributes much of finding herself as an artist to her time in Bellingham. Before moving up to Bellingham, she played lots of wineries and similar venues where she felt the need to cater her sets to audiences instead of playing the music she wanted to.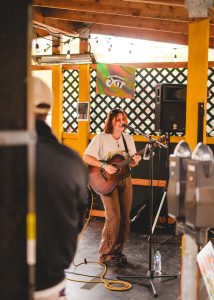 Bellingham, for her, brought in an environment where she could play the music she wrote for people who relate to her own experiences. Coming up to play at the festival allows her to contribute to that community. During her set, she mentioned how her time in Bellingham could be the best years of her life, and played a song she wrote about the city. 
"Even if it's not the genre that they love to listen to, there are people showing up," Kazmyn said. "I think that makes it really unique compared to other places and events." 
As I was going between shows, I ran into Forest Templin, the marketing coordinator for the event. Excitedly, he pulled out his phone to show me a photo: a tattoo artist had made their own sign and hosted a pop-up in their space as part of the overall festival. This is what they were hoping for; the staff wanted people in the community to host pop-ups and use the platform to showcase even more music. 
They felt it was unexpected to have it happen in the first year, but a good kind of unexpected.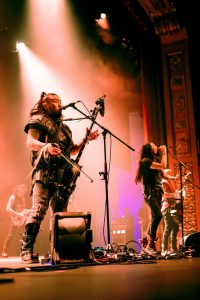 "We're just doing everything we can to give back to our friends, family, and the community that are here," Templin said. "Since this is the first year, it's a new concept, it's hard to imagine where the vision can go but it's a very positive collaborative, growing experience."
With a successful turnout of over 5,500 people, the planners, movers and shakers are already building big new ideas and aspects they want to implement at next year's iteration… but my lips are sealed. 
Are you or someone you know a musician or involved in music? Do you like to talk about your music? Well, email sea[email protected] to potentially be featured in After the Show.