Repainting History at the Seattle Art Museum
Hang on for a minute...we're trying to find some more stories you might like.
Narratives on history are arguably often controlled by groups of power. Erasure of people of color in historical dialogue occurs in many arenas of discussion—even in art.
Figuring History, Seattle Art Museum's (SAM's) new exhibit running from Feb. 15 to May 13, showcases the work of three American artist redefining contemporary historical paintings. Robert Colescott, Kerry James Marshall and Mickalene Thomas are three artists whose work spans three generations and negotiates the black identity within the context of American culture and history.
Dr.Jason Wirth is a professor of Seattle U's Philosophy Department whose research interests include postcolonialism and Africana philosophy.
"The genre of 'history painting'… generally enshrined the myths and status of history's winners and rulers," Wirth said. "This extraordinary exhibition, featuring three of the most exciting and provocative painters of African descent in recent decades, disrupts this practice. It reimagines history both in a manner that is more inclusive and which challenges the traditional prerogatives of power and those who commanded them."
With the exhibition opening during Black History Month, the work on display poignantly calls into discussion the racism, violence and oppression of individuals left out of the American history canon, and thus excluded from most history paintings. In a triumph over this erasure, these large scale paintings depict the force of black culture that demands a place in museum galleries, as well as in the broader context of historical recollection.
---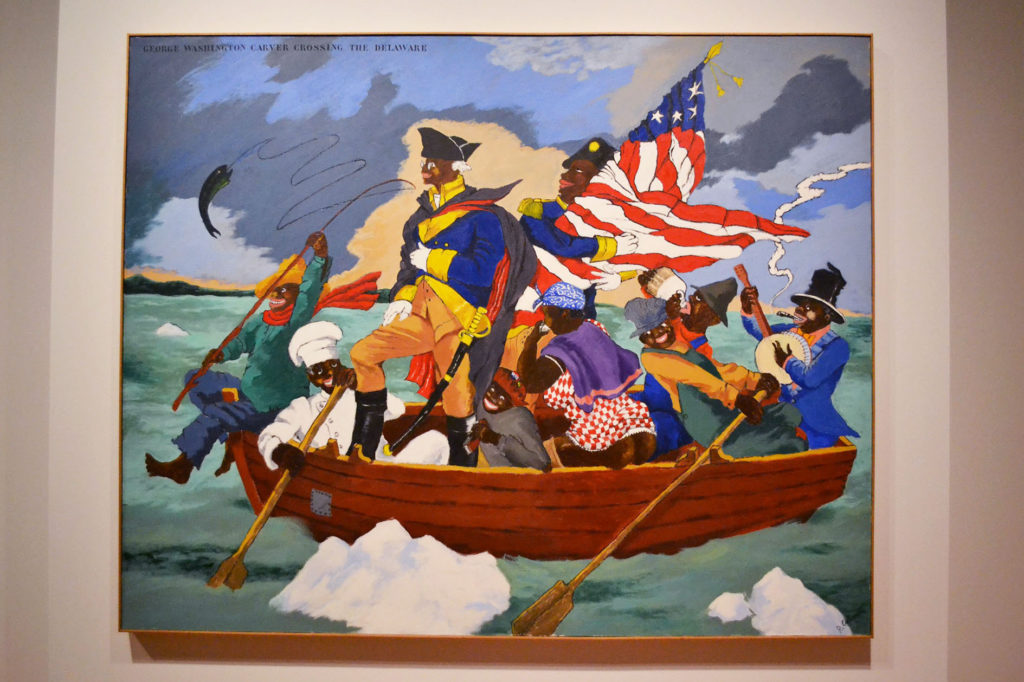 Seen in the SAM: Figuring History exhibition, this 1975 painting is called "George Washington Carver Crossing the Delaware: Page from an American History Textbook" by Robert Colescott.
---
"The exhibition aims to frame a set of questions that are all of great importance to the artists in the show. Some of those questions circle around who paints and writes history, who is represented and how, which events are signaled out for commemoration, and for whom. In short, you could say who figures in history," Catharina Manchanda, the Jon and Mary Shirley Curator of Modern and Contemporary Art said.

The youngest artist, Mickalene Thomas, negotiates the intersectionality of race, gender, and sexuality through a contemporary female gaze with figures that are loud and confrontational. Thomas also curated an interactive area where guests can sit and admire her works among the patterned furniture she specially crafted and read her pieces of literature she personally selected.

"I especially hope students will go and see this exhibit because I think it speaks to this larger context of this collective movement by black artists to show black excellence that we can see today across different mediums," said Tyrone Browne, Assistant Director of Seattle U's Office of Multicultural Affairs who also holds an arts background in theatre.

Kerry James Marshall, an artist living and working in Chicago today, explores in his work the African American identity in a society constructed around whiteness, confronting the turbulent era of the Civil Rights Movements from his roots of Birmingham, Alabama and whose formative years were spent near Los Angeles in 1963. Marshall is known for his intense, human figures that he uses as a cornerstone of empowerment.

"In the moment, it matters that [the figures] are uncompromising in terms of the presentation of their blackness. There's never any black paint mixed in with any other color in any other part of the painting. It is all pure color, and the black becomes a color within the context of all these other colors," Marshall said in an interview for the SAM, which guests can view on screens in the exhibit.

Robert Colescott, a California native who grew up during the Great Depression and served in the Army during World War II, painted bold and cartoonish compositions emulating and critiquing works from Van Eyck to Picasso, as well as exploring the narratives of individuals marred by America's colonial past.

"Figuring History reflects the museum's mission to be a place where exciting and challenging questions— even of our own institution—can be asked," Kimerly Rorschach, SAM's Illsley Ball Nordstrom Director and CEO, said.

For many guests and employees at the SAM, the work is about taking control of representation in art.

"If you are person of color, and you don't see yourself reflected in anyway [in artwork], you perhaps don't even think of the possibility that being an artist could be something you might aspire to do, or see the kind of accomplishments that your own people have made and are making to the ongoing and unfolding history," Manchanda said. "History is always something that needs to be negotiated, it should never be something that is just assumed to be fixed."

Jacqueline may be reached at
[email protected]