Hundreds of Black Lives Matter demonstrators gathered downtown near Westlake Center on Nov. 24 for a planned protest. This is the fourth year in a row the rally has been held on Black Friday, a day normally associated with hordes of shoppers eager for holiday sales, providing a large platform for activists to rebrand Black Friday.
"We co-opted Black Friday and made it Black Lives Matter Friday," Black Freedom Front leader and rally organizer Mohawk Kuzman said. "People value shopping more than people's lives, especially black lives."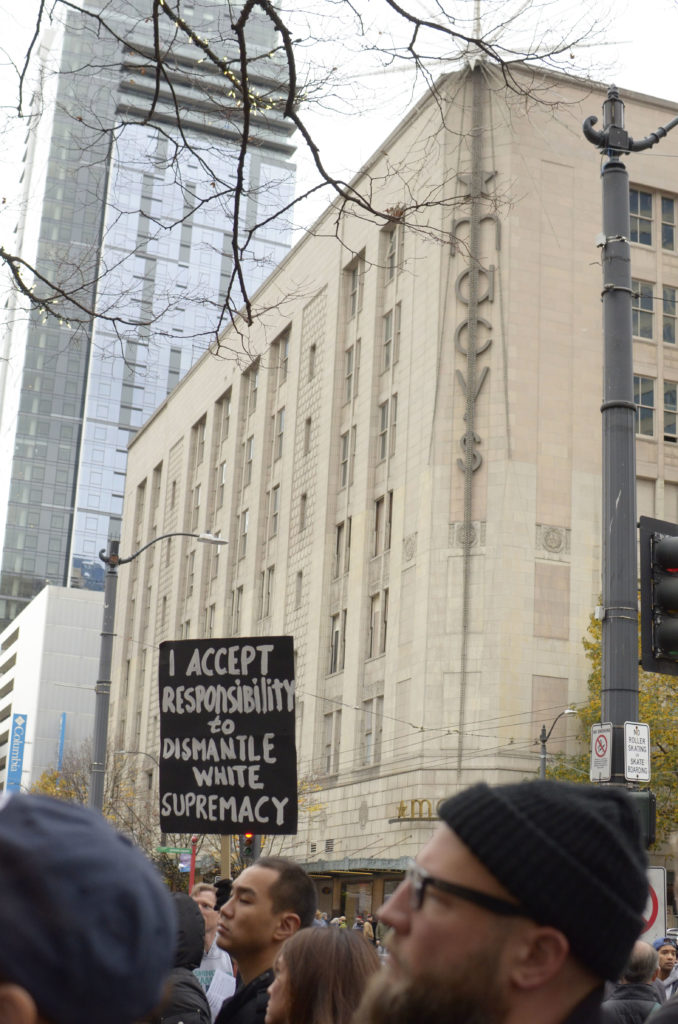 A protestor holds a sign at the Black Lives Matter protest in front of Macy's during a holiday celebration on Black Friday.
Demonstrators met at Westlake Center and marched peacefully down Pine Street, chanting phrases such as "Black lives not Black Friday." The protesters attempted to head down Steward towards Pike Market, but were diverted by police and marched back to Westlake where they locked arms to form a human chain that blocked the South entrance to the mall.
"I got invited to the event by a friend and saw that there were over 10,000 people expressing interest on Facebook, so I expected more than the few hundred who showed up," said Seattle University Communication and Media major Lahela Howell, who was surprised at the turnout compared to previous years. "I was also surprised by the lack of diversity in the crowd, which was mostly white. Police brutality and the lack of justice for [African Americans] needs our attention, and interrupting business-as-usual Black Friday shopping is a good way to spread awareness."
One explanation for the low turnout could be a post by Seattle Black Book Club, urging Black Lives Matter organizers not to work with Mohawk Kuzman, also known as Miles Partman, who has been accused of making misogynistic threats towards women in previous demonstrations. Black Lives Matter groups also asked community members not to donate money to the Black Freedom Front and emphasized the important role that women play in the founding and propagation of the Black Lives Matter Movement, which they see as actively ignored by Kuzman.
Sociology and Biology major Nicolás Cruz said the questions and concerns surrounding Kuzman made him decide to focus his energies toward other campaigns organized by community organizations such as Ending the Prison Industrial Complex (EPIC) and Youth Undoing Institutional Racism (YUIR), both of which have been involved in the No New Youth Jail campaign.
---
---
Cruz is involved with many racial and environmental justice clubs on campus, having organized affinity groups last year—small autonomous teams used for direct action in last year's Black Friday protest. He and his colleagues helped train these groups in protest etiquette and safety measures. Protesters clashed with police in riot gear after attempting to enter Westlake Center last year, but the march was mostly peaceful.
"The yearly protest began as a way to bring awareness…as well as challenge those with the privilege to shop, rather than mourn their loved ones' deaths at the hands of the police, to stop and think about the reality people face," Cruz said.
Police brutality has been the focus of Black Lives Matter since its inception in 2013. The movement has and still actively works to resist the rising violence inflicted upon the black community by law enforcement. From the acquittal of the security guard who shot and killed black high school student Trayvon Martin, to the two Seattle Police officers who are still on the force after shooting Charleena Lyles, a pregnant African American mother who died last June, there have been many tragedies that have further fueled the Black Lives Matter mission in Seattle. Many protesters on Friday chanted "Justice for Charleena" in response to Lyles' murder.
---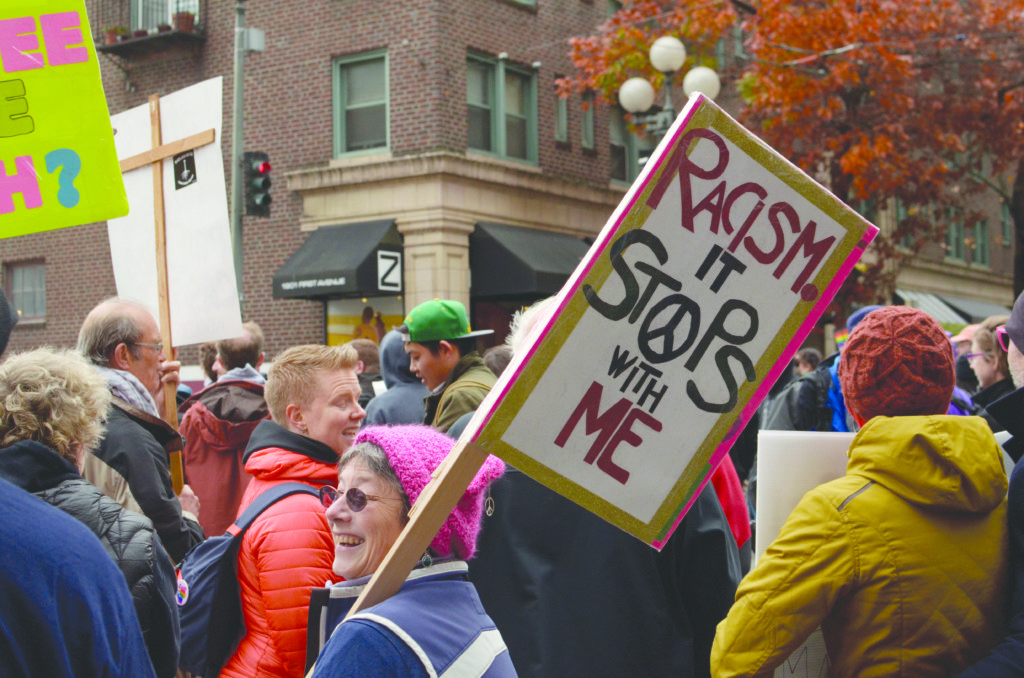 Protestors chant while blocking intersection in downtown Seattle during BLM rally on Black Friday.
---
The movement has become widespread in Seattle, with support from high school teachers who wore Black Lives Matter t-shirts to call attention to racial inequity in the education system, Seahawks players like Michael Bennett whose brother is a BLM organizer, and politicians like former mayoral candidate Nikkita Oliver, a local BLM organizer.
Demonstrators chanted while Seattle Police Department officers stood between them and the shopping center doors to prevent them from entering. Some shoppers high-fived demonstrators and expressed sympathy with the cause, while others who were forced to navigate through the crowd seemed to be annoyed by the inconvenience.
The protest eventually began to disperse once families filled the park outside of Westlake Center to watch the annual lighting of Seattle's Christmas tree.
Even with the turnout on Friday being smaller than expected, the message of the movement remained clear. The protest next year is expected to be held on Black Friday once again.
Quinn may be reached at
[email protected]