Seattle has always been a city with strong musical ties, from the days of jazz in the early 1900s to the emergence of grunge in the '90s. Even today, there is an ever-growing music scene that is unique to the city.
---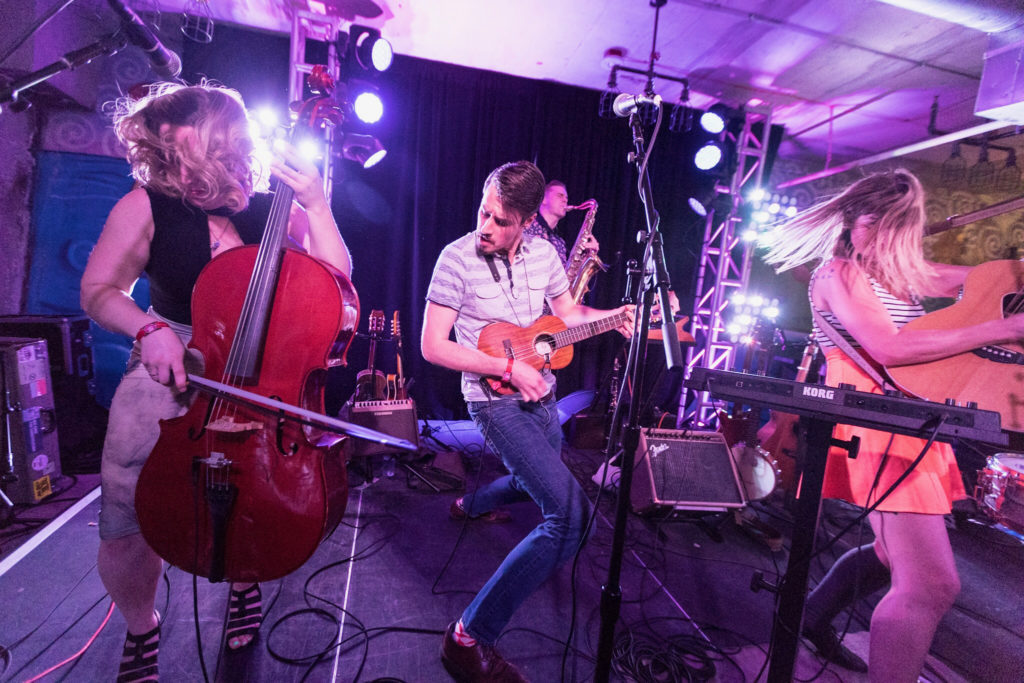 Kuinka performs at Flastick Pub, which was transformed into an Upstream venue.
---
This past weekend Seattle-based artists got a chance to represent their city at the inaugural Upstream Music Fest + Summit. Upstream is an attempt by founder Paul Allen to both show off Seattle's music scene and encourage others outside of the city to view Seattle as a musical hub.
"It has always been our mission to create a festival that would shine a light on the amazing sound of the Pacific Northwest. We couldn't be happier that the first year of Upstream brought together so many members of the music community and music lovers from around the region," said Jeff Vetting, executive director of Upstream Music Fest + Summit.
Upstream ran from May 11-13, but rather than just follow the music festival format, started with a summit in which minds from all over the music industry, primarily from the Pacific Northwest, gathered for speaker sessions and discussed the current state of the music economy. Talks ranged from ways to build a healthy community in the music scene, to different ways to use data, to learning how to deal with music licensing and ownership as an artist in the digital age.
They also had longer sessions from keynote speakers such as Seattle's own Quincy Jones and Macklemore. Jones received the largest audience and the 84-year-old jazz legend spoke about how Seattle influenced him as an artist, and how he has managed to stay successful in all facets of the music industry in a career that has spanned 70 years.
He even told a story about how when he was 14, he and Ray Charles would play at Seattle night clubs until five in the morning, and then show up hours late to school at Garfield High School. He attributed a certain teacher there for the rest of his career because this teacher would allow him to arrive late to school with no penalty.
The summit took place in WaMu Theatre at CenturyLink Field in the mornings of May 11 and 12. But, once those were over, the neighboring Pioneer Square turned into one big concert.
The creators of the festival admittedly followed the SXSW format of turning a city/neighborhood into an arts space, but it seemed to work well. Many businesses in the area like restaurants, bars and art galleries became venues for musicians to showcase their talents.
One of the great things about the festival is that they had two venues sponsored by KEXP that were free, so even if you were wandering through Pioneer Square with no idea the event was taking place, they still gave you an opportunity to experience some artists.
Upstream opted to not focus the music into certain genres, instead choosing acts that covered almost every genre imaginable. There were over 390 acts that performed over the weekend, and over 250 of them were from the Seattle area, with many of the others hailing from the PNW.
"The experience of walking through Pioneer Square over the last three days, hearing so many of the region's most promising bands and seeing attendees discover new talent has been surreal," said Upstream Curator Meli Darby. "This is what the music scene in the Northwest is all about, discovering new music and people collaborating across genres and styles."
As an attendee, I can certainly say this was one of the best opportunities I had to discover new music. In some areas the venues were so concentrated that you could catch three different acts within an hour. A good example of this was in Occidental Park, where one of the larger stages had jazz quartet Industrial Revelation playing. It was a 30 second walk across the street to a gallery where rapper GOODSTEPH had a set that I stayed at for a few songs before moving back across the street (another whole 30 seconds) to Comedy Underground where THUNDERPUSSY was rocking the place. After staying there for a little, I made it back outside to catch the end of Industrial Revelation.
The festival can be dubbed a success for their first year, but there are definitely some things that need to be worked on. The first thing I noticed is that none of the venues had particularly good sound quality, especially the main stage. There were also issues with the Upstream App being the only way to find your way around with so many venues to keep track of.
Upstream has an opportunity to make Seattle a music hub, and even with some downsides, both the festival and summit stand to have a long fixture in Seattle.

Willy may be reached at
[email protected]