When eight-year-old Jaden Burnett underwent treatment for recurrent ear infections, his family faced an unfathomable situation. They had to choose between his medical needs and the family's other basic necessities. Fortunately, Seattle Children's Hospital's Uncompensated Care Fund helped cover what was not provided by their insurance, saving them from this impossible choice, and letting Jaden get the care he needed to live a normal life.
Seattle University Dance Marathon (SUDM) is in its ninth year and will hold its main event on Feb. 20 in the Campion Ballroom. The sixteen hour fundraising event has set its highest goal yet in honor of it's ninth year: $99 thousand to benefit Seattle Children's Hospital Uncompensated Care Fund and Strong Against Cancer Initiative.
"I think whenever a group comes together with that much passion and drive for a cause that we can make anything happen," said Liza White, senior humanities for leadership major and Director for Internal Affairs of Dance Marathon. "At the heart of it, it's the kids, we say 'FTK' for the kids and it truly is. You hear their stories and see their faces and you can't not want to help and give back as much
as possible."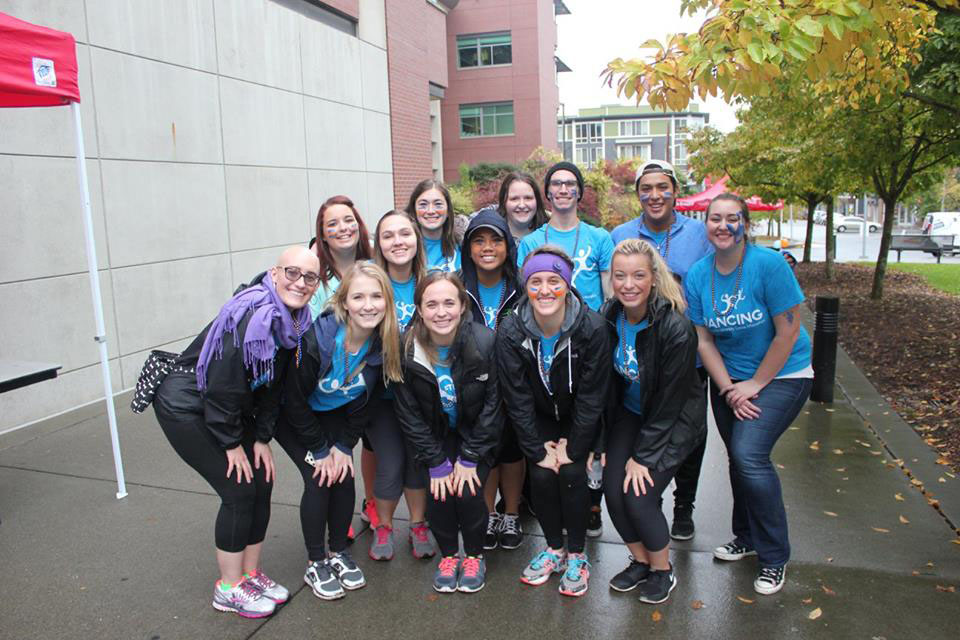 At the Color Me A Miracle 5k that we put on benefitting our overall proceeds on Feb 20th. Top Row, Left to right: Michelle Pierce, Anna Pickett, Emily Downing, Kathleen DeVega, Kate Koenigs, Joey Grable, Jon Miranda, Denise Bosak. Bottom row, left to right, Addie Newcombe, Michaela Abel, Stephanie Luchetta, Liza White, and Lindsey Habenicht. Photo credit, Kelsey Nerland.
---
Seattle U Dance Marathon (SUDM) raises money for patients of Seattle Children's Hospital. This year, half of the proceeds from SUDM will go to the Uncompensated Care Fund, which helps pay for the expenses of childrens' hospital visits and treatments. The other half will now be going to Strong Against Cancer, which is an organization dedicated to cancer research. As of Tuesday night, $51,178 had been raised towards
the goal.
Children's Miracle Network recommends that their fundraisers raise their fundraising goal by 20 percent every year, which Seattle U has always matched or beaten. In an effort to meet their new goal, and get more of the campus involved in the process, the steering committee of Dance Marathon has included partnerships and events, both new and old, to this year's
SUDM effort.
"Just overall, we've just grown as an organization this year in our professionalism, and what we're looking to do in those goals that we're looking to strive for," White said.
Dance Marathon has partnerships with businesses such as Lyft and PEMCO, and last month organized a Drake vs. Rihanna dance event, wherein the proceeds went to SUDM.
"We've done a major rebrand, which is awesome, that was sparked by Miracle Network Dance Marathon doing a rebrand," White said.
Even with almost 500 dancers signed up to participate in the event, SUDM is eager to encourage more students to get involved. This would happen, said senior strategic communications major and executive director of Dance marathon Emily Downing, if these students could establish a personal connection to the cause.
The domain of this connection could range anywhere from a student thinking of one's own friends or relatives struggling with illnesses, to resonating with the personal stories of the children for whom Dance Marathon is fundraising.
This connection, however, is not always an easy one to bear. Thinking about children with cancer is a despairing reality, but junior humanities for leadership and Spanish double major as well as morale captain for Dance Marathon Anna Pickett said that it is an essential part of the story, and should not be discarded or ignored.
"I think when dealing with the gravity of it, honoring that gravity and letting it be there—not ignoring it because it's part of the process and part of the cause; but reminding ourselves of the hope as well to keep us moving forward," Pickett said.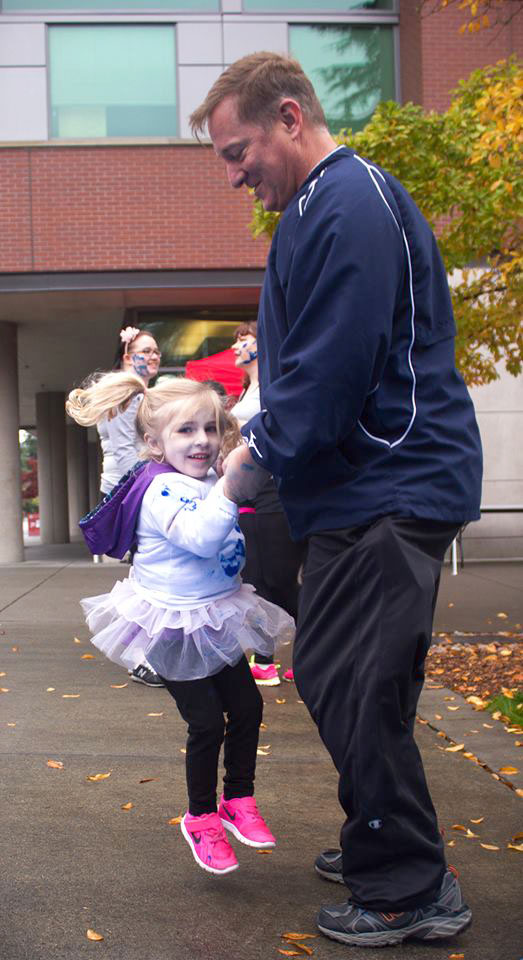 One is our miracle child Brooke McNaab and her dad at the Color Me a Miracle 5k that we held this October. Photo taken by our graphic design chair, Joey Grable.
Pickett also advises students to connect personally with the cause. For her, Dance Marathon strives to bring light to what is a difficult situation.
"It brings hope to an environment that could be hopeless, and it brings light to a place where there could be a lot of darkness," Pickett said.
For Downing, her connection to SUDM was solidified during her first Dance Marathon as a freshman. Every year, families and children who have benefited from the fundraising come and share their stories.
"These families have genuinely been affected by the Uncompensated Care Fund and without that fund, their children would not have been able to receive the treatment that saved their lives," Downing said.
However, if students need to come to the event to form a personal connection with the cause so that they are motivated to fundraise and they don't come to the event unless they fundraise, there is a section of students that will not get involved with Dance Marathon. It is this set of students that the SUDM steering team is trying to attract for the future.
"People are welcome to visit Dance Marathon and check it out even if they're not dancing or they don't know anybody there," White said. "They can come visit, see what it's all about and hopefully get inspired to dance in the future. Always looking for more people to get involved.
While SUDM has ambitious fundraising goals this year, next year's goals will be even greater—SUDM's 10th year will also be Seattle U's 125th.
"We want to help them get to a point where they can maybe reach 125 [thousand dollars] or something big like that," White said.