Connecting the World to Seattle University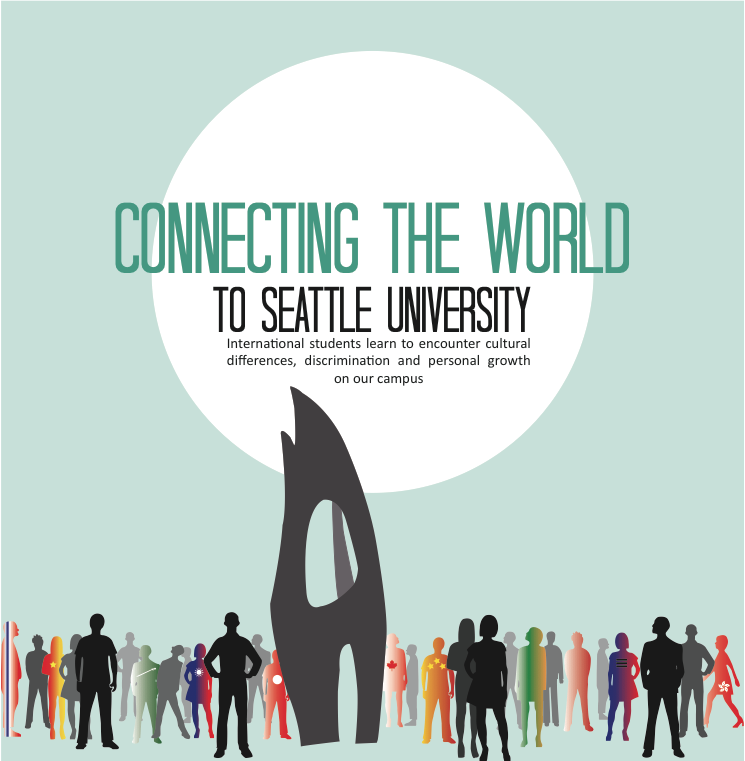 The world, and Seattle University, is always changing.

According to the Pew Research Center's new study of immigration patterns, by the year 2065 the U.S. will have no ethnic majority. The population of white people will drop below 50 percent and Asians will overtake Hispanics and become the largest immigrant group. Of the projected total population, 46 percent will be white, 24 percent Hispanic, 14 percent Asian and 13 percent black.
According to Ryan Greene, Director of the International Student Center at Seattle University, our student population may undergo the same changes predicted in the study. During his first year at Seattle U five years ago, Greene said we welcomed 123 international students in the fall. The next year, that number went up to 174, then 200 then 225. There are even more international students on campus this year.
This fall Seattle U welcomed more than 250 international students to its campus. From China to Indonesia, Vietnam to Taiwan, Saudi Arabia to Malaysia, they collectively represent more than 60 countries worldwide. Many have never even been to the U.S. before. For some of these students, it wasn't just their first day at school, it was their first day in a different country.
Takumu Tamazawa, a junior at Seattle U, was born in the rolling hills of Chiba, Japan. His family lives in a rural neighborhood with his younger sister and two cats, Mimi and Marble.
"It was scary," Tamazawa said, describing his first day in the states. "Lots of people were not used to other races or international students. I got the feeling that I wasn't really welcome."
Tamazawa spent his freshman year at Green River Community College and his sophomore year at Seattle Central College. Now he's at Seattle U, studying for a degree in accounting. After he graduates, Tamazawa wants to take advantage of Option Practical Training, or OTP: a program that allows international students to stay for one year after they graduate to do research or get a job. Unfortunately, finding a job is especially hard for international students, Tamazawa explained. Most employers won't even talk to him. This is a common problem among international students studying at Seattle U and other universities. It adds one more thing to the long list of stressful demands that they face on a daily basis.
---
Continue Reading below…
---
When he first made his way to the U.S., Tamazawa was confused by customs and habits that most Americans consider normal. Of the many things that made him stop and ponder, he remembers being shocked on his first trip to the bathroom.
"The first thing that surprised me when I got here was going to the toilet and seeing a gap in the stall. You can literally see someone inside. There's no privacy," Tamazawa said. "I was so reluctant to go to the bathroom for like a week."
The ISC was created to help international students thrive in their new home.
"I've had students that have had even cars damaged, they need to know where to get their car fixed," Greene said. "You never really know what kind of questions you're going to face.
The ISC also organizes events to celebrate the diversity of cultures at Seattle U. In January they will be hosting the International Dinner in the Campion Ballroom. At past events, more than 400 students have attended.
"It's a time for students to really volunteer and come out and participate in the larger international community," Greene said. "It allows a lot of students to almost travel back home for the night."
Gina Lopardo, Director of the Office of Education Abroad, had a similar experience when she studied abroad in Sienna, Italy, while she was an undergraduate student at University of Rhode Island.
"We don't question the processes that are in place," Lopardo said. "There are so many things that we take for granted, where we live, what we're familiar with, what we know."
The Office of Education Abroad is responsible for the development and organization of programs that send Seattle U students to other countries. They also provide exchanges wherein a student from Seattle U essentially swaps places with a student from a university in, say, Tokyo, Japan. These programs demand immense attention to detail so that the students' trip can be educational, enjoyable and safe. It's part of Lopardo's job to ensure that these requirments are met. These experiences mirror the daily lives of our international student community.
"I know what a transformational experience it was for me. I feel fortunate to be able to support in some small way others taking a similar journey," she said.
Dario Ogaz, former Seattle U graduate student, had an educational experience when he went abroad to Australia to study the history and literature of aboriginal peoples. When students travel to different countries, he said, they can grow in four different ways: personally, academically, mentally and spiritually.
"It's a transformational experience," Ogaz said. "You're required to think differently, more independently. Being away from your family and being at college is one thing, doing that again in an international context is something else."
Ogaz now works with Gina Lopardo in the Office of Education as a liaison for the different colleges on campus. If a professor wants to create a program or send a student abroad, he helps them with the logistics. Most students, he said, aren't sure why they want to study abroad.
"Some people come in an idea of what they want or maybe what they've heard of or seen before," Ogaz said. "Some students aren't necessarily sure why they're coming into our office. They know that they want to study abroad but they're not certain what kind of experience they want to have."
Abdulaziz Alnasri, a second year biology major from Saudi Arabia, understands the anxiety that visitors feel in a foreign country. It was almost midnight on the first day he came to Seattle U. It was one week before classes started so he hadn't gone shopping for things like bed sheets and blankets. He ended up using clothing and towels to keep warm. A year later he became an orientation leader so that he could personally help international students avoid going through the same experiences.
"I tried to make them feel that they are welcome here," Alnasri said. "I remember going to school and not finding anyone to talk to in Arabic. My first day was hard to go through but it got easier in time."
Caroline Umukobwa, sophomore civil engineering major, still spends time with her orientation leader. On her first day in the U.S., one year ago, Umukobwa was tired and jetlagged. It was her first time in the country, so everything was new to her. In the midst of all that, her orientation leader gave her a place to relax. That's why, a year later, she became an orientation Advisor, so that she could provide the same support for incoming international students.
"Where I come from, it's very easy to make friends," Umukobwa said. "Here, people are more conservative or not as outgoing with people from outside the country."
Students studying abroad face unique challenges. Some miss food from home, and have trouble finding it here. Some have difficulty adjusting to the weather. Some struggle with the distance from home and family. Whatever the case, the responsibility to help international students overcome these struggles lies well within the Seattle U mission. By coming to this country and pursuing an education on our campus, international students should make progress towards achieving the life they want.
"For my long term career," Umukobwa said. "I want to have a consultancy company of engineers working in my country but also internationally."
Lopardo feels very fortunate international student community at Seattle U.
"I think that they add a lot to our experience, and I wish that we could find a way to better integrate our international students and our U.S. students. I think there's a lot to learn on both sides."
Nick may be reached at [email protected]
Leave a Comment