Seattle Restaurant Week (SRW) runs Oct. 22–Nov. 4 and is organized by Seattle Good Business Network. The event aims to create a more accessible dinner experience, allowing residents to explore the diverse food scene in Seattle. More than 400 restaurants from Seattle's renowned culinary community join together and celebrate, while at the same time boosting the local economy. This event occurs at peak harvest time, showcasing the food grown in the Puget Sound area. SRW is a biannual event, running every fall and spring, making it a great occasion for students to try new food and engage in the city. 
Menus curated at different price points are offered, ranging between $20, $35, $50 and $65. As part of the event, food trucks, restaurants and pop-ups are featured around Seattle. SRW's website lists participating restaurants, filtered by neighborhood, cuisine type, meal, dining values, dining options and ownership. 
Poquitos, a local Mexican restaurant, offered a brunch special at $20, and a three-course dinner special for $35, dessert included. The restaurant week menu features select dishes from their regular menu. Their first course offerings included sopa de frijoles, black bean tostada, and pear & arugula salad. The second course offered a choice between steak tacos and calabacitas. Dessert options offered churros or fig flan.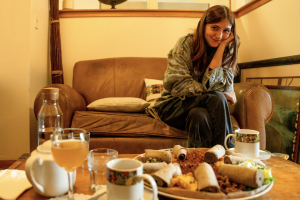 I attended Poquitos Friday night intending to choose from their specialized menu, but was informed that their restaurant week ended Thursday night. Regardless, the food was exquisite, and I split cheesy nachos and a poached pear ice cream dish with a friend. 
The nachos featured crisp house chips cooked in rice oil, black beans, melted Monterey, jalapeño queso, pickled onion, pickled jalapeño, chipotle crema, cotija cheese, guacamole and cilantro. The poached pear was delectable, a dish poached in tequila, and served with vanilla ice cream and crushed pistachios. 
An Italian restaurant Osteria la Spiga, located on 12th Avenue, also takes part in SRW. A hostess at Osteria la Spiga who wishes to remain anonymous spoke about the restaurant's involvement with SRW. 
"Restaurant week affects business in a positive way. We have more guests and new customers and are somewhat more busy consistently." 
Along with being busier and the influx of customers, she talked about how the restaurant prepares for this event. They create new dishes specifically for SRW that are featured on their restaurant week menu. 
Bok a Bok Fried Chicken and Biscuits, a family-owned business offering gluten-free and freshly made chicken, is participating in restaurant week for the third year in a row. They've partnered with Good Food Kitchens, a local nonprofit, to offer a special menu at a discounted price, allowing customers an opportunity to donate their price differences to Good Food Kitchen.
Jaclyn Wagner, the manager at Bok a Bok Fried Chicken and Biscuits, expressed how restaurant week is special to her restaurant and Seattle as it encourages people to explore beyond what's familiar to them. 
"It brings people out into restaurants they wouldn't normally try. People head out into their neighborhoods," Wagner said.
Seattle University is surrounded by different cuisine types and a handful of restaurants. Sophia Schmidt, a second-year international studies major, talked about the resourcefulness of SRW and how it can be helpful for students. 
"SRW is great because there are so many fantastic restaurants around campus, but a college budget can be limiting. SRW is a great opportunity to try new restaurants," Schmidt said.
SRW provides residents of Seattle a chance to explore their neighborhoods and engage in their community. It offers a chance to try new foods and for students, it offers an opportunity to familiarize themselves with their surrounding environment. A variety of restaurants are within walking distance from Seattle U's campus. Osteria la Spiga is an Italian restaurant right down the street from the student store. Barrio and Poquitos are both amazing Mexican restaurants that offer food and drinks. Bok a Bok Chicken serves their food through a window where you can order and take your food to go. SRW will take place again in spring, so if you missed the fall event, you will have another chance!