The 2022-23 season was one of astronomical highs and devastating lows for Seattle University Men's Basketball. The Redhawks, under the overt shadow of a half-decade NCAA Tournament drought, battled to a 20-12 (W-L) record (11-7 conference) last winter. They started strong, winning their first five games—all on double-digit victories. Combined with a 7-0 start to their conference slate and 16-4 record through 20 games, Seattle U began earning national recognition in coaches polls in late January.
A string of tough matchups against some of the conference's best would bring the Redhawks back down to earth, as they dropped four-straight games. Seattle U would go 4-4 after the losing streak and exit the Western Athletic Conference (WAC) Tournament in Las Vegas after just one game. In the aftermath of such a tumultuous season, finding ways to maintain their composure in rough patches has been a priority for head coach Chris Victor.
"The consistency that we brought to every game was not one of our strengths," Victor said. "So we've been talking a lot about it—different ways to improve, and it's been a focus. So I'm excited to see our growth in that area this year."
Nov. 9 will mark their first game as Seattle U is set to take on Prairie View A&M at the Redhawk Center. Even with their last NCAA Tournament berth coming in 1969, the team continues to display confidence in their ability to break through. 
So how will they do it?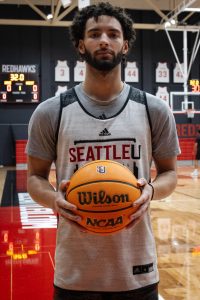 Senior guard Alex Schumacher pointed to the team's potential on defense as a pivotal factor. 
The Redhawks were in the middle of the pack defensively last season in the WAC, at just over 69 points allowed per game. Coming into his second year as the starting point guard, Schumacher recognized the role his voice will play in organizing the team as mistakes start to pile up. Schumacher admitted he has taken plays off defensively in the past, but emphasized that the size and speed this team has can land them atop the WAC defensively—if properly motivated.
"Being that head honcho on defense, cause I've seen in practice, the team might get flat. I just say, 'Let's get a stop right here,' I set the tone," Schumacher said of his role in ensuring constant defensive excellence. "I think me being more consistent with that is just going to lift up the defense as a whole."
The Redhawks will likely need to win the WAC Tournament to reach their ultimate goal, as winning the WAC is an automatic NCAA Tournament qualifier. But the Redhawks have now lost in the first round of the WAC Tournament in two consecutive years, both after 20-win regular seasons. 
The team still feels those losses, as this is largely the same roster from last season. Still, the Redhawks lost key pieces in Second Team All-WAC forward Riley Grigsby and forward Emeka Udenyi—both of whom graduated. Still, out of the five players who started over 25 games for Seattle U last season, three will be returning to the team this year. That list includes Schumacher, Redshirt Junior forward Brandton Chatfield, and Redshirt Senior guard Cameron Tyson.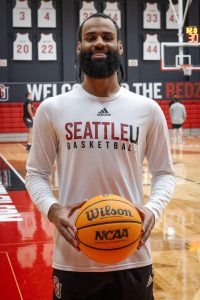 Tyson earned a First Team All-WAC selection last season after averaging 18.6 points per game and leading the conference in 3-pointers made. After declaring for the NBA Draft last spring, he ultimately decided to return to Seattle U to finish his final year of athletic eligibility.
"I'm around a great group of guys. Ultimately, nobody on his team is selfish. Everybody wants to see one another win," Tyson said, taking time in between 3-point practice reps. "Why not go do something that hasn't been done since the 60's here?"
In terms of bringing in new faces, Victor and his staff prioritized homegrown talent. The Redhawks signed Freshman forward Malek Gomma, who played his high school basketball locally at Ingraham High School. 
Another local addition is Freshman guard Jazel Brown at Garfield High School. Forward Will Heimbrodt from Archie Williams High School in San Anselmo, Calif. rounds out the freshman class. Although Gomma and Heimbrodt won't have the experience that Grigsby and Udenyi brought, the Redhawks addressed some size concerns by pursuing the two forwards.
Gomma appears to be the freshman name to watch, as he received praise from all around the team. Schumacher noted his ability to move his feet well in a 6'8" frame and his potential to be a key piece defensively because of it. 
"He's athletic, a high-riser and you know, he's really a highlight waiting to happen," Tyson said of Gomma.
Even with the excitement, it's worth noting that no true freshmen appeared in a game last season for the Redhawks. Victor relayed that the team has yet to finalize a lineup for the season as of Oct. 25.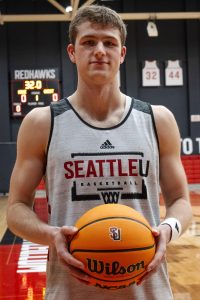 John Christofilis, a transfer Redshirt Sophomore guard, is a candidate to play heavy minutes for Seattle U. Another Seattle native and former O'Dea High School standout, Christofilis transferred from Creighton University due to a lack of playing time there. But 20 months removed from Division I action, the sharpshooter's confidence remains undeterred.
"He's a worker, his work ethic is pretty special," Victor said of Christofilis. "He's always positive, his energy is contagious. He's really made an impact on our program in a positive way."
Regarding his on-court ability, the Redhawks may be rolling out two lights-out shooters in Tyson and Christofilis—a welcome dynamic for the Redhawks who shot just under 32% from 3-point range last season.
"I think it'll be tough for teams to deal with both of us as threats on multiple levels," Christofilis said. "That's our goal, to make teams really pick… you got to pick your poison."
Bringing Christofilis back to Seattle and recruiting local talent isn't a choice of convenience for Victor though, it's quite intentional. 
"That's always been a focus for me—to try and create an excitement for the kids in Seattle to put on a Seattle U jersey and be a Redhawk," Victor said. "We'll continue to recruit Seattle hard and build pride in our program for those kids that grew up in this area."
As the Redhawks ramp up for the season, with high expectations in place yet again, they have addressed some key areas of concern. But, how their preparation and roster adjustments contribute to solving the puzzle of consistency remains to be seen. With a hardened conference slate ahead of them, Seattle U Men's Basketball will get another chance to build on the program's acclaim.