Seattle U's Cameron Tyson Declares for NBA Draft
Seattle University men's basketball's Cameron Tyson announced March 15 via Instagram that he will be declaring for the 2023 NBA Draft. This decision comes at the end of the guard's junior year and if Tyson is selected, it will be the first time in over 40 years that a Seattle U student-athlete has been drafted into the NBA.
Tyson finished this season with National Association of Basketball Coaches 2022-23 Division I All-District 6 First Team honors. During the 2022-2023 season, he started in 31 games and averaged 14.7 points a game, setting a career-high of 35 points in the process. 
"When we first got him he was mostly a shooter," Head Coach Chris Victor said. "He's really improved his ball handling, his playmaking, his passing, his defense, you know his all-around game has really picked up a bit since we've gotten him." 
Tyson came to Seattle U two years ago after stints in Idaho and Houston. According to teammates and coaches, Tyson has brought a vigor and determination for growth with him onto the court since his arrival. Victor also highlighted his strong intangible traits including work ethic, teamwork, leadership, a competitive nature and a strong desire to win.
For Tyson, significant work is going into draft preparation. He took one week off from practice after the end of his season before he got right back into training. The draft process starts in May and until then, Tyson will work to put his best foot forward before performing for NBA scouts. 
This training takes a number of forms. Tyson has been timing himself in 1.5 and 2-mile runs, making sure to hit under a time limit that he sets for himself three days a week. On days when he is not running, Tyson hits the weights, works on his jumpshot and gets practice in all week long by playing one-on-one, two-on-two or five-on-five. 
"I've been training every day," Tyson said. "I took a week off after the season ended, and then ever since I've just been getting in extreme shape, and trying to get my body as best as possible for this upcoming challenge."
Every NBA team has multiple scouts whose job is to find the best of the best college players. At the beginning of this season, Tyson was the leading scorer in the country for nearly two months, drawing significant interest. Having this attention early in the season set Tyson up for a strong chance at the draft as he earned the chance to display to the scouts what he is capable of. 
Indeed, Tyson showcased his talents and used his drive and motivation to propel his team to their second consecutive 20-win season for the first time in decades. However, this historic achievement was possible thanks to the help of two other major contributors to the historic season were Senior Forwards Riley Grigsby and Emeka Udenyi.
"Being a new guy is never easy, but they took me in as a brother and showed me what it's like to win basketball games around here," Tyson said. "They understand that they left this place better than they found it. And to me, that's the ultimate goal of any basketball program, you're a part of—leaving it better than you found it."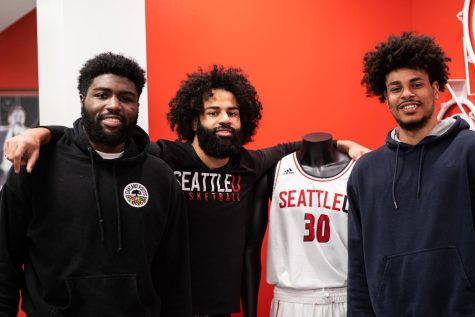 Both Grigsby and Udenyi have aspirations to play basketball professionally when they finish up at Seattle U. Grigsby is currently working on finding an agent to help market himself to potential professional basketball organizations. Udenyi has put together a highlight tape and is looking to find a position in an international league. 
"I think we all had different ways we led this team," Grigsby said. "I think for me personally, it was leading by example. I've been through it all. Being able to show up every day and show people how they should act and what they should do for the program is my contribution." 
These three players have been invested in the program and want to see it succeed for years to come, even with the potential for all three of them to leave. Despite declaring for the NBA Draft, Tyson has kept his college eligibility. So, in the scenario that he goes undrafted, he can return to Seattle U, finish out his senior year then try again. 
During the draft process, scouts will also provide potential feedback to improve their game down the line. Tyson believes whichever way the draft goes, the feedback will be crucially valuable to his game. 
"I think Cam is having a great college career and declaring is a smart decision," Udenyi said. "His goal is obviously to get to the NBA and I think he has a real good chance of reaching that ultimate goal." 
The success of Tyson and his teammates has brought with it a new level of success for the Seattle U men's basketball program according to Victor. The team does not have official team captains, but Tyson, Grigsby and Udenyi took the role of leaders supporting each other and the rest of the team. With determination and a hard work ethic, the three not only elevated themselves to success but their team as well. 
"It's not my coaching that got him here," Victor said. "Cam has an unbelievable work ethic and this has been a dream of Cam's ever since he was a kid, to declare for the NBA draft and put his name in. This is something that he's earned on his own."
The 2023 NBA Draft will take place June 22 at the Barclays Center in Brooklyn.
Leave a Comment