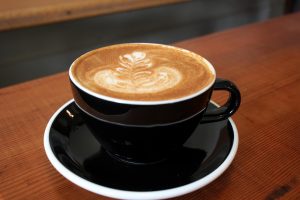 As the cold drafts of autumn slowly consume the streets of Seattle, the average person craves nothing more than a little sweet drink to warm their palms. 'Tis the season for pumpkin spice and everything nice. It's time for none other than our (now annual) pumpkin spice latte (PSL) review. I'll be your host, guide and connoisseur this October as I take you on a journey through Capitol Hill to local coffee shops, taking on the challenge of finding the perfect pumpkin spice latte.
On my PSL quest last fall, I ventured into coffee shops close to campus and often visited by students. However, I hope to expand the map of where students should visit for their fun little fall beverage this year. You may not have the convenience of walking right off campus, but taking a stroll through the neighborhood with the abundance of colored leaves adorning street curbs, and feeling the brisk air that makes one want to get bundled up, will justify the trek. 
Porchlight Coffee and Records is the first speciality coffee shop I will be reviewing, and is about a 15 minute walk from campus. This spot is both a record and a coffee shop with limited inside seating, but if you want a mellow environment with a quiet atmosphere, this is the place to go. The owner is often behind the counter serving coffee, and I had the pleasure of having my drink served by him when I visited. Instead of a pumpkin spice latte, they are calling their featured fall drink a "pumpkin pie" latte (PPL) which is made with organic spiced syrup and served in cups that Porchlight stamps with jack-o'-lantern faces.
Official Porchlight PPL rating: four out of five pumpkins
This PSL gets a 4/5 because of how pumpkin-forward it was. I'm someone who doesn't often get flavoring in their latte, but on the occasions I do, I love feeling like I'm getting a special sweet treat. I found that naming this latte pumpkin pie instead of pumpkin spice was definitely appropriate. Herkimer Coffee creates a blend unique for Porchlight that works well in this fall special. The espresso beans they serve are an Ethiopian blend that features apple, cinnamon and floral notes. Between the blend and the syrup, this latte was sweetened to my liking. I really enjoyed the mellow flavor profile. If you're someone that prefers sweet over spicy, be sure to acquire a PSL from here.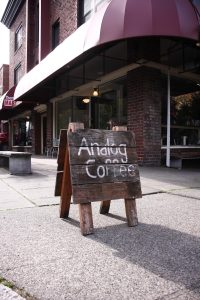 Next on our list is Analog Coffee, which has earned an honorary mention. This charming café appears very unassuming from the outside, as it's surrounded by apartment buildings and is located a few blocks away from Broadway. However, once you walk in, you'll find that this spot is bustling with activity as many locals frequent here. Stacks of vinyls and cassettes occupy a corner behind the counter, with print newspapers and magazines clipped up on the wall for customers to read as they enjoy a beverage. They've also got a wide variety of seating with benches surrounding a coffee table, tables and stools toward the back, and bar stools lining the wall with corners of seating that look out onto Summit Avenue.
Even though they do not serve PSLs during the fall, they have an "autumn blast!" latte (ABL) that essentially has the spice without the pumpkin. It's made with a spiced maple syrup that's made next door at B-Side.
Official Analog ABL rating: three out of five 
Their "autumn blast!" gets a 3/5 as it was a bit spicy for my liking. But, that is to be expected when the flavoring is supposed to infuse your latte with abundant spices. Analog also serves Herkimer Coffee alongside Porchlight; however, the roast they serve has dark chocolate and cherry notes, making for an intense flavor profile. Would I indulge in the ABL again? Probably not, but do I suggest that you visit this spot for its ambiance and other offered beverages? Absolutely.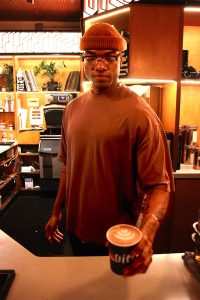 Finally, we have Caffe Vita. The Capitol Hill location is home to their flagship roastery, and they've been in the neighborhood since 1995. Only a 10 minute walk from campus, this is notably the closest café we feature in this review. Vita's seating area invites you to observe their roasting process through a window in the lobby and keeps things nice and sunny, with lots of large windows looking out onto Pike Street. Vita offers a "great pumpkin latte" (GPL) made with natural pumpkin puree vanilla, pumpkin spice, brown sugar and sea salt. 
Official Caffe Vita GPL rating: five out of five pumpkins!
They weren't kidding when they named this a great pumpkin latte. This combination of flavors, in tandem with their espresso blend, "Caffe del sol," (a light-medium roast with notes of milk chocolate, caramel, and dark cherry), was like fall in a cup. I'm a sucker for pumpkin puree, and they hit the nail on the head with this one, finding the blend of spicy and sweet. Vita is also offering a caramel miso latte this fall, and while I didn't get to try it, it certainly piqued my interest. So yum, and you best believe I will be returning for another in the near future. 
I hope that this review inspires you to embrace the fall vibes. I encourage you to explore beyond campus to get these drinks before they're gone and the peppermint mocha takes our sweet pumpkin time away from us. Savor the moment and the PSLs!