The start to a new school year at Seattle University means that University Recreation, better known across campus as UREC, is set to have its facilities full of new and familiar faces. 
UREC kicked off the year with "Night at UREC" Sept. 19, a part of Welcome Week, designed for introducing new and continuing students to the wide variety of resources UREC has to offer. Whether it be weight-lifting, group fitness classes, outdoor excursions, intramural sports or ESports, UREC works to provide recreational options for the unique interests of everyone at Seattle U.
Assistant Director of UREC Sara Janosik focuses on operations and engagement, and shared a message to anyone who may not feel confident going to the gym.
"We really want people to feel comfortable and safe coming into our building, and know that while we have all of the traditional gym equipment, there is exercise and movement in anything you want to do," Janosik said. "If lifting weights isn't your thing, come try pilates, try one of the climbing van trips, move your body in whatever way you want, and we are here to support that."
One of the new programs on offer this year is the free Personalized Fitness Orientation Program.
"If you're new to exercise, or just new to the facility, it is a great entry point," Janosik said. "You will work with someone one-on-one, they will show you how to use all the pieces of equipment, write out goals and show you how to get started."
These sessions will be led by personal trainers like Chase Braunel, a third-year strategic communications major, who works on the operations team and runs group fitness classes at UREC. Braunel noted the high level of demand UREC is facing. 
"In terms of signing up for personal training, we actually have a waitlist at the moment, even with a good amount of personal trainers on staff," Braunel said. 
Thankfully, where there is demand there is also flexibility in regards to many of the group fitness classes. 
"Via Mindbody, you can sign up for group fitness classes, many of which are free," Janosik said. "Someone is always upstairs at the beginning of classes checking people in, meaning if things aren't booked up before the class starts, people are more than welcome to just walk up and join on the spot."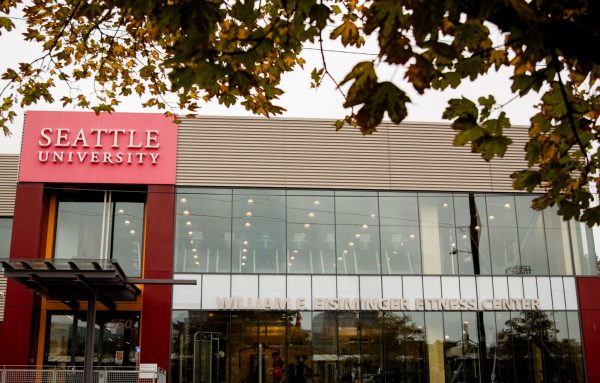 Looking at some of the more non-conventional opportunities UREC has to offer, UREC Outdoors provides both equipment rental, as well as "outdoor trips" which can range from trips to a city park, to a first aid course, or a multi-day ski-snowboard trip to Mount Baker. 
Kevin Sutton, assistant director of UREC Outdoors, leads a team of 15 students who help plan and budget outdoor trips for even the most novice of students. He shared the emphasis that has been put on making the activities they host as accessible as possible. 
"We are offering 31 programs and 80% of those are free. Anything with gear associated will have a fee that is prorated, like climbing for $5," Sutton said. "Our trips are mostly built for a formative experience: Get your feet wet, learn the basics and hopefully feel better about going out on your own experiences."
The main caveat when it comes to these experiences is how quickly the slots fill up. According to Sutton, the majority of trips fill up within a few minutes of their registration opening—9 a.m. on the Friday three weeks before the trip is scheduled. Waitlists are available for every trip, and each is first come first serve.
Shifting focus to another program open to campus members of all skill levels, the intramural sports UREC has on offer: 5v5 outdoor soccer, 7v7 flag football, 4v4 indoor volleyball, 3v3 basketball, a doubles pickleball league, a Halloween costume dodgeball tournament, a table tennis tournament and trivia. For soccer, flag football and volleyball, there are beginner friendly novice leagues supplementing the main "competitive" division.  
Furthermore, UREC also offers a womxn's flag football league aimed at making the sport less intimidating for female-identifying participants, giving them an opportunity to learn the game in a safe environment.
Registration for intramurals is all done through IMLeagues, where you can set up and join teams, or even be a free agent. 
With a commitment to inclusivity and diversity, UREC is on track for more members of the campus community to make full use of what they have to offer.