E for Everyone: Esports Room Opens in Student Center
After years of careful planning, collaboration and a few setbacks, Seattle University officially opened its Esports room in Student Center room 330 Feb. 23. What started out as the brainchild and capstone project of a former president of the Seattle U Esports and Gaming Club (SUEG) in 2018, has finally taken shape. The room has 12 gaming computers, two Xboxes and two Nintendo Switches, and is open to all students. 
Run and staffed by University Recreation (UREC), the Esports room is open from 12 p.m. to 11 p.m. every day. The room operates on a drop-in basis and if every computer is taken, there is a 90-minute cap, which is kindly enforced by the UREC student staff in the room.
Sean Lee, a fourth-year computer science major, works in the Esports room and has been there since the room opened. A gamer himself, Lee appreciates being in the space and looks forward to their offerings growing. 
"We really have most of the big free to play games—think Riot games like League of Legends or Valorant," Lee said. 
Relatively uncharted territory for Seattle U, the Esports room is a different type of collaborative space than a headline development like the Sinegal building, which mainly hosts classrooms and lab spaces. 
Kirsten Schumacher, director of UREC, mentioned a few reasons why the room faced delays getting off the ground; one of them simply being complications downloading games on the school network. Due to the university's strict network policies and firewall limitations, it has been imperative to think of ways to comply with the university's rules while making the space as inclusive as possible, according to Schumacher.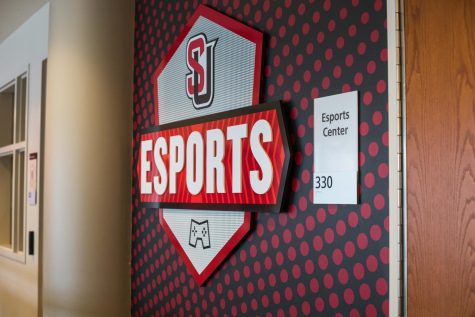 Furthermore, it's no coincidence the room finds itself on the top floor of the Student Center.
"UREC wanted to build into an infrastructure that was already a gathering space. We want it to be a functional place both for people who already know how to game and those who are brand new to gaming," Schumacher said. 
So far, it has been a success. With no grand opening, Schumacher has been pleasantly surprised with the room's consistent engagement and utilization by the campus community. During a visit to the room, it was filled with students competing in a Valorant tournament–even so, the room is not often at full capacity. 
Students around campus may be unaware of the full extent of "gaming culture," or the excitement for video games at Seattle U. One of the largest clubs on campus, SUEG has more than 800 members and helps organize a variety of teams in addition to their weekly meetings. 
 The current teams are as follows: Counter-Strike: Global Offensive (CSGO), Valorant, Overwatch, Apex Legends, League of Legends, Rocket League and Super Smash Bros. These teams participate in a variety of collegiate tournaments and leagues, facing off against other universities. At the beginning of March, the main Seattle U Valorant team traveled to Boise, Idaho for a tournament. 
Jacob Charbonneau, a fourth-year computer science major and current president of SUEG, as well as the captain of the CSGO team, couldn't be happier about the opening of the Esports room. 
The opening has allowed SUEG to transition their weekly club meetings from Zoom to in-person. They typically host both casual games such as Mario Kart or Jackbox, as well as in-house multiplayer matches for games like Valorant or Overwatch. 
According to Charbonneau, the biggest value of the Esports room has been its ability to bring people together.
"When people play video games, they typically do it alone, in their rooms at their own setups," Charbonnau said. 
With the Esports room, people can meet up and play together, building new friendships which aren't limited to Discord or in a game.  
"The great thing about video games is that anyone can play and have a good time," Charbonneau said. "The Esports room is meant for anyone to come in, sit down and enjoy some gaming however they want. If you can take one thing away from this, it's that gaming is for everyone." 
The Esports room is set on proving that message as it continues to garner a community.
Leave a Comment