"Once in a Lifetime:" SUVSA Sells Out 18th Annual Xuân Festival
For the first time since returning to in-person programming, Seattle Univeristy's Vietnamese Student Association (SUVSA) completely sold out an event. Filling the Campion Ballroom to capacity on the evening of May 13, the 18th Annual Xuân Festival brought together family and friends to celebrate Vietnamese culture on-campus.

The theme of the event was Gặp Lại Khi Hoa Nở, which translates to "Reunited When the Flowers Bloom," something that was personal for Tina Chau, a fourth-year marketing major and this year's Xuân co-director, as it is based off of her parents' own love story. 
High school sweethearts in Vietnam, the young couple was forced to break up due to the Vietnam War. Separately, they and their families immigrated to the U.S. where, years later, they found their way back to one another. They've been together since. 
"I'm just very inspired by that story. They talk about how if someone's your soulmate, you're going to find your way back to them. If someone's meant to be with you, they're going to be with you. That's why I thought of the idea of 'reunited' when the flowers bloom. It's really good symbolism for them," Chau said. 
The theme was thread through the entire event, from the menu to decorations of the entrance hallway and ballroom to the skit and dance performances. Reyna Phung, a first-year kinesiology major and the Xuân skit director and Grace Nguyen, third-year cell and molecular biology major and member of the design committee, wanted to do justice to the theme and the story behind it. 
"We want the crowd to be moved through emotion," Phung said. "We want to incorporate a lot of the traditional wear and honor the story [of immigration] and honor our culture." 
Prefacing SUVSA's program, cultural clubs like Hidaka Taiko, the Korean Student Association and the Marianas TaoTao Tano Club volunteered to help open the event with their own performances. Afterward, SUVSA put on their own production which included traditional fan, modern, contemporary and partner dances all connected via a skit that followed the story behind the event's theme. 
"Our story emphasizes these two characters. They [fell apart from] each other, and then, by coincidence, when they were immigrating, they came across each other, and they helped each other out. They built their little love story, and then, when the time came, there was a dramatic split. And then come the season of Spring. It's like the season of love and the flowers are blooming, and then they find each other once again," Phung said.
Besides the live entertainment, guests were also able to purchase art and goodies from the several vendors present. One such art vendor was Vi Pham, a 2020 University of Washington (UW) alumnus and member of the UW's VSA chapter. 
"I haven't done any VSA related stuff since 2020, so it's nice to be back and see all the cultural stuff because I missed it for three years," Pham said.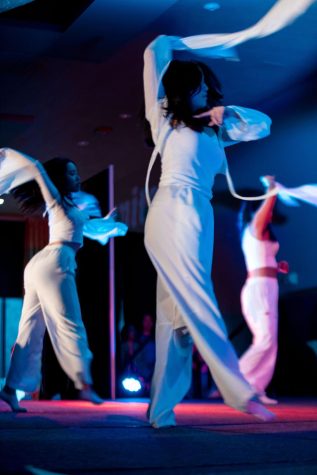 Because the event took place on Mother's Day weekend, there was a Mother's of VSA booth that provided guests with materials to write cards for their mothers. Other booths included Macadons, XYZ Style Co. and a photo booth. 
Proceeds from this event and the other events hosted by SUVSA this year are all donated to One Body Village, an organization that raises funds to support and provide opportunities for sexually abused and exploited children, particularly in Southeast Asia. The promise of all proceeds going to the organization made the fact that the event was sold out even more exciting. 
"I was speechless. I don't even know how to describe what I was feeling. I definitely cried in my room. I cried to my mom like 'oh my God, we sold out! Everyone wants to go!' And I think the biggest thing wasn't like 'Oh, we're selling out,' but also that people want to come," Luu said.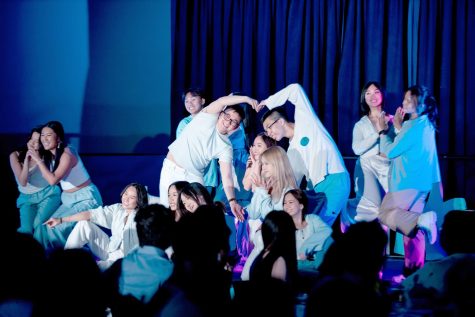 Luu estimated that the event will accrue an impressive $3,000 in donations for One Body Village, more than they originally anticipated. More than just raising funds for a charitable cause, the goal of SUVSA's annual Xuân Festival is to celebrate and share Vietnamese culture with Seattle U. Members of SUVSA and the Xuân planning committee also took advantage of the event as a way to bond with one another in a way they otherwise wouldn't have been able to do. 
"Leading up to this, we had a full committee retreat where we were able to come together," Nguyen said. "It was just a nice time to play games with people, talk with people."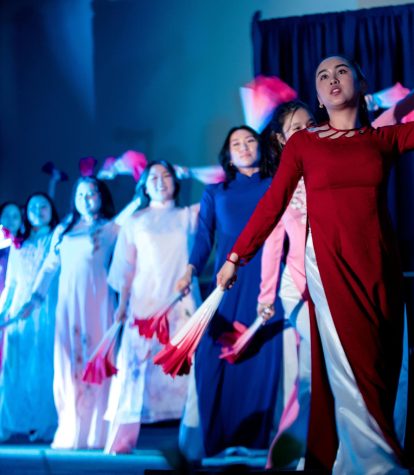 Using this bond to immerse attendees into Vietnamese culture through the food, decoration and performances, SUVSA encouraged guests to use the event to take a breath and smell the flowers. 
"I just want people to really enjoy their time here and … just take a look around and focus on everything going on because this is a once in a year thing, and sometimes this is a once in a lifetime thing to get to be here," Phung said. "With limited tickets and how fast we sold out, you're lucky to be here and see everything that everybody put in. Appreciate the moment."
Leave a Comment