A Gap in Belonging: The Disappearance of Students for Economic Justice
Meeting at one of their own homes, a handful of students sat around a table, discussed their experiences as low-income students and searched for ways to support others. The completely student-led group, Students for Economic Justice (SFEJ), made their first post on Instagram in December 2019, but would stop posting and disappear from Seattle University's campus after July 2020.
When 2022 Seattle U Alum Miranda Hernandez joined, the club had recently merged with a similar one that lost traction when its members graduated. Feeling a lack of support for low-income students at Seattle U, Hernandez and other organizers started to create lists of cheap resources in the neighborhood and share their experiences in a weekly meeting. 
"SU didn't really have too much of a support system set up for students who were low-income in general, which we thought was absurd and frustrating," Hernandez said.
The group released their first newsletter in April 2020. It included updates about Seattle U's COVID-19 response and information stretching outside the school, like a reminder to fill out the U.S. Census. Jo Bechtold, a 2020 Seattle U alum and SFEJ member, identified raising class-consciousness as a club goal.
"The club was aiming to do more direct service and education around what it's like to be a low-income student," Bechtold said. 
When the COVID-19 pandemic hit in March 2020, the club shifted its focus to mutual aid. The Google form the group created to collect community needs and those who could provide them was listed on a Seattle U webpage for COVID-19 resources.
"We had community members write in and tell us what they were having a hard time with. They needed medication, needed someone to run to the pharmacy for them, needed a gift card to eat, needed cleaning supplies. People would donate money, too," Bechtold said. 
SFEJ organizers were not immune to the effects of COVID-19. The pandemic distinctly caused challenges for low-income communities, so SFEJ members were part of vulnerable populations at Seattle U while simultaneously organizing their mutual-aid program. Bechtold, for example, lost her job at a theater and her gig as a nanny. 
"I made the decision to move in with a family, work 60 hours a week and go to school full time," Bechtold said. "I know a lot of people had to make really hard decisions about what they were going to do." 
Once Bechtold graduated, Hernandez and the other members tried to continue the organization's work. Hernandez ended up taking a gap year during the pandemic. The group eventually fizzled out because SFEJ connected primarily in-person, members of the group like Bechtold were graduating and organizers like Hernandez faced challenges of their own.
"That's the problem with campus organizing, there's such a high turnover rate because you're only there for four years. By the time you get to know the institution and the people within it, people graduate," Bechtold said. 
Today, there are no Seattle U clubs specifically focused on low-income students. 
It is also hard to grasp the number of students who would benefit from a resource similar to SFEJ. Jordan Grant, assistant provost for Student Financial Services at Seattle U, explained that the term 'low-income' is ambiguous. 
"One person who qualifies themselves as low-income may be considered moderate or high-income to someone else," Grant said. "What most campuses do [is] use a common definition, they go by our national flagship need-based grant program called the Federal Pell Grant."
According to Grant, almost a quarter of students at Seattle U receive the Pell Grant. While there is no resource identical to SFEJ for these students, Hernandez thinks of the Office of Multicultural Affairs (OMA) and cultural clubs as alternative resources. 
"The good thing is that there's places like OMA and other culture and identity-based organizations that have support systems set up for students who are low-income and have those intersectionalities," Hernandez said.
Grant explained that Seattle U has a higher percentage of Pell recipients compared to other universities similar to it, and that among Pell students, there is generally a higher percentage of BIPOC and first generation students. Grant also mentioned that Pell recipients have a lower retention rate than the general population. In 2017, Pell recipients were 7% less likely to finish college than other students. 
Increasing Seattle U's retention rate is an ongoing university goal. Last November, Seattle U President Eduardo Peñalver wrote an email to faculty reporting a gradual decline of the university's undergraduate retention rate over the last decade. The lowered retention rate cost the school over $9 million.
LIFT SU, an antiracism plan started in 2016, identified the recruitment and retention of BIPOC students in particular as one of their five goals. Implementing LIFT SU is also a main part of Peñalver's "Reigniting our Strategic Directions."
The current tuition rate for Seattle U sits at over $50,000. Yen Ngo, director of student financial aid at Seattle U, has noticed that a discrepancy between the out-of-pocket cost and ability to pay is a deterrent for students. 
"That gap can be met with an indebtedness with a very high amount of loans. Some students or families may not [be] willing or able to take on that kind of debt," Ngo said. 
Despite the cost, Pell recipients still choose to come to Seattle U. Grant mentioned that Pell recipients will sometimes qualify for additional funding like the Seattle U Bound program, a combination of scholarships that amounts to a full ride. If the school is a good fit for the student, that might also influence their decision. 
"Some students, especially students who are first gen, are looking for a community they can feel belonging to. They'll find an institution like Seattle U that can offer more of a community feel and relational support. They have a better fit, and they're more likely to graduate," Grant said. 
In conversations with students and their families, Ngo has also noticed that the location of the university and its diversity are reasons students stay. 
"A lot of our students who are Pell recipients are looking for a place where they can feel belonging for whatever reasons that they need," Ngo said. 
This sentiment of belonging is not equally present for every student. During her time at Seattle U, Bechtold mentioned having a hard time finding a sense of community. 
"Going to Seattle U, you're around people who have no class consciousness and are living in a different reality," Bechtold said. 
Seattle U's marketing is a topic that Victor Evans, an assistant professor involved with LIFT SU's retention goal, interacts with students on. With LIFT SU, Evans has found that Seattle U is bringing in BIPOC students, but they're having a hard time retaining them.
"We can get them in and sell them on—these aren't my words, but words that people have used—this 'diverse campus that's liberal and in the heart of Capitol Hill.' Then they get here and they don't feel that the campus is nearly as diverse and liberal as they initially thought or when they were being recruited," Evans said.
Remembering a panel with BIPOC students Evans participated in, he mentioned that a couple of people on the panel talked about being on multiple brochures for the university. 
"The institution is a business, all businesses are always going to try to put their best foot forward and try to show their diversity," Evans said. "I wouldn't necessarily say that it's purposefully done to deceive, but when you don't have a large population [of BIPOC students], and you see that on all their flyers, it can be misleading." 
Evans also drew on Sullivan Leaders' Day, a day in which around 300 prospective students visit Seattle U to compete for nine full-ride scholarships. 45 finalists write a speech and present it to a board, and each year has a different theme based on a book. 
"When [prospective BIPOC students] come to campus it feels like they're surrounded by all these BIPOC students. It is marketing to a certain degree; people come out, the Sullivan scholars have a day, and the Sullivan scholars are mostly BIPOC students, underrepresented students and first gen students, so [prospective BIPOC students] feel like 'oh, since there's these Sullivan scholars and they're promoting the day,'" Evans said. "Then they get here and they realize that day wasn't exactly representative of what their day to day experience is like at Seattle U."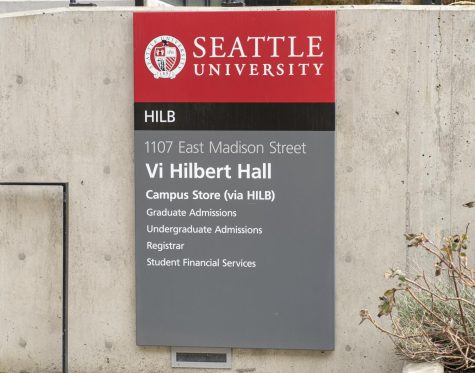 Hope Jose-Day, a first-year cultural anthropology and environmental studies major who participated in this year's Sullivan Leader's Day but did not receive the scholarship, felt that there was a discrepancy between the theme of labor inequality in the U.S. and her lived experience at Seattle U. 
Her family qualifies for Medicare and their income varies from year to year. They own a condo about three blocks away from Seattle U, so Jose-Day requested to live there instead of in university housing. Since she had no legal guardian living in the home, she did not meet the two-year housing requirement for an exemption, instead paying around $8,445 out-of-pocket. Jose-Day says she loves living in the dorm, but was surprised by the university's decision.
"I was a little taken aback by the fact that Seattle U had preached so much about economic inequality and was demonstrating to its students that this is a significant issue that our university cares about making an impact in. Then, when the university was given a chance to make an impact in one student's life, to make change within their community, they denied that student the opportunity to save their family's money," Jose-Day said. 
Jose-Day has not found a group to share her experiences with, or significant resources on campus for students in her situation. 
"There's not really any people that I can go to and say 'how much money did you get for the FAFSA this year?' or 'do you qualify for food stamps?'" Jose-Day said. 
LIFT SU conducted focus groups with BIPOC students, Triangle Club and the Student Activities Board. While LIFT SU is primarily focused on BIPOC students, Evans says that all groups surveyed mentioned that having a support system and sense of belonging makes a difference for them. 
"Once they joined those different affinity groups that matched their identity, their interest, their beliefs, then they were able to feel a sense of belonging," Evans said. 
While LIFT SU carries out its goals and the university continues to work on its undergraduate retention, low-income students are left with a longing for community—a feeling of belonging the vanished SFEJ provided.
Leave a Comment