Strategic Directions Spark Conversation About BIPOC Students
Seattle University launched a five-year plan in 2020 outlined in "Strategic Directions for Seattle University 2020-2025: A Jesuit University of Distinction for a Time of Change," laying out the university's values, aspirations and commitments. Shortly after the plan was launched, COVID-19 disrupted the university's normal functioning, and President Eduardo Peñalver took over leadership of the university. Under Peñalver's leadership as the first layperson to occupy the position, he, along with a team of Seattle U faculty, revised the original Strategic Directions. They launched a new plan in 2022 outlined in "Reigniting our Strategic Directions 2022-2027." In his letter to the Seattle U community, Peñalver wrote that the team has "attempted to integrate the original vision of the Strategic Directions with the experiences [Seattle U has] shared since adopting the first version."
The revised Strategic Directions is broken into five goals. Beginning in April 2022, representatives from the working groups charged with each particular goal have been conducting a Strategic Conversations series. The conversations are open to everyone and intended to educate the Seattle U community on the status and future of different goals and initiatives, as well as providing community members a platform to give feedback. The fourth goal, and the most recent conversation, is concerned with promoting inclusive excellence. The working group is co-led by Special Assistant to the Vice President for Diversity and Inclusion Brooke Coleman and the Vice President for Diversity and Inclusion and Associate Professor of Law Natasha Martin. 
"Our inclusion ecosystem is anchored in and animated by our Jesuit and our Catholic identity," Martin said. "What we're really focused on here is building an institution, reimagining an institution in a way where there is no dichotomy between diversity, equity and inclusion on the one hand and academic excellence on the other."
The conversation, "Recruitment and Retention of BIPOC Students," was held via Zoom Jan. 25. Assistant Professor in the Communication and Media Department Julie Homchick Crowe and Director of the Alfie Scholars Program Carol Cochran provided an update about the progress of their research into the recruitment and retention of BIPOC students at Seattle U. While Homchick Crowe and Cochran are still in the data-gathering phase of the plan, their preliminary data reports that BIPOC students made up 59% of the entering cohort in the fall quarter of 2021. However, they comprised 64% of the non-retained population that quarter. This has increased significantly since fall 2020 when BIPOC students made up 57% of the entering cohort and only accounted for 52% of the non-retained population.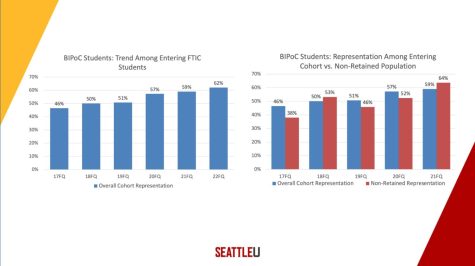 "Our hope for this goal is that Seattle U becomes a place where our BIPOC students feel a sense of belonging and are truly able to thrive in their experience here," Homchick Crowe wrote to The Spectator. "Our intentions are to not only develop a more robust evidence-based understanding of what we need to invest in and what needs to change, but also that we follow through and really make those changes happen."
Data collection at Seattle U also found that there is a disparity in first to second-year persistence between all entering first time in college (FTIC) students and traditionally underrepresented entering FTIC. Persistence rates for traditionally underrepresented entering FTIC have been lower than the rate for all students (except for the fall quarter of 2018 when the two were equivalent) since the fall quarter of 2017. However, the gap has gotten much wider. In the fall quarter of 2021, 82% of all entering FTIC returned to Seattle U the next year while only 73% of traditionally underrepresented entering FTIC persisted. To understand these trends, the working group conducted focus groups and surveys with students, staff and faculty to explore what is being done on campus and to identify any potential gaps.
"It was really meaningful to be able to speak with different affinity groups and stakeholders on campus and hear their stories about their experiences on campus and in the classroom," Homchick Crowe wrote.
The working group drafted a report before winter break that is still being finalized. In the meantime, they provided recommendations and conclusions for the university. They believe that the first steps towards promoting inclusive excellence are empowering faculty and staff, creating safe and welcoming environments and building community and relationships. 
"It is critically important for Seattle U to be a place where our BIPOC students feel a sense of belonging and can thrive," Coleman wrote.
Some steps the university is taking include a day of learning for staff, a unified campus calendar, more robust and centralized data collection and a commitment to increasing student and student-facing staff representation on decision-making bodies.
Leave a Comment