46th Annual International Dinner Celebrates Campus Diversity
Seattle University is home to over 1,000 international students, making up more than 14 percent of the student body. To recognize its diverse population, the Campion Ballroom was transformed into a microcosm of a cultural showcase Feb. 25, for Seattle U's 46th annual International Dinner. Hosted by the International Student Center (ISC), the event was open to members of the Seattle U community and the general public
Long tables made up a dining space, while chairs were set up in front of the main stage. The environment was curated for dynamic involvement. Sitting next to strangers was encouraged, and conversation flowed naturally as attendees came in expecting a space built for cross-cultural engagement.
The evening was opened by a short message and prayer read in both Turkish and English, asking those at the dinner to keep the people affected by the earthquakes in Turkey and Syria in their hearts and in their minds. People were then given time to go around and learn more about the different tables which were set up as well as enjoy their food before performances by a range of international students and cultural clubs began.
Fourth-year Kurano Yamamoto and Second-year Kotono Hiramoto are both International Studies majors and international students from Japan who volunteered at the dinner. Both were involved with the decoration and the food teams, and signed up through their connection with the ISC. 
"We have been working to prep from the very start of the winter quarter," Hiramoto said.  
Hiramoto also helped make and serve the Saudi Arabian food—a delicious chicken and rice dish. The food ranged from Japanese to Ecuadorian, with karaage, Japanese fried chicken, being the biggest hit of the night according to Yamamoto and Hiramoto, though they noted that their sentimental attachment to the dish might influence their opinion. 
Diego Borromeo, a first-year international studies major, received free tickets to the dinner from OMA. Borromeo didn't know much about the event or how it's organized outside of what was in the flyers around campus, but was excited to eat food and watch the performances.
"I thought they had a pretty cool system for the food, it made things organized, checking things off on your box made you motivated to try as many different things as you could," Borromeo said.
There were several cultural clubs tabling at the event, including the Asian Pacific Islander Desi American club (APIDA) and the newly formed Turkish Student Community Association. This meant that they, along with other organizations, had a trifold or other visual aid set up and were ready to talk and share more about their organization. Anabel Pinto, fourth-year psychology major, represented APIDA at their table as secretary of the club.
"Each of the cultural groups on campus typically have their own events or showcases which they have throughout the year, but the International Dinner is one of the best examples of a school organized event," Pinto said. "It's a place where we can all come together that's not just the student involvement fair or the club fair—having [at least] one central event, is something I'm super excited for." 
The attendance of the event can be broken down to around 50 percent students and 50 percent faculty, staff, family, friends and eventbrite connoisseurs. My experience included sitting next to two recent college grads from Duke University, who recently moved to Seattle for work and had no affiliation to Seattle U, but simply thought the posting on eventbrite sounded fun.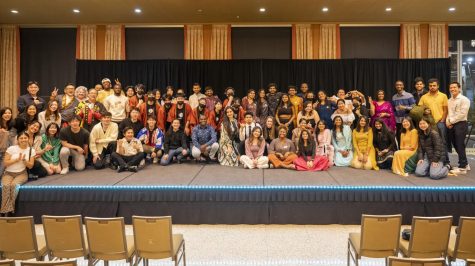 DJ Godfather, who is from the Congo, curated music in between the array of performances throughout the night. There were five separate student groups who put on a variety of musical performances to finish the event: Marianas TaoTao Tano Club, Movimiento Estudiantil Chicano de Aztlán (MECHA), the Indian Student Association (JSA), Hidaka Taiko and the Japanese Student Association. 
Borromeo's favorite performance was led by the JSA members who took the stage and instructed everyone on how to perform the Awa Odori Dance. After brief instruction, the dance started on stage and grandly escalated to a parade march around the ballroom, drawing in nearly all of the dinner's attendees. 
"A lot of people were putting their own spin on it, it really made you feel engaged, and was probably the perfect way to end the night," Borromeo said. 
The International Dinner is not just fun; it is a representation of what makes us all different, and more importantly, all connected. If you missed out on this event, Seattle U cultural clubs and groups host a range of their own events throughout the year.
Leave a Comment