Seattle U Men's Basketball Quells Instability With WAC Tournament Approaching
Frustration seeped from the visiting locker room at the Pan American Center that night.
The Feb. 4 loss at New Mexico State University was Seattle University men's basketball's fourth straight, dropping the previously undefeated Redhawks from the top of the Western Athletic Conference (WAC) to being stuck in a multi-team tie for third.
The losing streak put a new lens on what had been a bright season for the team as they faced their final seven-game stretch. They had gone from garnering attention in national top-25 polls to fighting to keep their head above water in their own conference.
The shock was jarring because the team had just come off a seven-game unbeaten stretch, according to Senior Forward Emeka Udenyi.
"We were coming into every game thinking we were going to win," Udenyi said. "I think when we got into the slump, I don't want to say we lost confidence, but we were in a down period."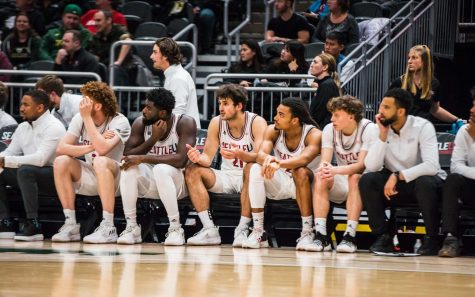 With three of the four losses coming on the road, the Redhawks needed a home game to right the ship. Badly.
That chance would come at Climate Pledge Arena Feb. 8 against Utah Tech University. With a 75-71 win, the team could finally wash the bitter taste of a losing streak from their mouths.
Head Coach Chris Victor emphasized the team's need for that moment.
"It was a big win for us," Victor said. "To get back on the winning side and feel some success and play more of the style of basketball that allowed us to get off to the great start in conference with defense and aggressiveness. It felt more like us."
Senior Forward Riley Grigsby agreed.
"The biggest thing we came back to was joy. We were having fun and we were playing as a team [on the win streak]," Grigsby said. "I think we're getting back to that now."
But there was more at play in the turnaround than emotion.
Victor had said his team needs to play with pace to start the season. So when the Redhawks hit their roughest patch, he made the necessary adjustments to fit that style.
Seattle U went with a three-guard starting lineup and limited substitutions in the win, including Redshirt Sophomore Forward Brandton Chatfield, Junior Guard Alex Schumacher, Sophomore Guard Paris Dawson, Redshirt Junior Guard Cameron Tyson and Grigsby starting. With multiple skilled ball handlers on the floor, Seattle U looked as fluid offensively as they possibly could. Victor noted the ability to move the ball and space the floor as extraordinary with the agile group.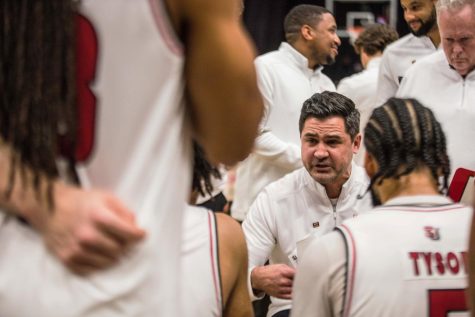 "Every game in this conference is going to require different matchups and lineups for the most part," Victor said. "But that lineup is something we'll go back to, for sure."
Indeed, the Redhawks went back to that starting five Feb. 11 against Grand Canyon University. It worked to similar avail, as Seattle U came out with a 63-58 win, playing even more stringent defense and getting a season-high 26-point performance from Schumacher.
On-court adjustments aside, one factor that stands out in the Redhawks' recent struggles on the road. Standing at 27-3 at home over the past two seasons and 13-14 outside of Seattle, Seattle U seems to struggle to bring their game to opposing arenas.
Even with those struggles, the team does not seem worried as they prepare for the WAC Tournament, where each game is played at a neutral site. Udenyi pointed to the team's fundamental values as the remedy for a road slump.  
"Going down this stretch when we got road games and even the conference tournament, if we bring our defense, we'll win any game," Udenyi said.
Tyson, one of the most revered scorers in the country, concurred.
"I feel like when we're good, our identity is defense and toughness. When we're bad our identity is offense," Tyson said, as Udenyi and Grigsby agreed they would rather win a defensive slugfest than an offensive shootout.
With a 13-1 record when they hold opponents to fewer than 70 points, defense may just win Seattle U a championship.
Even through some recent trials, there is no mistaking how Seattle U wants to play down the stretch. With sound defense, pace and aggression as core tenets, the Redhawks believe they have the nucleus to achieve their preseason goal of making the NCAA Tournament. 
Their quest for a spot in March Madness will begin Mar. 7 when the team heads to Las Vegas for the WAC Tournament. The only question will be where the Redhawks start their playoff run from and whether they can repeat as regular season champions with four games remaining.
Leave a Comment