Seattle U Men's Hoops Set Eyes on NCAA Tournament in '23
The Seattle University Men's Basketball put up a 14-4 record in conference play, winning the Western Athletic Conference (WAC) 2022 regular season. Despite their first-place finish in the conference last year, and a subsequent first-round bye, the Redhawks burned out early in the WAC tournament. Their close loss to Abilene Christian in the semi-finals left Seattle U just two wins away from the WAC postseason title and their first trip to the NCAA tournament since 1969.
Regardless, Seattle U finished second in the conference in scoring in 2021-22 and had their best overall season since reclassifying as a Division I NCAA program in 2008. That success was heavily attributed to not only a talented lineup and a dynamic offense but the leadership of interim Head Coach Chris Victor. Victor took the reins after a racist preseason scandal involving previous head coach Jim Hayford.
Victor, who had spent four seasons as assistant head coach before stepping into the role, credited the smooth transition to his familiarity with the players and previous head coaching experience. Thanks to the success, Victor's position became official Mar. 1, when he was named head coach.
But for Riley Grigsby, fifth-year senior forward and starter for the Redhawks, it was Victor's athletic background that made the transition so smooth.
"He's very relatable, he's been a college athlete before, he knows what the struggles are," Grisby said.
Without starting point guard Darrion Trammell, who transferred to San Diego State University after leading the Redhawks in points and assists last season, there are reasonable questions about how Seattle U can compete at the same level in 2023. Despite the loss in playmaking and Trammell's late-game heroics, Seattle U returned seven of their top nine rotation players this season.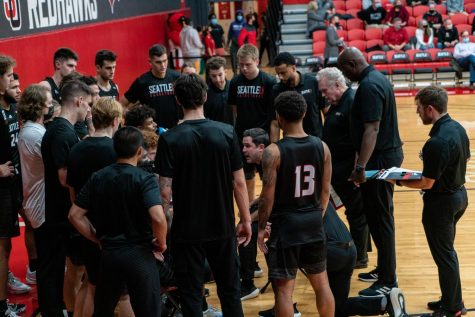 To account for the loss in depth, promising transfers guards in Junior Alex Schumacher, Sophomore Paris Dawson and Redshirt Sophomore Dominiq Penn will fill out the point guard room for Seattle U this season. Schumacher and Dawson are currently competing for the starting gig, as each have taken turns with the first team in preseason scrimmages, according to Victor. Despite the promising new faces, Victor noted it will take a team effort to account for what the Redhawks lost in Trammell— an effort that they can give.
"We feel like we have a team that can compete for a conference championship, it's just going to be different than last year. This is a new team with a new identity," Victor said. "We're going to be a great defensive team, we're going to rebound the ball and we're going to play with great pace."
That pace has been a hallmark of Redhawk hoops under Victor. In fact, Seattle U was tied for the most points per game in the WAC last season and took over 50 more shots than any other team in conference play in 2021. 
As for returning talent, Redshirt Junior Cameron Tyson and Grigsby both made preseason All-WAC teams, making the duo seem poised to step into a prominent leadership role for Seattle U this season. After all, Tyson, a native of Bothell, Wash. and a University of Houston transfer, led the conference in 3-pointers made in 2022 while rebounding at a team high rate from his shooting guard spot. Grigsby played a jack of all trades role, scoring from every level and often being tasked with defending the opposition's best player.
Their roles as players signaled a great deal of trust from the coaching staff and their experience warrants consideration in leading a successful team. Nevertheless, Victor and his staff believe this team has too much experience to delegate leadership tasks to any two players.
"We're not just going to have one or two team captains, our expectation is that a lot of guys can come in and play a leadership role at some level," Victor emphasized.
That kind of team play is what Victor believes will get this team where it wants to go ultimately: The NCAA tournament. The national attention that comes from reaching March Madness is a draw in itself, but there is far more to it for this Redhawks team.
"One of the reasons we want to go back to the NCAA tournament is to get Seattle U back on the national map as far as basketball," Victor said. "Having success for the school and for this city is very important for these guys."
Cameron Tyson echoed that sentiment, having transferred to Seattle U to be back home.
"It's a hidden gem, basketball culture here," Tyson said. "I want to bring this program back to where it was in the 50's and 60's, you know? Leave it better than I found it."
To leave the legacy they want, the Redhawks will have to finish what they started in 2022 and win the WAC tournament to advance into March Madness. The path towards that goal will commence Nov. 7 when the Redhawks begin their season at UC San Diego.
Leave a Comment