Seattle's StorySlam Stories Slapped
"Love hurts. Tell us about a time love bit back."
This Thursday night's  prompt for storytellers who attended StorySlam at the Fremont Abbey Arts Center, Feb. 2. Throughout the night, Comedian and Host Juno Men welcomed ten individuals to share stories of loss, acceptance, embarrassment and recovery. 
StorySlam is a live storytelling competition arranged by The Moth, a non-profit organization based in New York City. Holding several events across 28 states and two countries, The Moth promotes the ancient art form of storytelling and provides a platform for individuals with various backgrounds to tell their stories. Along with managing The Moth Radio Hour, the organization tours high schools and colleges and arranges workshops and performance opportunities for storytellers. 
The Seattle-region StorySlam Producer Luke Greenway sees the event as unifying for Seattleite storytellers. Not only does it encourage individuals to get on stage and share their story, but it serves as an exchange of different perspectives people may have not heard before.
"I really think that everyone has a story; you just need to figure out how to tell it," Greenway said. "I hope people will [come here] and think 'I can do this' [by] seeing other people getting up there and trying it."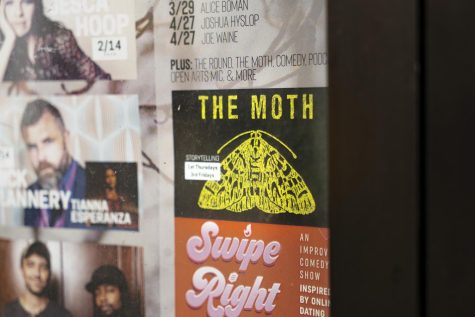 Abby Arts had no room to spare as dozens of people filed in to attend the event. Many people stood throughout the entire two-hour event after all the seats were taken. Although the event was sold out, a few individuals waited outside the church in hopes they would be allowed in, including Bella, who waited outside with their friend Bev to watch fellow Seattlites tell stories.
"I love people who can really tell a story and capture you," Bella said. "I think storytelling is a lost art, and I am glad they are bringing it back because it is fascinating."
Once the event began, Men randomly selected ten individuals to share a five-minute story in front of the crowd. After each story, three judges scored the story based on its presentation and subject matter. Each story differed in topic and emotion, but each storyteller revealed a vulnerable side of themselves. One man detailed a trip he took to the planet Propofol, where he learned family is not determined by blood. After falling-out-of-love with her transgender partner, one woman reflected on how she could have supported her girlfriend more while she transitioned. Following a bike accident which almost killed her, one woman surprised her doctors when she made a full recovery and returned to her love for biking. 
Men also shared several one-to-two sentence stories in between transitions. Stories of cheating, bizarre sexploits and one-sided relationships with cats were recounted on stage.
After the scores were totaled, the judges announced Sammamish Senior High Public-speaking and Debate Teacher Josh Jablon the winner of the StorySlam. Jablon's story about an outing with a crush gone wrong scored 9.33 out of 10 overall and earned him a spot in the GrandSlam Championship, Mar. 23. 
This is Jablon's second time participating in the event. To him, StorySlam is an opportunity for him to improve his public speaking and discover ways to coach his students. He notes his nervousness about going on stage diminishes with each event he participates in. 
"I would say it's a way to challenge myself with something I am interested in," Jablon said. "It provides good opportunities for me to practice and try to get better."
Jablon also gave out tips and tricks for potential storytellers to use when they participate in these events.
"The biggest piece of advice I would ever give to someone who is nervous [about] public speaking is to just remember that everyone wants to see you succeed," Jablon said. "I would also advise people to find [storytellers] they find funny or compelling and look for what makes them a good storyteller and see what strengths you can bring out in yourself and your personality."
Abbey Arts holds StorySlam every first Thursday and third Friday of each month. The next StorySlam will take place in Bloedel Hall at the St. Mark's Episcopal Cathedral, Feb. 17. Tickets are on sale on Eventbrite, and all ages are welcomed. 
Leave a Comment