Strategic Directions Faces Rising Cost of Living and Stretched Departments
Jaime Perozo doesn't treat his colleagues to lunch anymore.
Since last year, full service restaurant prices have increased by 9%, as a 40 year record for inflation caused price increases not limited to but including vegetables, meat and dairy products. 
Having worked for Seattle University for 33 years, the Associate Professor of Modern Languages and Cultures has firsthand experience of Seattle's rising cost of living, which has increased by 8.9% since October of last year. The Seattle Times reported a 10.1% increase in inflation in Seattle, the highest increase in 40 years, in July. 
Professors like Perozo, as anyone in Seattle must, juggle the cost of living and heightened inflation with their salaries. Sonia Barrios Tinoco, department chair for modern languages and cultures, recalled the high cost of living as one of the reasons a colleague, who she did not name, might leave the university. 
"The salaries are not the best for a city as expensive as Seattle, so it's really hard to make ends meet," Barrios Tinoco said. 
To determine faculty and staff salaries, Seattle U uses a market comparator protocol that helps guide wages to an amount near the median of other workers in the industry. Two pay surveys inform the university—one compares wages nationally and the other is centered locally. Perozo feels that Seattle U salaries are reflective of the standard salary for most professors, but the cost of living adds an additional dimension of complexity. 
"When you take the salary and apply it to the cost of living, the salary doesn't mean anything," Perozo said. 
The challenges posed by the high cost of living are not unique to the modern languages and cultures department. Dylan Helliwell, department chair of mathematics, does not feel financially distressed himself, but has heard that faculty have had a hard time finding a place to live near Seattle U. 
"It's been a point of stress for as long as I've been here. We got modest increases every year, but especially lately, they haven't really been keeping pace with inflation," Helliwell said. 
Helliwell's observations of faculty pay as a contingent issue are grounded in a historical reality for Seattle U. In 2014, adjunct faculty voted to unionize. The union was recognized by the National Labor Relations Board in 2016, and the university filed a religious appeal, vowing to take the matter to the Supreme Court. This sparked a concern about precedence for other universities with faculty trying to unionize, so the unionization attempt stopped in 2018. A year prior a Faculty Staff Senate survey from the College of Arts and Sciences garnered responses about low morale among faculty members, educators struggling to make ends meet and difficulty living in Seattle with its rising cost of housing and living. 
Today, remnants of low morale occasionally appear, and it's something Barrios Tinoco has picked up on in her department.
"It's a constant of asking for more and more and more without getting the recognition, whether it be a 'thank you,' monetary compensation or time to invest in other activities—maybe projects related to the academic world, or time to live your life, be with your family and do things that fulfill your heart," Barrios Tinoco said. 
Amelia Derr, director of the social work program at Seattle U, has noticed similar burnout in her department. 
"I think all faculty and staff are stretched beyond capacity and feel they are dealing with too few resources—that includes salary and budget for departmental needs," Derr wrote in an email.
Cost of living struggles have not gone unseen by university administrators. The university budget office released a budget update in June announcing a 3.75% increase in the wage pool, the largest increase in 15 years. 
The wage pool is split into two different kinds of funds. 3% of it will be used specifically for merit-based raises, and the other 0.75% increase will be used for staff whose pay is most significantly below the market median. 
"With inflation persisting and the cost of living in the greater Seattle area rising, our continued focus on supporting increases in compensation took on added significance this year," the update read. 
One of the university's goals is to narrow down gaps between salaries and their respective market medians. Wilson Garone, Seattle U's chief financial officer, explained an ideal scenario where those gaps would be completely closed from year to year, reaching 100% equity. 
"I think no company or institution in the world will ever hit exactly 100 percent for all their employees because this is a moving target every year. One profession may become in higher demand than the other," Garone said. "What we need to do and continue doing is make sure we understand what's happening in the market and apply investments every year to close and catch up and narrow down gaps that exist."
Outside of the realm of their own pay, faculty and staff weigh the responsibility of ensuring their departments have the necessary support to function. In the arts and arts leadership department, Kevin Maifeld, the interim chair of the department, thought two additional administrative staff positions would be hired, but they've been put on hold as the university re-evaluates the request. The administrative staff positions are needed to give students access to practice rooms and help new adjunct faculty get situated at Seattle U. The delay has caused frustration for Maifeld and arts leadership faculty. 
"We thought we were full steam ahead with these two hires and now they're on hold. We felt like we could all pitch in for a short period of time, but how long will we all be pitching in?" Maifeld said. 
Barrios Tinoco similarly mentioned a lack of faculty and staff for modern languages and cultures. The Latin American Studies Program, a study abroad program within the modern languages and cultures department, has a hard time offering supplemental activities like visits to archaeological sites for students while they are abroad, according to Perozo. Perozo believes that the university has resources available, but the program is not a priority to receive those resources. 
"We are doing our best because we believe in what we do, we believe that it's really important to take a student from here to another culture," Perozo said. 
Since Seattle U is a private university, there is a different set of challenges it has to consider when creating budgets as compared to a public university. Relying primarily on student tuition and endowments, private universities may receive less monetary support from the federal governments while experiencing similar demographic trends.
Garone has observed that the number of students leaving high school and going to higher education has declined, and while the global population is going up, the actual enrollment of students is going down. 
"It's a factor of what is happening in the world. Probably, a lot of students decided to take a break or decided that perhaps higher education was not for them, more so than what we have seen in other years," Garone said. "It resulted in an anomaly where you were expecting, both from a public university or in a private university, a period of enjoyment and growth of your population, of your students, and that did not happen." 
The distribution of financial resources to various departments for upcoming years will likely be impacted by Seattle U President Eduardo Peñalver's Reigniting Our Strategic Directions.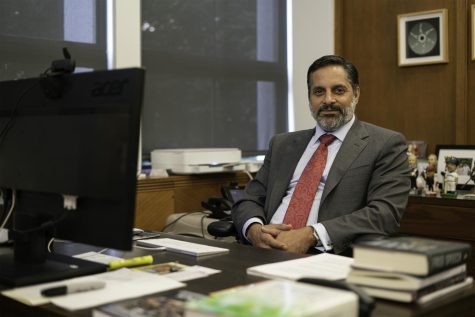 "We have been a little bit more diligent in allowing resources to move around from one place to another and being more directed to what our strategic directions are. The power of having clarity about the strategic directions is immense. It provides clarity for the university about 'what are the areas that we want to invest our funds?'," Garone said. 
Garone identified reimagining the curriculum and ensuring that issues like sustainability and racial injustice are included in it as one of many focuses for budget considerations. Others included professional formation for students, the recruitment and retention of BIPOC students, faculty and staff, bias prevention and providing services that lead to overall student retention—one of which is mental health support. 
The final area of investment was reposition for growth, which Garone identified as enabling all the other focuses. It involves ensuring resources are allocated properly by shifting resources that are not related to strategic directions and moving them to places that are. 
"Without growing the total size of the pie, start moving those resources to areas where we're going to have a bigger impact, mostly for the students, which is what strategic directions is all about," Garone said.
For Barrios Tinoco, signals from upper management have sparked what she calls a cautious excitement. 
"I'm excited for the future and the plans that are going on and the things that have been put into place in the past month. At the same time, I want to see things happening," Barrios Tinoco said. "There's all this bureaucracy and there are so many systems that are in place to make everything easier and they just make everything more complicated. The amount of money invested in that system could have been invested in our programs."
David Powers, the dean of the College of Arts and Sciences, finds that Peñalver's treatment of budgets is helpful in a challenging time. 
"I think the approach President Peñalver is taking to thinking about how we manage budgets strategically and in line with the priorities of the university is helpful as opposed to an across the board kind of reduction," Powers said. 
As the strategic directions for the university change under Peñalver's leadership students, faculty and staff will be watching for help around the cost of living, a break from decreasing morale, burnout and resource redistribution for their respective departments. Maybe in a couple years, Perozo will be able to take his colleagues out to dinner.
Leave a Comment