"I'm not surprised, just continually disappointed," said history professor Michael Ng.
On Friday, Sept. 30, Seattle University President Fr. Stephen Sundborg, S.J., sent an email with an embedded video to the entire student body and faculty in which he announced that the university administration will seek court review of the National Labor Relations Board's (NLRB) approval to allow adjunct faculty the right to form a union with SEIU Local 925.
---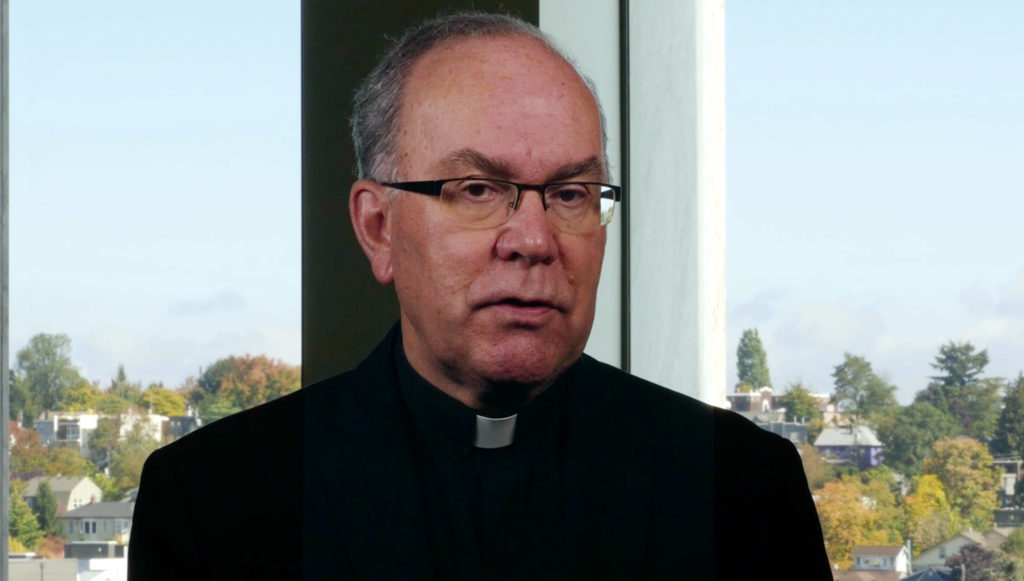 Stephen V. Sundborg, S.J. sent out a video to all students and staff on Friday, September 30th.
---
Sundborg cited many reasons for the court review, including the First Amendment's protection of religious freedom.
In the video, Sundborg raised several questions regarding the religious implications of allowing the unionization.
"For example, would the university be required to hire faculty openly hostile to our Jesuit way of teaching and Catholic identity? Would the university be prohibited from removing a faculty member who seeks to undermine our core religious identity?" Sundborg said in the video.
Contrary to Sundborg's statements, some professors do not think religious freedom is at the core of the decision to seek court review.
"I do not think it's about religious freedom, I think it's about financial questions," said film professor Ben Stork.
Stork continued, saying that the university is "religious when it comes to their ability to dictate the university; secular when it comes to financial questions."
In the video, Sundborg spoke of the dangers of allowing federal laws to affect the nature of our institution.
Ng challenged the assertion by explaining that our university already follows plenty of federal laws. He said that following some of those laws but ignoring others reflects an overarching lack of consistency in the administration's decisions.
"Aren't we following federal laws as it is? Why is this a federal law we should avoid but the rest we have to follow? Does that mean I can ignore FERPA now?" Ng said.
He said that beyond simply protecting the religious freedom of the university, the move to bar faculty from the right to unionize appears to be a way to maintain a "power imbalance" among the university employees.
"As a political historian, my concern is that this seems like a cynical attempt to manipulate the system to perpetuate a power imbalance, to continue the existing dynamics of power on campus," Ng said.
Furthermore, Ng explained the negative effects of having a president whose decisions the faculty are unable to stand behind.
"That's sad because, as a university community, we should line up behind the president, as they are meant to be a figurehead for all that we hope to accomplish," he said. "But if you have people now become increasingly disillusioned with President Sundborg, then, we're going to lose valuable people."
Ng noted the importance of the financial implications of taking legal action. "You and your classmates and everyone on campus is now tied in for potentially years, if not decades, of expensive legal battles," he said.
Stork said that aside from financial strife, the legal battle will put a strain on the faculty and, inadvertently, the students.
"Tenure track faculty are now finding themselves working on HR and labor issues. That's a drain on resources that could otherwise strengthen the department or go to the students," Stork said.
The faculty, who have already waited two years for their votes to be counted, see the court review as another attempt to delay the process.
"What's already been going on for two years promises to go on longer," Stork said.
He added that this promises more waiting with an indefinite timeframe.
It seems as though there may be no end in sight for faculty unionization.
"Father Sundborg said in Academic Assembly to us last year that, whatever the result was, he would basically fight this through the courts," he said. "He's going to take it to the end."
Tess may be reached at
[email protected]