October Brings New Exhibits to Capitol Hill Art Galleries
Seattle University's Hedreen Gallery, The Frye Art Museum and the The Photographic Center Northwest (PCNW) are all featuring new collections by talented artists this month. Artists from near and far have crafted thought provoking pieces on display at each gallery throughout October.
The Hedreen Gallery is featuring "Both Sides Now," an exhibit showcasing three artists' multimedia pieces centered around themes of immigration, history and identity. Tara Tamaribuchi, a Seattle based artist, created "Camouflage Net," a piece inspired by the forced labor of Japanese-Americans in internment camps, weaving camouflage nets for the U.S. Army during World War II. Tamaribuchi has replaced the traditional war materials woven into the camouflage nets with strips of colorful Japanese kimonos to create a sense of cultural reclamation. The net was built in Seattle U's Vachon Gallery with help from student artists and later moved to the Hedreen Gallery. It is held up at several points from the ceiling, allowing the viewer to examine it from any angle.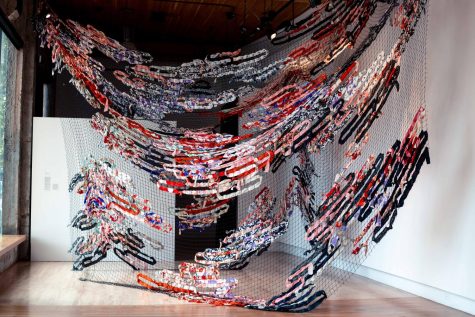 "It's interactive. You can move around it, you can walk within it, it catches the light at different times." Emily Harper-Johnston, a third-year photography major and front desk assistant at the Hedreen Gallery, said.
Samatha Wall's piece "Transmission" is featured at the entrance of the gallery, an intimate piece exploring the emotional complexities of being an immigrant with a conflicting sense of belonging and identity. Arielle Simmons, curator of the Hedreen and Vachon Galleries and adjunct art professor at Seattle U described it as a visceral expression of belonging to multiple cultures. 
"The figurativeness of the work, you can see exactly what it is that she's talking about. I love the strength of it and the feminism of it. Just seeing it now next to Tara's work, these echoing shapes, like the black of the textile work," Simmons said. 
Rodrigo Valencia's video piece "Prole" focuses on conversations between migrant workers about unionization and their American identity. Valencia inspires questions about what it means to be a part of the American workforce, and to find a sense of cultural belonging in a capitalist society. "Both Sides Now" will be open through Jan. 5.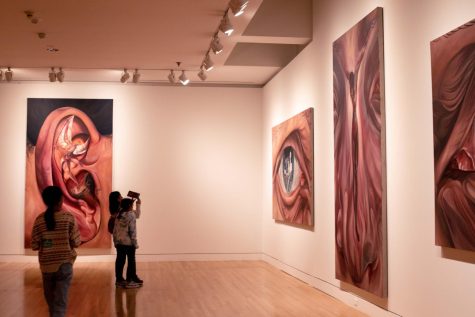 The Frye Art Museum opened "Same Old Song," a collection of oil paintings by Portland based artist Srijon Chowdhury. Each painting in Chowdhury's first solo exhibition features a different human sensory organ, incorporating everything from religious motifs to scenes that resemble family portraiture. The sheer size of the paintings, paired with the vibrant crimson incorporated into each, evoke an existential longing and tie together the past and the present of humanity. "Same Old Song" will be open through Jan. 15.
The PCNW is hosting "Rewriting Art History," a collection of erasure pieces that reconstruct old photographs and art to give them new meaning. Artists Kelli Connell and Natalie Krick altered text and images found in Edward Steichen's 1955 Museum of Modern Art exhibit and book of photography "The Family of Man." Their collection is entitled "o_Man!," a modified version of the book's original title. Steichen's work has been criticized for being riddled with racism, sexism, selective cropping and American propaganda. Connell and Krick draw attention to the implicit messages in the original images by altering them, and question the political motivations and intended audiences through their deconstructions. 
"It's just kind of a horrifying image, because this woman is surrounded by all of these men, and they're all pointing to her and grabbing her, and there's these scary phallic beer bottles in the corner. In the original image, she looks like she's kind of smiling, I'm not quite sure if she's really smiling, but once we edited her out, you really just pay attention to the other gestures," Krick said about her and Connell's piece, "Arms Up," during their artist talk at the opening of the exhibit. 
Anita Schwartz's collection "This Magnificent Volume," also at the PCNW, features altered images from an art history book. The original book depicted art of women through a patriarchal lens, with text describing them as docile, feminine and often partially nude. Schwartz sought to liberate the women in this collection, removing all of the text and removing parts of the women to create new stories and provide them with a more personal and nuanced narrative. "Rewriting Art History" is open through Dec. 8.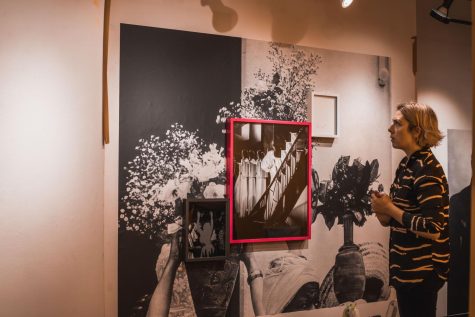 All three galleries are both free to the public and within walking distance of one another. The exhibits are well worth attending while they are still available to view.
Leave a Comment