The Perfect Reunion: Phoebe Bridgers' Punisher Tour
Phoebe Bridgers successfully spent 2021 performing late night shows, receiving four Grammy nominations and collaborating with Taylor Swift, Lorde and many other talented musicians. Since her first album release in 2017, her audience has grown immensely–and rightfully so. With nearly seven million monthly listeners on Spotify, it is safe to say she has established herself as one of the greatest musicians of our time.
Bridgers played two incredible shows against the stunning backdrop of Marymoor Park in Renton, Wash. for the continuation of her "Punisher" reunion tour on Aug. 23 and 24. The extension of the tour showcased her second full length studio album, "Punisher," a tender discussion of love and loss. The extension of the original Punisher Tour also allowed many new fans to experience her music live for the first time. 
As the venues Bridgers plays continue to grow in size, the intimate nature of her set remains. She creates a conversational feeling among the audience by effortlessly switching between somber stories and lighter talking points— as if you are catching up with an old friend. The amalgamation of the set list perfectly balanced "Punisher" and tracks from her first full length studio album, "Stranger in the Alps," showcasing her immense growth as a performer and songwriter.
There's something about Bridgers' stage presence that takes some of the edge out of the heartbreak in tracks like "Moon Song" and "Funeral." This creates a quality of immense relatability to her as an artist and eases you into the intense yet delicate performance of some of her saddest music. For instance, while performing earlier this year in Manchester, Bridgers casually exclaimed "look at this bug bite I got on my ass, alright, this one is about death." She's casual but committed, seemingly nonchalant and an attentive storyteller all at once. There is a fine line between flippant insincerity, and ironic, self deprecating humor—one that Phoebe walks with perfect pause and intention. None of it feels calculated or contrived, offering her fans a sincerity rare among artists of her size.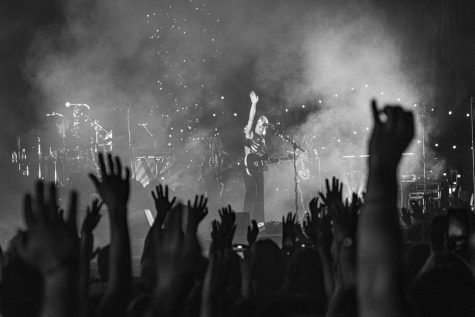 As she descended into the awaiting crowd for "Scott Street," singing with the adoring fans below, you could hear an echo of "anyway don't be a stranger" throughout the venue, mixed with sounds of laughter, tears of joy, sadness and community. From the crowd, it looked like everyone had a shoulder to lean on.
On night one, to conclude the set, Bridgers played "Me & My Dog" by Boygenius, the group she co-created in 2018 with Julien Baker and Lucy Dacus. She said she hadn't played the track in a while, and reminisced on missing "her boys" before ending the night. On night two, she asked the crowd what they wanted to hear, the obvious answer being "Georgia." The choice perfectly completed her stay at Marymoor park. 
All this being said, I knew from my first listen of "Funeral" when I was 17 that seeing Bridgers was a lifetime goal that only seemed feasible before the surge of success that catapulted her into the spotlight. I'm glad to report now that wasn't the case. I knew then that the small venues she once played would soon be multiplying in size, which speaks to her talent and ability to connect with people. From a rising star to an established name, tour anticipation was high. I could not have been more satisfied with her performance, the atmosphere, all of it. The show felt like a touching full circle moment, a beautiful reminder of how human great music can make you feel.
Leave a Comment